When you purchase food in the UK, there is a legal requirement for allergens to be clearly listed in the ingredients on packaging or menus. If the information is not present, or incorrect, you could be eligible to claim compensation if you go on to suffer an allergic reaction. This guide is going to explain when you could claim compensation for an allergic reaction after eating in Harvester. We'll look at scenarios in which they could be liable for your reaction, the process of making a claim and how much compensation you could claim.
Legal Helpline is able to assist you in beginning a claim by offering a no-obligation assessment of your case. Our trained advisors can provide you with free legal advice about your claim and, if they believe your claim might be successful, could refer you to a personal injury lawyer from our panel. If they take your claim on, it'll be handled on a No Win No Fee basis.
To begin your claim right away, why not call a member of our team on 0161 696 9685 today? Alternatively, please continue reading to find out more about claiming for a food allergy at Harvester.
Jump To A Section
A Guide To Claiming For A Food Allergy At Harvester
Many people in the UK suffer from allergic reactions. They can result in minor, annoying symptoms like a rash or itchiness but, in more severe cases, they can be life-threatening or even fatal. To help prevent allergic reactions, legislation exists which forces food producers to provide clear information on any allergen that their food might contain.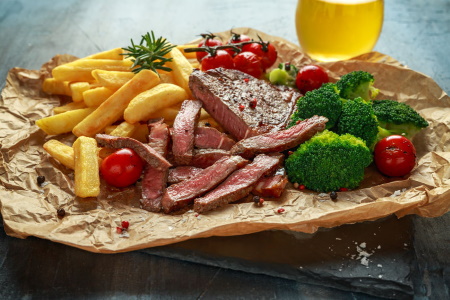 If it's not clear a product contains an allergen which causes you to suffer a reaction, you could claim compensation from the retailer or food producer for any suffering. In this guide, we're reviewing claims for an allergic reaction after eating in Harvester, but the information could also apply to other restaurant chains as well.
If you are considering a claim, our advice is to begin the process as soon as possible. That's because there is a 3-year personal injury claims time limit. If you try to make your claim after the limitation period, you'll find that it's been statute-barred, and you won't receive any compensation you might've been entitled to. While 3-years might seem a long time, your solicitor will need as long as possible to collate supporting evidence.
In this guide, we'll look at what allergic reactions are, what causes them, when a restaurant might be liable and how much compensation you might be able to claim.
After you've finished reading, please give us a call on the number at the top of the page if you'd like to begin a claim or if you have any unanswered questions.
What Is A Food Allergy And What Causes Them?
Food allergies are different from food intolerances because they are caused by the body's immune system. According to the NHS, most allergic reactions are relatively mild, but they can be life-threatening and even cause a fatality. When you eat food containing an allergen, your body can treat it as a threat and produce antibodies to try and protect you. This is when you'll see symptoms of an allergic reaction.
Some of the most common symptoms of an allergic reaction are:
Hives – a raised, red itchy rash.

Tingling or itching in the mouth.

Feeling dizzy or lightheaded.

Nausea and vomiting.

Abdominal pain.
In more serious cases, a severe reaction can lead to anaphylaxis which causes breathing difficulties and can be fatal if not treated quickly.
What Is A Food Allergy At Harvester?
So, now we know what allergies are, how might you suffer an allergic reaction after eating in Harvester? Well, as you're probably aware if you're an allergy sufferer, you have to rely on food packaging, menus and signage to help you choose food which is safe for you to eat. All restaurants, cafes, bars and food businesses are legally obliged to clearly identify when an allergen is or might be present in their food. However, if the information is not available to you, and you suffer an allergic reaction as a result, you could be entitled to claim compensation from the company who sold you the food.
Furthermore, you could suffer a reaction because of cross-contamination. This can happen where your food doesn't contain an allergen but is prepared in an area where allergens are used. In these cases, the business should indicate that there's a risk of an allergen being present by using terminology like 'may contain nuts' on labelling.
Finally, if you ask Harvester staff whether an allergen is present in a specific meal, and they provide you with incorrect information, you could be entitled to seek compensation if their advice causes you to suffer a reaction.
For free advice on whether you could make a claim against Harvester, please contact a member of our team today.
How Commonly Do People Experience Allergic Reactions?
You might not realise how common allergic reactions are in the UK. That's possibly because most people manage their conditions well and are very careful about what they eat. Also, many people don't hear about allergic reactions unless a fatality occurs, and the story makes the news.
However, according to statistics provided by Allergy UK, as many as 44% of British adults suffer from an allergy and around half of those have to deal with 2 or more allergies.
I Asked A Restaurant To Leave Out One Of These Foods
As an allergy sufferer, you might want to eat something on the menu that contains something you're allergic to. If that's the case, you might order the product but ask for an ingredient to be removed. For instance, you could ask for:
No Nuts.

No Oats.

No Eggs.

No Milk.

No Wheat.

No Fish.

No Cheese.

No Nuts.
In some cases, the staff might tell you that it's not possible for your request to be fulfilled. However, if they agree to make the change you ask for, but it isn't actioned correctly, you could sue the restaurant if you go on to suffer an allergic reaction. To help prove what was said, it'd be useful to gather details of any witnesses who overheard your conversation. Also, retain a copy of the receipt if it shows wording relating to your bespoke order.
For further advice on claiming in these circumstances, please contact our team today.
Restaurants Responsibility For Food And Allergen Safety
When you visit a chain of restaurants, like Harvester, the staff who prepare your food and the waiting staff will have been given specific training regarding allergens. If they don't follow that training, and you suffer an allergic reaction as a result, you could be entitled to ask for compensation from them. For instance, you could claim if:
The food you received contained an allergen because the chef didn't follow the correct recipe.

Safety procedures in the kitchen weren't followed and led to your food being contaminated with an allergen.

Waiting staff failed to tell you that an allergen was present if asked.
If you'd like to discuss whether we could help you begin a claim, please contact an advisor today.
What Rights Do Restaurant Customers Have?
The Consumer Protection Act 1987 is used to protect customers and to ensure any product they purchase is safe and as described. It can be used in a civil case against restaurants where inadequate labelling leads to an allergic reaction. As well as claims because an allergen wasn't listed, it might be possible to claim if there has been cross-contamination which leads to a reaction. In these cases, it could be argued that the restaurant should've used a 'may contain' warning on their menu or food packaging.

I Didn't Tell Harvester About My Food Allergy, Could I Still Claim?
You might think that if you failed to tell Harvester staff about your allergy, then you wouldn't be able to recover compensation for suffering a reaction. However, all restaurants and food businesses have a duty of care to clearly indicate that an allergen has been used, or if there's a risk of cross-contamination. This warning should be on menus, food labelling or on signs throughout the restaurant. Therefore, if you forget or choose not to tell the staff, you should still be able to identify any potential risk. If that risk is not identified, you could go on to make a claim if you have an allergic reaction as a result and can prove that it was because the restaurant breached its duty of care.
To clarify whether you're eligible to make a claim, please contact an advisor today.
Failures To Provide Allergy Advice And Information
When eating in a restaurant, if you ask the staff about the presence of an allergen, but they fail to provide the correct answer, you could be eligible to seek compensation from them if you go on to suffer a reaction. Other ways that they could inform you of any potential risk is by labelling the menu clearly or signage which tells you where you can find allergen information.
Foods Which Could Cause An Allergic Reaction
Throughout this guide, we've discussed some of the different allergies that people can suffer from. For clarity, this section contains a full list. Remember, the Food Standards Agency has a list of 14 allergens which must be clearly identified by food packaging.
Cereal allergies.

Lupin allergies

Fish allergies.

Nut allergies.

Egg allergies.

Dairy allergies.

Fruit allergies.

Seafood allergies.

Mustard allergies.

Shellfish allergies.

Sulphur dioxide allergies.

Cereal allergies.

Gluten allergies.

Soy allergies.

Wheat allergies.

Milk allergies.
You could be entitled to make a compensation claim if you suffer an allergic reaction after eating in Harvester because any of the allergens listed were not highlighted on the menu, in the restaurant or by staff. Please contact us if you'd like to discuss beginning a claim today.
Harvester Menu And Allergen Information
Following the COVID-19 lockdown, many restaurants, bars and cafes reopened with fewer items available on the menu. At the time of writing, the items below were available to order from Harvester. Their menu is subject to change and some products might not be available at all restaurants.
Harvester menu
The Triple Combo.
The Original Combo.
The 1983 Harvester Combo.
Simply Chicken.
BBQ Chicken Stack.
Signature Half Rotisserie Chicken.
Bird, Surf & Turf.
Full Rack OF Ribs.
The Bone Pile.
Burgers
Double Dirty Combo.
The Dirty One.
The Southern-Fried.
The BBQ King.
The Beyond Bean.
The Beef Classic.
The Chicken Classic.
The Purist.
The True Blue.
Steaks
Rump Steak.
Gammon Steak.
Mixed Grill.
Grilled dishes
Jerk chicken.
The Pitmaster.
Smoked BBQ Pork Belly.
Hickory-Smoked Beef Brisket.
Skewers
Peri-Peri Chicken.
Surf 'N' Turf.
Fish
Simply Salmon.
Cod & Chips.
Wholetail Whitby Scampi.
Vegan / Vegetarian
Quorn BBQ Stack.
Spinach & Ricotta Pasta.
Herb-Battered Halloumi & Chips.
Thai Green Curry.
Food Allergy And Illness At Harvester, Compensation Calculator
Now that we've explained when you could claim for an allergic reaction after eating in Harvester, let's consider how much compensation you could be entitled to. In reality, each claim is unique so you should use the information in the table below for guidance only. When you speak to your solicitor, and they've reviewed your case, you should be given a more personalised compensation figure. The figures in the following table are taken from the Judicial College Guidelines which is a document that courts, insurers and solicitors use to help determine compensation amounts.
| Claim | Compensation Range | Additional Notes |
| --- | --- | --- |
| Allergic reaction | Up to £3,710 | This category is for reactions where symptoms are minor and recovery takes place within 2 weeks without treatment. |
| Allergic reaction | £3,710 to £8,950 | This category is for reactions where symptoms are more serious. They include significant discomfort, stomach cramps or fatigue and will usually lead to hospitalisation where symptoms will continue for a few weeks. It can take up to a year for a full recovery. |
| Allergic reaction | £8,950 to £18,020 | This category is for reactions where more serious symptoms will diminish in around two to four weeks. However, some symptoms might be permanent or long-lasting. |
As you'll see, the severity of the injury has an impact on the amount you receive. As part of the claims process, your solicitor will organise for a local assessment of your injuries to be conducted. The doctor or medical specialist will review your medical records and ask some questions about your injuries and then produce a report. This will explain the extent of your injuries, how you've been affected and whether you'll suffer any long-term symptoms.
Additional Damages Which Allergy Victims Could Claim
When you make any type of personal injury claim, there are two heads of loss that your solicitor can claim for: general and special damages. General damages are designed to compensate you for the pain, suffering and loss of amenity caused by your injuries. The amounts shown in the previous section were for general damages.
The purpose of special damages is to reimburse you for any costs you've incurred as a direct result of your illness or injuries. There are many potential elements in a special damages claim including:
Travel Costs

. It's likely that you'll need to visit a doctor, hospital and pharmacy while you're recovering. If you incur any travel-related costs such as parking fees, you could include them in your claim.

Care Costs

. When you're recovering from your illness, you may need support from a friend, family member or professional carer. If that's the case, you could claim back an amount to cover their time or fees.

Medical Expenses

. The cost of prescriptions and over the counter treatments can become quite expensive, especially for longer-term suffering. Therefore, you could ask for any medical costs to be paid back.

Loss of Earnings

. Should you need to take time off work for medical appointments or recovery time, and you lose money as a result, you could seek lost income to be included in your claim. Also, should you be unable to work in the long-term, you could claim for loss of future income too.
To prove how much you've spent, we'd advise you to supply evidence. This can be anything from a receipt, bank statements or wage slip. If you're unsure whether something can be claimed back, check with your solicitor before committing to purchasing it.
No Win No Fee Claims For A Food Allergy At Harvester Restaurants
The biggest concern that people have when deciding whether to make a claim is how much it'll cost them. That's why our panel of lawyers provide a No Win No Fee service. By doing so, clients receive important access to justice, but their stress and risk to their finances are reduced greatly.
When your solicitor has reviewed your claim, they'll produce a No Win No Fee agreement, called a Conditional Fee Agreement (CFA) for you both to sign. The CFA is your contract and is used to fund your case. There are many benefits of claiming in this way including:
You don't have to pay anything upfront which allows the solicitor to begin working on your case right away.

There are no solicitor's fees to pay during the course of the claim.

If the solicitor fails to win the case, you don't need to pay any of their fees.
When a claim is won, a success fee would be taken from the compensation award to cover the solicitor's costs. This is a small percentage of your compensation which is legally capped and you'll have full details in the CFA so there are no surprises when the claim is settled.
If you'd like to know whether you could use a No Win No Fee service to make a claim, please contact us today.
Contacting A Solicitor
You've come to the end of this guide about suffering an allergic reaction after eating in Harvester. If you're already certain you'd like to proceed, we'd love to help you do so. Here are the best methods of contacting us:
Call and speak to a specialist advisor on 0161 696 9685 for free claims advice.
Ask for a call back at a convenient time by completing this online form.
Send an email to

[email protected]

with information about your claim.
Use the handy live chat feature on our site to discuss your claim with an advisor.
When you get in contact with us, an advisor will review your case in a no-obligation assessment of your claim. They'll offer free legal advice regarding your options and, if there's a chance your claim could be successful, they'll connect you with one of the personal injury lawyers from our panel. All claims that are taken on are handled on a No Win No Fee basis.

References
Thanks for reading this guide about suffering an allergic reaction after eating in Harvester. In this last section, we've provided further information, including additional guides and links to external articles.
Wheat Allergy Claims – Information on how a personal injury lawyer could help you claim for an allergic reaction to wheat.
Restaurant Accident Claims – Advice on making a personal injury claim following an accident in a restaurant.
Supermarket Accident Claims – Information about claims for injuries sustained in a supermarket accident.
Food Intolerances – An NHS article about the causes and treatment of food intolerances.
Vegan Food And Allergens – Advice from the Food Standards Agency regarding the risks of cross-contamination of vegan foods.
Allergy Treatment – This guide explains what you should do in the event of an allergic reaction.
Guide by BE
Edited by REG