Going out for a meal or a dessert is something a lot of us enjoy doing. It is a fun and social activity that creates memories for us, our families and our friends. We work hard for our money and it can be difficult to see friends in a social environment when you all lead busy lives. When we do finally get the chance to get together we expect to dine in an establishment that shows us it can provide a high-quality service.
This includes things such as food quality, the standard of table service, restaurant cleanliness and the wait we have between ordering and receiving our food. 
If you have a food allergy, consuming a product that contains the allergen can cause a variety of issues. They can range from mild discomfort to a life-threatening anaphylactic shock. The least we expect from a restaurant is that they clearly state the ingredients of each dish, offer accurate allergy advice when asked, and ensure food preparation does not cross-contaminate your order.
In this article, we will explore how you can claim for an allergic reaction after eating certain foods on Krispy Kreme's menu. We also offer insight into your rights when ordering and consuming food on their premises as well as the responsibilities they have to you and other diners when it comes to allergens. 
If you suffer an allergic reaction that you can prove was caused through a breach in the duty of care owed to you by Krispy Kreme, we can look to investigate a potential personal injury claim for you.
You can call Legal Helpline today on 0161 696 9685 if you would like some further information about this type of claim. If you would prefer to gain a bit more knowledge on the matter before deciding to proceed, please feel free to select a section below.
Jump To A Section
A Guide To Claiming For A Food Allergy At Krispy Kreme
When ordering food in a Krispy Kreme restaurant, for those of us that suffer from allergies, an important part of the order is to make Krispy Kreme staff fully aware of the allergen you suffer from. This is done by either ordering dishes that do not contain allergens or asking for certain ingredients to be left out of your food. This is an integral part of your request and under no circumstances should this be ignored. But what should you do if you're not advised that certain allergens are in your order, or the staff fail to leave out an ingredient that you have an allergy to?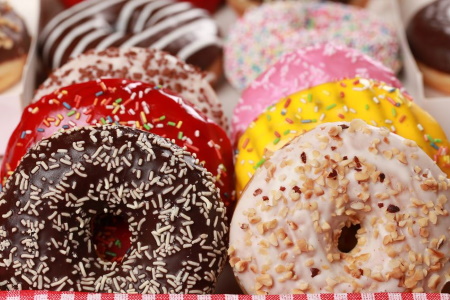 If you've suffered an allergic reaction after dining in a Krispy Kreme outlet and it can be shown that the restaurant breached their duties, a personal injury lawyer could be able to help you if you were looking to claim. You do not need to employ a personal injury lawyer to take action, but it is always advisable to get advice and support from an expert who knows what they're doing when it comes to this type of claim. A specialist lawyer in this field would have the capability to assemble a solid case against Krispy Kreme, as well as maximise the payout you receive if your case was a success.
We will take a look at what responsibilities Krispy Kreme has when it comes to providing information about allergies on their UK menu, as well as what could happen if you are given incorrect details about allergens that are present in your meal.
What Food Allergies Should You Be Aware Of?
Foods that are most commonly associated with an allergic reaction are:
Peanuts/Tree Nuts (e.g. Hazelnut, Almond)

Milk

Eggs

Shellfish, Lobster & Crab

Dairy Products

Wheat

Soy

Fruit

Gluten

Celery

Mustard

Sulphur Dioxide
These are considered the most common allergens, and food law states that outlets such as Krispy Kreme must clearly highlight on menus or packaging if any of these allergens are present in the food you ordered. As Krispy Kreme is primarily a dessert restaurant, allergens such as milk, egg, nuts and dairy would be most prevalent. However, the food may have been prepared in an area containing another allergen, in which case this can still cause a reaction if you have a sensitivity to that type of ingredient.
What Is A Krispy Kreme Allergy?
There are several different types of allergic reactions that can occur if you are exposed to an allergen. Symptoms can range from relatively minor to a life-threatening anaphylactic shock, which is covered in more detail here on the NHS website. It is essential that the food allergy information you receive from Krispy Kreme is thorough and has no errors. 
The main types of reaction are:
IgE-mediated – Symptoms can range from minor to extremely serious. It can encompass a wide range of symptoms such as:

Breathing/swallowing difficulties

Shortness of breath

Itchy or tingling mouth

Swelling or rashes (face, throat, mouth and body)

Dizziness

Vomiting

Feeling nauseous/hay fever symptoms

Wheezing
Anaphylaxis – This is a relatively rare but also extremely serious allergic reaction, in some cases, it can be fatal. It should be treated as an emergency immediately if you suspect somebody is suffering from anaphylaxis as it usually requires hospitalisation. The most serious symptoms include:

Loss of consciousness/dizziness

Breathing difficulties

Problems swallowing/speaking

Swollen tongue

Chest pressure/tightness
Non-IgE-mediated – These types of reaction often develop quite some time after consuming food containing allergens. In some cases, it can take several days to develop symptoms, including:

Dry, red cracked skin, like

eczema

Constipation

Vomiting

Itchy skin or rashes

Cramps
Irrespective of the severity of the reaction, the bottom line is if you have purchased food in Krispy Kreme and had a reaction due to incorrect allergy information given by staff, provided on the packaging, or if the food was cross-contaminated or defective in some way, you may be able to make a claim. If you're in a position where you can provide clear documented evidence they did not detail the allergen and it led to any of the symptoms above, our panel of solicitors will be able to investigate this for you.
How Common Is A Krispy Kreme Allergy?
Information provided by the NHS states that food allergies have increased steeply during the past two decades. Allergy UK is a leading national UK charity when it comes to studying the effects of living with an allergy. The research they have completed shows that more than 150 million people in Europe have some form of allergy and it is predicted within the next 5 years that half of the entire EU population will be affected.
In the UK, over 13 million people suffer from one or more allergies. This includes relatively mild conditions such as hay fever to serious conditions which require round the clock care. 
The rate in the UK is one of the highest per population on the planet. Anaphylaxis hospital admissions in the UK between 1992 and 2012 rose by over 600%—showing the increasing and worrying prospect of rising rates of allergies within the general population.
I Asked Krispy Kreme For An Allergen-Free Product
Generally speaking, the food at Krispy Kreme is prepared offsite, but if you are allergic to an item that can be removed from your meal, government guidance stipulates that the company must action your request.
In addition to this, Krispy Kreme must ensure they administer appropriate levels of training to their staff so they're able to answer your questions on what allergens are in your food. Some of the requests you could make to be left out of your meal could include:
No Nuts

No Milk

No Eggs

No Wheat

No Oats

No Cheese

No Fish

No Tomatoes
If after speaking to a Krispy Kreme member of staff about their allergy facts, if you are concerned they are not completely accurate or they haven't alleviated your concerns fully, you could then ask to speak to a senior staff member to ensure the allergens are removed.
If your allergy could cause life-threatening complications, such as a severe milk allergy, the best course of action would be to check the menu, the Krispy Kreme website, as well as conferring with a senior member of staff at the restaurant to ensure it is edible for you.
What Happens If Krispy Kreme Ignored A Request To Remove An Allergen?
If you can prove that you made a request to the outlet to have an allergen removed and staff did not take action to meet this request, this is a serious incident and could justify a claim. Ultimately, if it leads to sickness, hospitalisation or even death, the restaurant would be liable in an instance where you have irrefutable documented evidence that they ignored your request.
To reiterate the point that was made in the previous section, if you have made any of the following requests and they were ignored, a claim could be possible:
No Nuts

No Milk

No Eggs

No Wheat

No Oats

No Cheese

No Fish

No Tomatoes
Krispy Kreme has a legal responsibility to ensure they act on your request straight away, especially when not dealing with the request properly would lead to ill health. Our panel of personal injury solicitors will be able to investigate the issue for you in more detail if you believe you have suffered as a result of an ignored request.
How Negligent Restaurants Could Cause Exposure To Allergens
The Occupiers' Liability Act 1957 states that restaurants owe their customers a duty of care. They must ensure the premises and the items sold within the premises are safe for consumption. If you suffer sickness or injury down to the negligence of the Krispy Kreme restaurant you dined at, you could potentially log a claim against them if you can prove they breached the duty of care they owed you. Examples of actions that could constitute negligence include things such as:
Krispy Kreme failed to inform their staff of appropriate allergy awareness or not detailing the ingredients on a product that contains an allergen such as milk or nuts.

Food being cross-contaminated during preparation.

Contamination issues or errors with the production of pre-packed food.

Ignoring your request to prepare a meal that doesn't contain a specific allergen and in turn allowing the ingredient to be included in the meal.
For example, you may have asked the server at Krispy Kreme if the fruit used in their product was preserved using sulphur dioxide. If they have given you incorrect information, leading to an allergic reaction, this could be grounds for a potential claim. This conversation would need to be documented or witnessed for us to be able to investigate this matter for you. 
Here at Legal Helpline, we are here to help you with this type of claim. If it is something you want more information on, feel free to contact us today for further details.
Takeaway Customer Consumer Rights
You may have suffered an allergic reaction from a takeaway from Krispy Kreme. For example, you may have purchased a doughnut at a Krispy Kreme stall which doesn't have an option to sit in. If you have suffered an allergic reaction via this method you may be wondering if you have the same rights as somebody who has dined in the restaurant and suffered a reaction.
The Consumer Protection Act 1987 states that you have a right to hold Krispy Kreme responsible for injury, damage or loss sustained due to negligence. This is in instances where the product is considered defective. This extends to both restaurant purchases and takeaway items you have bought. Examples of this include things such as:
An allergen that has not been listed on the package of an item.

An allergen you have asked to be removed from your order which has still been included.
I Did Not Tell Krispy Kreme I Have An Allergy, Could I Still Claim Compensation?
If you have suffered an allergic reaction because of an ingredient that was not detailed on your Krispy Kreme order, you may still be able to claim, even if you did not make the staff aware of your allergy. This includes things such as an ingredient contaminated with traces of allergens. If you can prove with clear evidence that the company acted negligently and failed to make you aware of the presence of the allergen, in any capacity, this could be grounds for a claim.
Failing To Provide Krispy Kreme Allergy Advice
Any licensed restaurant, eatery or establishment that serves food must inform customers of the foods that contain:
Nuts

Fish

Dairy/Milk

Seafood

Shellfish

Mustard

Sulphur dioxide

Eggs

Celery

Gluten

Soy

Cereal

Wheat

Lupin
If they do not clearly and categorically label the food where these ingredients are present and you suffer an allergic reaction, this again could be grounds for a potential claim if you can prove the outlet failed in its duty of care. 
An example of this would include if you asked for a doughnut but stated that you have a nut allergy and the member of staff acknowledged this and stated the product did not contain nuts when in fact it did.  If you can supply evidence to this effect, such as obtaining a witness statement from somebody who overheard or was part of the exchange, we could then look to take the matter further and compile a case for you.
Foods Which People Could Be Allergic Or Intolerant To
A large variety of foods can cause a reaction or intolerance. Some are more common than others. Nuts are a common allergen but things like mustard and soy are not as well known. Some of the allergies Krispy Kreme customers could suffer from include things such as:
Dairy allergies

Soy allergies

Seafood allergies

Mustard allergies

Gluten allergies

Wheat allergies

Nut allergies

Sulphur dioxide allergies

Milk allergies

Lupin allergies

Fish allergies

Egg allergies

Fruit allergies

Shellfish allergies

Celery allergies

Cereal allergies
Allergen Menu Krispy Kreme
Krispy Kreme is a brand that is primarily known for its donuts and desserts. At the time of writing, the menu detailed below is what they currently offer, the full list can be found here. You can locate allergen details by visiting their website. You can click on the specific product on the Krispy Kreme website and it states whether or not it contains an allergen.
Krispy Kreme Menu
Doughnut Bites

Original Glazed Doughnut

Lotus Biscoff

Chocolate Iced

Strawberries And Kreme

Strawberry Iced

Chocolate Sprinkles

Glazed Raspberry

Nutty Chocolatta

Chocolate Custard

Lemon Meringue

Original Filled Kreme

Reese's Peanut Butter

Twisted Reese's Choco Ring

Twisted Cookie S'Mores

Chocolate Dreamcake

Salted Caramel Cheesecake
Food Allergy At Krispy Kreme Compensation Calculator
You might be wondering how much compensation you could claim for an allergic reaction in Krispy Kreme due to a clear and obvious documented error they have made. We have opted not to include any kind of personal injury claims calculator within this guide. We feel the table at the bottom of this section provides a clearer and fairer insight as to what to expect for this type of injury.
The figures below are from the Judicial College Guidelines, which is a publication that solicitors and insurers use to measure the type of compensation that is fair to award in a personal injury case.
We have included damages that are primarily associated with a food allergy claim, but as this particular type of claim can cause a wide range of minor and major injuries you may not necessarily see your injury documented on this table. If this is the case, you can call our team here at Legal Helpline and they would be more than happy to assist you.
| Injury Sustained | Notes | Compensation Award |
| --- | --- | --- |
| Minor Reaction | Short term which lasts a few days and does not show any signs of lasting damage. | Up to £3,710 |
| Moderate Reaction | More moderate cases can last around 7 days, stomach cramps, loss of appetite and diarrhoea may be apparent. | £3,710 to £8,950 |
| Serious Reaction | Serious cases might last much longer, including symptoms such as dehydration, severe weight loss and vomiting and diarrohea. Hospitalisation may also be required in this instance. | £8,950 to £18,020 |
| Severe Reaction | The most severe cases of food poisoning can last lasting up to a year. Causing serious stomach issues which persist for months, including several hospitalisation visits. | £36,060 to £49,270 |
Special Damages Which Could Be Claimed
As part of any personal injury claim, there are additional damages you can look to claim for. There's a high likelihood your injury will have caused you to suffer additional costs such as travelling to medical appointments, having to take days off from work and any medication or counselling costs. We can look to recover any costs as part of a claim so that you haven't suffered any financial loss because of the incident.
If you have incurred expenses because of your Krispy Kreme food allergy reaction, you must evidence these expenses. Without them, you wouldn't be able to claim them back. Examples include receipts and bank statements. If you're looking to claim for loss of earnings your personal injury lawyer will require proof such as payslips that show you have incurred a loss because of what happened.
No Win No Fee Claims For A Food Allergy At Krispy Kreme
Taking on a large company like Krispy Kreme can be daunting. It is natural to be reluctant to take action against such a big company as you know they'll have the tools to properly argue their case in court. We operate on a No Win No Fee basis, which means we will be able to give you quality legal representation with no need to pay costs upfront or during the case.
Our panel of solicitors are experts at what they do and are here to help. We passionately believe you should not miss out on justice and compensation if you have been wronged. 
The way we can afford to represent you on a No Win No Fee basis is through a Conditional Fee Agreement. This is an agreement you enter with your personal injury lawyer that ensures they receive a small fee if the case is a success and you receive compensation. This fee is capped by law, and you would only have to pay it if the claim is successful. If the claim does not succeed, there are no costs to pay to your solicitor at all.
Finding A Solicitor
If you've suffered an allergic reaction in Krispy Kreme and feel as though you're now in a position where you wish to discuss your claim with somebody at Legal Helpline, there are several ways you can do this:
You can call us on 0161 696 9685
If you'd prefer to receive a call back you can fill in your details on our website and somebody will get back to you.
You can also speak to someone on our live chat facility which is available on our website.
References
Thank you for taking the time to read our article today on the services we offer in relation to claims for an allergic reaction after eating in Krispy Kreme. We hope you have found it useful. If there's additional information you'd like, feel free to read some of our resources below that cover similar topics.
How Do I Make A Gluten Allergy Compensation Claim?

How Do I Make A Soybean Allergic Reaction Claim?
FAQ's About Shellfish Allergy Claims 
Guide by AL
Edited by REG</spor A Food Allergies In Krispy Kreme
an>