Suffering from a food allergy means you're probably going to check a menu twice or even three times before ordering a meal from it. You may even go on to ask staff to confirm if an allergen is present in your order. If you're unable to get the correct information or are given wrong information and you suffer an allergic reaction as a result, you may be entitled to seek compensation for your suffering. In this guide, we're going to consider when you might claim for an allergic reaction after eating in TGI Friday's. We'll cover scenarios where negligence could cause suffering, the legislation used to support claims and the amount of compensation that might be paid.
Legal Helpline is here to assist you if you're considering such a claim. Our friendly team of advisors will give you free legal advice about claiming and offer a no-obligation consultation to review your case. If they deem your case to be viable, you'll be connected to a specialist personal injury lawyer from our panel. You'll receive a No Win No Fee service if they agree to take your claim on.
Please call us on 0161 696 9685 today if you're ready to start a claim right away. Otherwise, continue reading to find out more about claims for a food allergy in TGI Friday's.
Jump To A Section
A Guide To Claiming For A Food Allergy In TGI Fridays
While the symptoms of a food allergy can be inconvenient and embarrassing, they can sometimes pass very quickly and not cause any serious problems. However, some reactions can have more serious symptoms which are long-lasting and can even be fatal in certain conditions. It's for this reason that food legislation exists to help allergy sufferers identify what allergens are present in food purchases.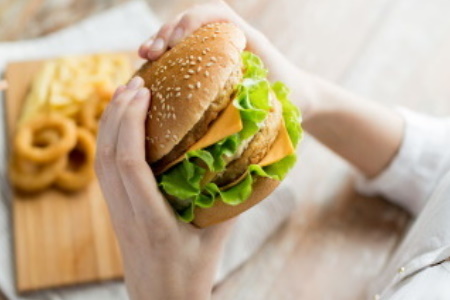 If a food producer fails to stick to the law and doesn't properly list allergens contained within their food, they might be liable for any consequent suffering. In this guide, we're going to look at when negligence could lead to a claim for an allergic reaction after eating at TGI Friday's. We'll supply examples of when you could claim and how much compensation might be payable.
We always offer one key piece of advice: start your claim as soon as possible. You should seek legal representation quickly because there is a 3-year personal injury claims time limit. If you claim outside of the limitation period, there's a good chance you won't be entitled to any compensation as your claim will be rejected. While 3 years does appear to be a long time, it's best to start while everything is still fresh in your mind. It will also allow your solicitor the time they'll need to gather evidence to support your claim.
Once you've completed this guide, please get in touch to discuss starting a claim or to ask any questions that remain.
What Is A Food Allergy And Are There Different Types?
It's quite surprising to know that an allergic reaction happens when your immune system makes a mistake. When it wrongly identifies food as something that will cause you harm, it releases antibodies to try and protect you. NHS advice says that it is this process that causes the symptoms of an allergic reaction, which include:
Difficulty swallowing.

Feeling sick or vomiting.

An itchy red rash called hives.

A tight chest or wheezing.

Swelling of the tongue, eyes, face or lips.
More serious reactions can lead to anaphylaxis which should be treated as a medical emergency. If it's not, the allergic reaction can become life-threatening or fatal.
Later on in this guide, you'll find a list of all potential food allergens.
What Are Allergic Reactions To Eating In TGI Fridays?
You might think that, based on the information from the previous section, TGI Friday's aren't really responsible if you suffer an allergic reaction after eating their food. Well, that is true if they've adhered to food laws and made sure that allergen information has been presented properly.
However, in cases where negligence meant a customer didn't have the information they needed regarding allergens when ordering their food or dishes were contaminated with allergens, TGI Friday's could possibly be found liable for any suffering caused, provided evidence can be supplied that shows the breach in duty.
We'll review scenarios where this might be the case as we progress through our guide.
Statistics On Common Food Allergies
For people who don't suffer from allergic reactions, it's quite surprising to hear just how many people in the UK are affected. Here are some statistics from Allergy UK (a charity who supports allergy sufferers):
In total, over 20% of adults and children are affected by some sort of allergic reaction (not all are food allergies).

The figure for adults in the UK is rising but currently stands at 44%. Nearly half of those people (48%) suffer from multiple allergies.

In the 20-years leading up to 2012, figures reveal that hospital admissions caused by anaphylaxis have risen by a massive 615%.
TGI Fridays Ignored A Request To Leave Out A Food Or Drink
In restaurants that prepare food onsite, you might ask for certain ingredients to be removed from your dish. That may be down to personal taste or because you know it could trigger an allergic reaction. The staff may tell you that your request can't be fulfilled and ask you to make another choice. However, if they agree to your request, but the dish still contains the item you asked to be removed, you might be entitled to compensation for any suffering caused by a subsequent reaction.
Here are some of the items you might request to be removed from your food purchase:
No Fish

No Eggs

No Oats

No Milk

No Nuts

No Cheese

No Wheat

No Tomatoes
If you believe that this is what caused your allergic reaction, it might be wise to retain a sample of the food you were given. Also, ask for details of any witnesses who overheard you make the request and then contact us to discuss your eligibility to claim.
When An Allergic Reaction Could Be Caused By Negligence?
Even though companies like TGI Friday's spend a lot of time and money on safety training and allergen advice for staff, mistakes can still happen. It's these situations that could entitle you to claim compensation for an allergic reaction.
For instance, a claim might be possible for an allergic reaction caused by:
Staff failing to display allergen posters in prominent positions.

Where safety procedures aren't followed in the kitchen and lead to cross-contamination.

Being given incorrect allergen advice by staff.

Being given a dish which contains ingredients not listed on the menu.
To enquire about claiming compensation for an allergic reaction after eating at TGI Friday's because of staff negligence, contact us today and let us know what happened.
What Are Your Customer Rights?
Many types of purchases in the UK are protected by the Consumer Rights Act 2015. The basic premise is that items you order should arrive as advertised and fit for purpose. If not, you may be able to return the item or get a refund. For many products, that's a suitable way of resolving a problem. However, when a food product causes an allergic reaction because it contains allergens not listed in the advertising, a refund won't be enough.
In these cases, you could claim compensation for any suffering caused because the product was not as advertised and for the suffering that negligence caused you.
Could I Still Claim If I Did Not Tell Anyone About My Allergy?
While you might think it's important to tell restaurant staff about any allergy you're affected by, you're not legally obliged to do so. That means, if an allergic reaction happens because the restaurant did not display or provide the correct allergen information, you could still go on to begin a claim against them.
Failing To Provide Correct Allergy Information
As mentioned previously, restaurants are obliged to inform you of any allergen present in their ingredients. In some cases, they might choose to highlight allergens on the menu. However, it's also perfectly acceptable for them to have a sign explaining where you can find allergen information, so long as the signs are in a prominent enough position. In cases where no signs are posted and the menu doesn't contain accurate information, you could claim if you go on to suffer an allergic reaction.
What Foods Could Cause You To Have An Allergic Reaction?
As we've progressed through our guide about claiming for an allergic reaction after eating at TGI Friday's, we mentioned some of the foods that might cause a reaction to occur. To ensure you have all of the information you need, we've provided a more comprehensive list of allergies below:
Gluten allergies

Fruit allergies

Nut allergy

Milk allergies

Fish allergies

Dairy allergies

Wheat allergies

Soy allergies

Egg allergies

Cereal allergies

Seafood allergies

Mustard allergies

Shellfish allergies

Sulphur dioxide allergies

Lupin allergies

Celery allergies
Legal Helpline could assist you with claims for allergic reactions resulting from any of the above. Please reach out to an advisor once you're ready to begin a claim.
Item And Allergy Information For The TGI Fridays Menu
For your information, we've listed some of the items available on the TGI Friday's menu below. The information was accurate at the time of writing but it's important to remember that the menu can change, and some items might not be available at all restaurants.
Please review the TGI Friday's allergy information relating to their latest menu here.
Mains
Center Cut Sirloin Steak With Parmesan Butter

Center Cut Sirloin Steak With Whisky-glaze

Center Cut Sirloin Steak & Shrimp With Parmesan Butter

Center Cut Sirloin Steak & Shrimp With Whisky-glaze

Cajun Shrimp & Chicken Pasta

Chicken Parmesan Pasta

Crispy Chicken Fingers

Dragon-glaze Salmon

Fridays Big Ribs – Apple Butter Bbq

Fridays Big Ribs – Whiskey Glazed

Fridays Signature Whiskey Glazed Chicken

Fried Shrimp

Simply Grilled Salmon

Sizzling Chicken & Cheese

Sizzling Chicken & Shrimp

Sizzling Fridays Signature Whiskey Glazed Flat Iron Steak
Wings
With Apple Butter Bbq

With Carolina Reaper

With Chilli-lime

With Dragon Glaze

With Frank's Redhot Buffalo

With Garlic Parmesan

With Whiskey Glaze
Burgers
Bacon Cheeseburger

Beyond Meat Burger

Cheese Burger

Fridays Signature Whiskey Glazed Burger

Guinness Pub Burger

Loaded Cheese Fry Burger

Philly Cheesesteak Burger
Sides
Cheddar Mac & Cheese

Coleslaw

Garlic Breadsticks

Giant Onion Rings

Season Fries

Side House Salad

Jasmine Rice

Lemon-butter Broccoli

Mashed Potatoes

Sweet Potato Fries
Sandwiches
Bacon Ranch Chicken Sandwich

Fridays Signature Whiskey Glazed Chicken Sandwich

Southern Fried Chicken Sandwich
Salads
Caesar Salad With Grilled Chicken

Caesar Salad With Grilled Salmon

Caesar Salad With Center Cut Sirloin

Caesar Salad With Beyond Meat Patty

Million Dollar Cobb Salad With Grilled Chicken

Million Dollar Cobb Salad With Grilled Salmon

Million Dollar Cobb Salad With Grilled Centre-cut Sirloin

Million Dollar Cobb Salad With Grilled Beyond Meat Patty
Calculating Compensation For Allergic Reactions In TGI Fridays
To give you an idea of how much compensation could be payable, we've provided the table below. We don't have a personal injury claims calculator because we know every claim is different and they can be misleading and cause confusion. Instead, we've compiled the below table using guidelines from the Judicial College, an organisation that reviews compensation awards made by the courts.
When you've spoken to an advisor, and your claim has been reviewed properly, you should receive a more accurate compensation estimate. Importantly, these figures make up one part of your claim. There's information on what else can be claimed in the next section.
| Claim Type | Compensation Award | Comments |
| --- | --- | --- |
| Allergic reaction (minor) | Up to £3,710 | Allergic reactions with minor symptoms where full recovery take around 2 weeks without the need for treatment. |
| Allergic reaction (serious) | £3,710 to £8,950 | Allergic reactions that result in more serious symptoms including cramps, significant discomfort and also fatigue. The symptoms will probably result in hospital admission and carry on for a few weeks. A full recovery could take as long as a year. |
| Allergic reaction (severe) | £8,950 to £18,020 | Allergic reactions with much more serious symptoms that will take about two to four weeks to reduce. Some of those symptoms might be longer-lasting and even permanent which means the compensation might be higher. |
When compensation is awarded, it's based on how serious your injuries were. That's why your solicitor will arrange for you to see a local medical expert for an assessment as part of the claims process. During the medical assessment, your records will be reviewed, and you'll be asked several questions about how you've suffered. Then a report will be compiled that details the extent of your suffering and whether there will be any long-term symptoms.
Examples Of Special Damages Which You Could Claim
A compensation claim generally consists of two main parts: general and special damages. The table we listed in the previous section contained examples of general damages payments. They're used to cover any pain, suffering or loss of amenity caused by your injuries. They usually make up the larger part of your claim.
Special damages, on the other hand, are used to reimburse you for financial losses incurred because of your allergic reaction. What you can claim depends on how you've been affected. Special damages can include:
Travel Costs

– You could claim for fuel or parking costs linked to medical appointments or trips to a pharmacy. Also, you could be entitled to claim for the cost of alternative travel arrangements when your injuries leave you unable to drive.

Medical Expenses

– While you're recovering, you may need multiple courses of medication. If you incur prescription costs or costs related to treatment not offered by the NHS, you could be allowed to include them in your claim.

Care Costs

– If you require support from a carer while you get better, you could claim back any associated expenses. That might be the fees charged by a professional or an hourly rate for the time a loved one spent looking after you.

Lost Earnings

– If your injuries mean you need time off work to recover to attend medical appointments, you could ask for any lost earnings to be included in your claim. Where an injury lasts longer and affects your ability to work, you may be entitled to claim for future lost income too.
Your solicitor will probably ask you to prove how much you've spent so it's a good idea to keep any supporting evidence such as receipts and bank statements.
No Win No Fee Claims For A Food Allergy In TGI Fridays
Dealing with a personal injury claim can be stressful and you might worry about how much it will cost you. To remove a lot of the worry and to reduce the financial risk, our panel of lawyers provides a No Win No Fee service for claims they agree to handle.
They start by checking the validity of your claim with you. When both parties are happy, your solicitor will draw up a Conditional Fee Agreement (CFA) for you to sign. This is the No Win No Fee agreement that will fund your case.
A CFA offers many benefits including:
Absolutely no upfront payments are required. That means the solicitor can start your claim straight away.

You won't be asked to cover any of the solicitor's fees throughout the claim.

If the claim fails, you don't have to pay any fees for the solicitor's work at all.
When a claim is won, your solicitor will charge a success fee to cover their time and costs. You don't have to send a payment to cover this fee. Instead, they will retain a small part of your compensation. By law, a success fee is legally capped, and your solicitor will explain how much you'll pay (and list it in the CFA) before the case begins.
If you're ready to begin and want to know if you're able to use a No Win No Fee solution, please contact an advisor today.
How To Begin Your Case
If you've found this article about claiming compensation for an allergic reaction after eating at TGI Friday's useful, and you're considering making a claim, we hope you'll let Legal Helpline support you. To discuss what happened and how you've been affected you can:
Speak directly to one of our specialists by calling 0161 696 9685.
Ask to be called back when it's convenient by filing an online claim enquiry form.
Connect with an online advisor with our easy to use live chat software.
Email information regarding your claim on

[email protected]

.
When you are ready to begin, an advisor will review your claim with you. They'll consider all of the evidence that you're able to provide in a no-obligation assessment of your claim. If the case seems viable to the advisor, they'll refer you to a specialist personal injury lawyer from our panel. Your claim will then be handled on a No Win No Fee basis if it's taken on.

Supporting And References
Thanks for visiting Legal Helpline and reading this guide about claiming for an allergic reaction after eating in TGI Friday's. We've provided links to some extra guides, links and external resources below which we hope you'll find informative. Please remember that you can call our team if you require any additional information.
Wheat Allergy Claims – Detailed information on making a personal injury claim for an allergic reaction to wheat.
Accident In A Restaurant Claims – Advice on claiming compensation for injuries sustained in a restaurant accident.
Shellfish Allergy Claims – This guide looks at when you might make a claim following an allergic reaction to shellfish.
The Food Standards Agency – The government body that was established to enforce food laws.
Lactose Intolerance – An article from the NHS which supplies information on the causes of lactose intolerance.
The Food Safety Act (1990) – This piece of legislation is the basis for most food-related laws in the UK.
Guide by BE
Edited by REG