By Daniel Picard. Last Updated 2nd August 2022. Have you sustained a chemical burn in an accident at work? Was your accident caused because your employer had been negligent? Could have your injury been avoided? If so, you may be entitled to make a chemical burn at work compensation claim. We understand it may seem like a complex process. However, our guide will provide the information you need to move forward.
No matter how severe your injury, you may be entitled to seek compensation for the pain and suffering you've endured. However, you must be able to prove that that the accident was caused because there was a breach in the duty of care owed to you.
If you're unsure of how negligence occurs, we will explore this in more detail throughout our guide. For instance, by looking at the duty of care an employer owes you and how they could breach this.
Our guide aims to help you understand whether you're eligible to put forward a personal injury claim. However, if you have any questions whilst reading, please don't hesitate to get in touch with our team using the details below:
Chat with an advisor using the live chat box below
Request a call-back from a member of our team by filling out the contact form
Jump To A Section
A Guide On Claiming Chemical Burn At Work Compensation
According to the Compensation Recovery Unit (CRU), there were 45,687 workplace claims registered between 2020-2021. 
Our guide aims to provide you with the tools you need to build a strong case so you can seek the compensation you deserve. For instance, evidence that can help to prove your employer was liable for the accident in which you sustained harm. 
Additionally, you may be considering seeking legal help but are concerned by the costs that you're often required to pay. If so, our guide will look at the alternative option of funding a solicitor under a No Win No Fee agreement. 
When making a claim, it's important that you're aware of the personal injury claims time limit. In general, you have three years to seek compensation. Either from the date the accident happened or the date you obtained knowledge of someone else's failings contributing to or causing the injury. 
However, there may be exceptions that apply to your case. For more information, please speak to a member of our team using the number above. 
Alternatively, continue reading our guide for further information on chemical burns at work.
What Is Chemical Burn Injury?
Chemical burns are injuries to the skin, eyes, mouth, or internal organs caused by contact with a corrosive substance. They can cause debilitating physical and psychological symptoms that can have an impact on every aspect of a person's life. For instance, visible burns may have an impact on someone's self-confidence.
Although not all chemical burn injuries at work result from someone's failings, they can occur as a result of an employer acting negligently. For instance, your employer failing to provide you with gloves when handling harmful substances.
If you've been affected by this type of injury due to someone breaching their duty of care, you could seek compensation for the pain and suffering you've endured. Call our team for further guidance.
Statistics On Chemical Related Injuries
According to the Reporting of Injuries, Diseases and Dangerous Occurrences (RIDDOR), employers reported a total of 65,427 non-fatal injuries to employees in 2019/2020.
Additionally, RIDDOR recorded 1,679 non-fatal burns during 2019/2020. The graph below provides an insight into different accidents that could reflect burn injuries.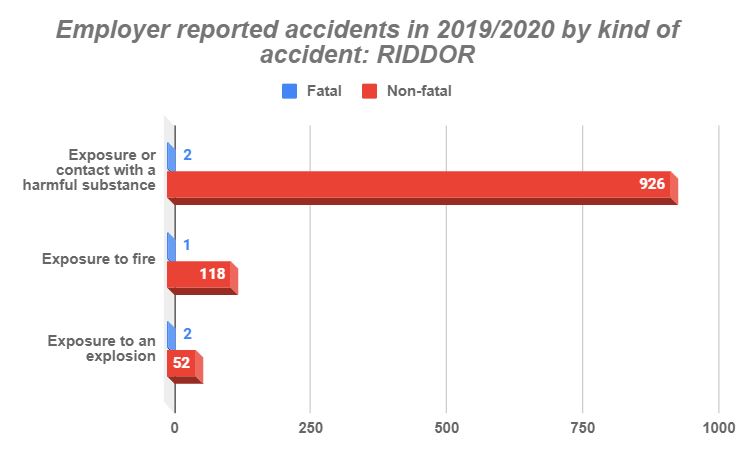 For more information on chemical burn statistics, see the Health and Safety Executive website (HSE).
Risk Factors And Causes
Chemicals are used in various workplaces such as factories, shops, laboratories, offices, farms, hairdressers. Both employees and members of the public could be at risk if health and safety regulations aren't adhered to. For instance, a customer at a hair salon could suffer a burn injury if a patch test is not carried out when bleaching the hair.
Additionally, employees working in certain industries may be more at risk of sustaining chemical injuries. For instance, those working with harmful substances, including paints and cleaning products.
Dangerous Chemical Spills
Chemical spills could occur through products being loaded incorrectly into a transport vehicle. An employee could then suffer a chemical burn if the products fall onto them while they're unloading the vehicle.
Additionally, chemical spills could occur on an industrial plant and are a serious risk to employees health and safety. There are various reasons why they could occur, such as:
Damage to the container causing chemicals to leak
Employees receive no training on how to store such chemicals safely.
In some cases, your employer may not be liable if they have taken reasonable steps to prevent you from suffering harm.
However, if they failed to check the safety of the work environment and equipment through regular risk assessments, they may have been negligent.
Handling And Storage Accidents
Employers are responsible for ensuring that the work environment is kept safe by carrying out regular risk assessments.
Failing to do so could result in an employee sustaining a chemical burn due to chemicals being unsafely stored in the workplace.
Additionally, your employer has a responsibility to minimise your risk of injury. For instance, by providing you with Personal Protective Equipment (PPE) such as gloves to prevent a chemical burn on your hands.
If you have evidence that your employer failed to meet their legal obligations in protecting your health and safety as much as is reasonably practical you could be eligible to make a chemical burn at work compensation claim.
For more information, call our team on the number above. Alternatively, continue reading to see our section exploring an employer's responsibilities. 
How Are Chemical Burns Classified?
There are a few different classifications of burns. All burns can be very painful and result in disfigurement and scarring. However, there are different degrees of burns. For instance:
Superficial or first-degree burns: These cause damage to the outer layer of the skin but often heal without permanent damage.
Partial-thickness or second-degree burns: These cause damage to the outer layer of the skin and the dermis and can result in blisters, swelling and some permanent scars.
Full-thickness or third-degree burns: These types of burns can damage two full layers of skin and can cause damage to the nerves.
Fourth-degree burns – potentially life-threatening – all layers of skin are destroyed.
What Are The Symptoms Of Chemical Burns?
The symptoms you may experience will depend on the type of burn you have suffered and may to some extent the chemical that has caused the burn.
Redness or irritation
Burning
Pain or numbness
Blisters
Blackened skin
Cough
Shortness of breath
However, if your eyes have been exposed to a gas or liquid chemical, you may experience changes to your vision. Furthermore, if you inhale fumes from toxic gas chemicals, you may experience coughing, headache, shortness of breath or dizziness.
The severity of your symptoms may depend on how bad your burn is. However, you should seek immediate medical advice to ensure your injuries are treated correctly.
Treatments And Possible Complications
According to the NHS, you should seek immediate medical advice if you've suffered a chemical burn. The immediate treatment you receive in the hospital may include:
Washing the chemical substance off the affected area
Cleaning and dressing the burn to prevent infection
Providing you with pain relief
Issuing you with a tetanus jab, only in some circumstances
The recovery time and complications that may arise from your injury may depend on the severity of the burn. For instance:
If you've sustained a minor burn, a doctor may need to check and change your dressing regularly to help prevent you from developing an infection.
For more severe burns, you may require surgical treatment. The surgery may involve skin replacement by using a skin graft to help repair any damage. Additionally, there may be more severe complications such as restricted use of limbs and muscles.
Additional complications may include limb loss as a result of infection or severe burns and tissue damage.
If you require further information on how to care for a chemical burn, see the NHS guidance.
Is My Employer Responsible For My Health And Safety?
All employers must fulfil their duty of care to you. With regards to hazardous substances in the workplace, they must follow the Control of Substances Hazardous to Health Regulations 2002.
Employers should take reasonable steps to prevent or adequately control the risk of exposure to harmful substances. For instance, by providing:
Training: Employers must ensure you are adequately trained to deal with any health and safety risks.
Furthermore, they must provide training on how to perform your job safely and effectively.
However, employers may need to provide PPE even after these measures to prevent employees from suffering avoidable harm.
The specific duty of care you're owed may depend on your specific workplace. For more information on the duty of care your employer owes you, speak to one of our advisors by calling the number above.
Chemical Burn At Work Compensation – Payout Examples
If you've been injured due to a chemical burn at work, compensation could be owed to you for the physical and psychological impact caused as a result. However, the amount that legal professionals award to you will be in line with the level of pain and suffering you experience due to your injuries. This figure is known as a general damages payment.
As well as medical evidence relating to your injury, the Judicial College Guidelines (JCG) in a publication that can be useful when calculating general damages payouts. Last updated in 2022, the JCG contains details on various injuries and figures based on past court cases. For example, if you sustained a second degree burn at work, a burn of this severity will be included in the JCG alongside a range of relevant amounts.
These figures should give you a rough idea as to the value of some injuries. However, every claim is unique and will be affected by different circumstances. Get in touch with our advisors today for a bespoke estimation of how much you could be owed in compensation.
| Injury | Further details | Compensation Award |
| --- | --- | --- |
| Facial Disfigurement | Where injuries have caused a severe psychological impact on the person. | £29,780 to £97,330 |
| Facial Disfigurement | Less severe scarring: Considerable disfigurement and a significant psychological impact. | £17,960 to £48,420 |
| Facial Disfigurement | Significant scarring: The cosmetic effects of the injuries will have improved with plastic surgery and the psychological impact will have also improved. | £9,110 to £30,090 |
| Facial Disfigurement | Less significant scarring | £3,950 to £13,740 |
| Facial Disfigurement | Trivial scarring | £1,710 to £3,530 |
| Burns | The award will be given for burns that cover 40% or more of the body whilst taking into consideration other factors such as the psychological impact. | Likely to exceed £104,830 |
If your injury isn't listed or you have any questions regarding how your compensation is valued, call our team on the number above. Alternatively, see the section below for further information on special damages. 
What Else Could You Claim For?
Special damages cover any past or future financial losses you may have incurred as a result of your injury.
For instance, if you were the sole carer for someone and your injury meant you were unable to look after them, you could seek reimbursement for the cost of their care. 
Additionally, you may be able to seek reimbursement for other financial losses, such as:
Loss of earnings and pension: If you were left unable to work either permanently or temporarily.
Medical costs: If you need ongoing medical treatment such as counselling or physiotherapy.
Travel expenses: For public transport or taxis to and from appointments.
However, it's important that you keep copies of receipts, payslips and invoices that prove any losses.
Steps To Take If You Suffered A Chemical Burn Injury At Work?
Seek medical attention: When you suffer an injury, it's important to seek treatment from a trained medical professional to ensure you avoid any complications from arising. Furthermore, it can provide medical evidence that can outline details of your injury.
Please speak to a solicitor: Although you can put forward a claim without seeking legal representation, it can be beneficial having the help of an expert solicitor. They can advise further on the steps you need to take to get the compensation you deserve.
Obtain evidence to prove negligence: Evidence such as CCTV footage, a record of your accident in the workplace accident book, pictures of the accident and your injury and witness details.
For more information, please speak to a member of our team by calling on the number above.
Could I Claim Chemical Burn At Work Compensation With A No Win No Fee Solicitor?
If you hold a valid claim, you could seek legal representation to help you pursue compensation under a No Win No Fee agreement. By choosing this option, you won't be asked to pay solicitor fees if your claim is unsuccessful.
If your claim is successful, you will be required to pay a legally capped success fee that will be deducted from your overall compensation settlement. However, your solicitor will explain how the fee works and make you aware of it before proceeding with your claim.
Furthermore, this type of agreement can allow you to avoid upfront solicitor fees and costs that may incur as part of the claims process.
For more information on how you could pursue a chemical burn at work compensation claim, see below. 
Contact Us
We hope you've found our guide informative. However, we understand that you may still have questions. If so, our team of expert advisors are available 24/7 to help.
Not only can they answer any queries you may have, but they can also assess whether your claim holds validity by looking at whether someone breached the duty of care they owed you.
Furthermore, if they feel your claim has a chance of succeeding, they can appoint a solicitor from our panel to work with you on your case. A solicitor can help you through the often complex process and keep you informed at each stage of your personal injury claim.
However, if you're not ready to put forward your claim yet, our advisors can assist with helping you understand the steps you may need to take. For further help and advice, get in touch using the following details:
Chat with an advisor using the live chat box below
Please fill out the contact form to request a call-back from a member of our team
Useful  Resources
Visit the Changing Faces website for support on dealing with the repercussions of a chemical burn.
See Section 2 of the Health and Safety at Work etc. Act 1974 for more information on the duty of care your employer legally owes you.
FAQs
For more information on chemical burns, see below for answers to commonly asked questions. 
What is the immediate care for a chemical burn?
Always seek the advice of a medical professional for a chemical burn.
When should I be concerned about a chemical burn?
If you're concerned about a chemical burn you've sustained, you can seek medical advice from the NHS or a trained medical professional. 
How long does a chemical burn last?
The symptoms you experience and the time it takes for your injury to heal can depend on the severity of the chemical burn. 
Thank you for reading our guide on making a chemical burn at work compensation claim. We hope you found it helpful.