By Danielle Graves. Last Updated 13th October 2023. Welcome to our ankle injury claims guide. Have you sustained an ankle injury due to an accident that wasn't your fault? If so, you may be entitled to compensation.
Ankle injury claims are actually quite common and something that personal injury solicitors deal with regularly. If you'd like to get legal help, get in touch.
Legal Helpline has a specialist panel of personal injury lawyers who can help you to get the compensation you deserve.
Please contact us on 0161 696 9685 today. You can also contact us through our website.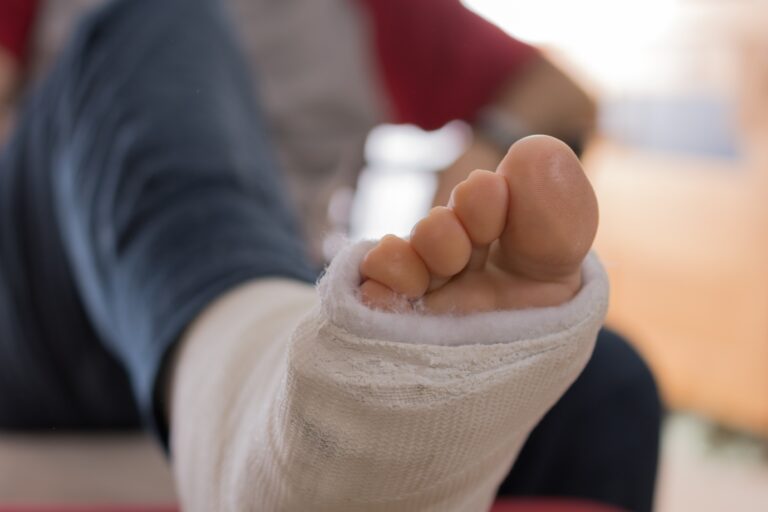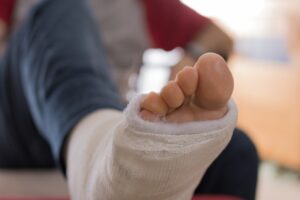 Jump to a Section
The Criteria For Ankle Injury Claims
There are various daily situations where you could suffer an ankle injury. These include:
A road traffic accident. Road users owe each other a duty of care to navigate the roads in a way that prevents injury and damage to themselves and others. As part of this duty, they are expected to adhere to the Road Traffic Act 1988 and any relevant rules and regulations found in the Highway Code. If you suffer an injury because of a breach in this duty, you could seek compensation for a broken ankle.
A public liability accident. If you are in a public space, such as a shop or pub, the organisation or individual in control of that space owes you a duty of care to ensure your reasonable safety. This is set by the Occupiers' Liability Act 1957. If this duty is breached and you suffer an ankle injury as a result, you could claim compensation.
An accident at work. Under the Health and Safety at Work etc. Act 1974 (HASAWA), your employer must take all reasonable and practicable steps to ensure the health, safety and welfare at work of their employees. This is their duty of care. Should they breach this, and you suffer an injury because of this breach, you might be able to make a personal injury claim.
In order to have a good case to seek personal injury compensation, you must be able to prove that you suffered your injury because a liable party breached the duty of care they owed you.
If you have any questions about the eligibility for ankle injury claims, get in touch with one of the advisors from our team.
How Long Do I Have To Make An Ankle Injury Claim?
The answer to this question can be found in the Limitation Act 1980. In general, you have 3 years to begin a claim from the date you sustained the injury.
In two instances, this time limit can be extended:
Those with a reduced mental capacity – If this is the reason a person is unable to claim themselves, then a litigation friend could be appointed to claim on their behalf. In addition, the time limit is also suspended. It begins again if the person becomes capable of claiming.
If the claimant is under 18 – The time limit is also suspended for injured children. A litigation friend can also make a claim on their behalf if one is to be made before the injured party's 18th
To find out more about whether you could still be eligible to claim, get in touch with our advisors today. We can also tell you more about the average payout for a broken ankle.
What Ankle Injuries Can You Claim Compensation For?
The ankle is actually quite a complex structure, meaning there are a variety of injuries that can result in ankle injury claims.
The ankle consists of numerous bones, tendons, and ligaments that all join up in a way that allows movement through to the foot and support. It's not surprising that the ankle is susceptible to injuries when you consider the constant movement and weight-bearing that it endures. Damage that occurs to the tendons, ligaments or bones can cause extreme pain and be hugely debilitating. Even minor injuries can result in some loss of mobility.
One of the deciding factors as to whether an ankle injury is minor or severe is the amount of time it takes to heal. A sprain or strain usually takes less time than a fractured or broken ankle and so would be considered less severe as they will heal quicker. In some circumstances, however, the victim can be left with a permanent disability depending on the nature of their injury.
Some of the most common types of ankle injury are:
Inversion Ankle Sprain – This happens when your lateral ligaments are stretched and therefore damaged due to your ankle rolling or twisting inward. Although considered a mild injury in most cases, this is one of the most common.
Eversion Ankle Sprain – As the opposite to an inversion ankle sprain, although less common, can be more severe.
Fracture or break of the Ankle – This is where one or more bones in the ankle are broken. Some injuries of this type can only be corrected using surgery. Also, quite often when the bones are broken, the ligaments holding the ankle joint in place can also be affected. A broken or fractured ankle will result in some mobility loss which will be longer in duration the more severe the injury is.
Dislocation – Another common injury that is caused by a large amount of pressure causing the ankle to move out of its usual position. This pressure can also result in one or more of the bones being fractured. Surgery is often needed to correct this type of injury and can take a long time to heal.
How Do I Prove An Ankle Injury Claim?
In order to make a successful claim, you need to be able to provide a certain amount of evidence that not only proves that your injury actually exists, but also the liability of the party you believe is responsible. In order to do this, there are a number of steps you can take that can support your case:
Photos – If possible, take photos of the area where the accident occurred and also of the reason it may have occurred, for example, if you hurt your ankle due to twisting it after walking over a pothole, take a photo of the pothole. Also, take photos of your injury to visually prove the pain and suffering you have endured.
Witnesses – Did anyone see you hurt your ankle? If so, take down their contact details as a witness statement may be required. Witness statements are an invaluable piece of evidence.
Medical Treatment – Make sure to see a medical professional for a proper diagnosis of your injury and have it treated accordingly.
Expenses – Keep a record of receipts of any expenses incurred as a direct result of your injury such as medical and travel expenses.
Diary – Note down everything you remember about before, during and after your accident causing injury took place. Also, keep a diary of your symptoms and how you feel.
Claiming Compensation For A Broken Ankle After A Slip, Trip And Fall
The most common of all types of ankle injury claims involve accidents where someone has slipped, tripped or fallen. These types of accidents are so common that generally speaking people don't think that someone may be responsible and instead just brush it off as an unfortunate accident.
However, this isn't the case in a lot of instances when in public spaces. If you have tripped over a loose or uneven paving slab, for example, liability will fall with the local council or if on private land, the landowner, as they have a responsibility to maintain the pavement to a safe standard. You may even be able to sue the council for emotional distress.
Another example may be if you slipped on a spillage in a restaurant, again, the restaurant owner has a responsibility to ensure that their restaurant is a safe environment to work in or visit and so are required by law to have health and safety policies in place to deal with anything that could potentially cause an accident.
To summarise, if your accident was due to someone else's negligence, then you may be eligible to make an ankle injury compensation claim.
Claiming For An Ankle Injury At Work
A workplace is a common place for ankle injury claims to originate and there are many reasons why an accident might occur. Depending on the circumstances, they can result in numerous types of injuries with varying severities. Accidents that result in the victim's ankle being injured are often due to a slip, trip or fall accident, commonly due to uneven or poorly maintained floor coverings.
Employers have a duty of care by law to adhere to the Health and Safety at Work Act 1974 regulations in order to provide a safe working environment for their employees. Failure to do so will result in them being in breach of their legal duties as an employer and so liable if someone were to sustain an injury.
Is There An Average Payout For An Ankle Injury?
If you have determined that you have a valid claim, you may wonder what the average compensation for an ankle injury might be. However, no fixed amount is awarded for a sprained ankle, as compensation is determined on a case-by-case basis. In determining ankle injury compensation amounts, solicitors consider the severity and impact of the injury. They also use compensation amounts from the Judicial College Guidelines (JCG).
Your ankle injury claim could include both general damages and special damages. General damages is compensation for the pain and suffering caused by your sprained ankle. If you are eligible, you can claim special damages for any financial loss you might have incurred due to your sprained ankle.
The amounts in the table are from the JCG, which was last updated in 2022. However, these are only guides figures and may not match the award you receive.
| Reason For Compensation | Compensation Bracket | Comment |
| --- | --- | --- |
| Very Severe Ankle Injuries | £50,060 to £69,700 | This a mount may be awarded to those with complicated fractures and severe soft tissue damage that has needed surgery and resulted in a deformity. There is also increased risk of below knee amputation if the leg suffered further injury. |
| Severe Ankle Injuries | £31,310 to £50,060 | Injuries requiring extensive treatment or lengthy time in plaster. Possibility of pins and plates being needed to be inserted due to the extensive loss of mobility and increased instability. |
| Moderate Ankle Injuries | £13,740 to £26,590 | Fractures, ligamentous tears etc which may cause less serious disabilities such as difficulty in walking on ground that's uneven, difficulty standing or walking for longer periods of time, feeling awkward on stairs, irritation from metal plates and possible residual scarring. There may also be a risk of osteoarthritis in the future. |
| Minor Ankle Injuries | Up to £13,740 | Simple break, fractures, ligament and tendon damage and any other minor soft tissue injury. The award given will depend on the length of time the claimant has suffered and whether complete recovery is expected. |
| Achilles Tendon, Minor to Most Serious Injuries | £7,270 to in the region of £38,430 | The level of award will determine the amount of compensation with the higher amount being awarded to those with the most severe injury . |
If you call our advisors, they can provide a more accurate estimation of the ankle injury compensation amount you might receive for your sprained ankle.
Special Damages In Ankle Injury Claims
Broken or sprained ankle compensation can also include other figures. When making ankle injury claims, it's important to consider that you may have experienced certain costs and financial losses as a result of your injury. These expenses are known as special damages. They could be reimbursed to you as part of your claim.
Here are some examples of special damages that may be included in ankle injury settlement amounts:
Loss of earnings – Your income may have been reduced or stopped completely if your injury affects your ability to work. Make sure you have payslips to present that can help support your claim and prove how much you could have earned during the period of your recovery.
Medical costs – Prescription medication such as painkillers, for example.
Damage to property – Personal items that were damaged in the accident may need to be replaced or repaired.
Other costs – If you have paid for a holiday or something similar and can no longer attend due to your injuries, for example, the cost may be reimbursed to you.
For more examples of special damages and how your compensation is calculated, get in touch with our advisors today. We are here to help at any time of the day or night.
Make An Ankle Injury Claim With A No Win No Fee Solicitor
If you have strong grounds to seek an ankle injury settlement, then one of our advisors could potentially connect you with a solicitor from our panel. They could use their extensive knowledge of ankle injury claims to guide you through the process. They may also offer to work with you on a No Win No Fee basis under the terms of a Conditional Fee Agreement (which is a type of No Win No Fee agreement).
When working with a No Win No Fee solicitor, you won't pay any upfront or ongoing fees. You also usually don't have to pay your solicitor for their services if the claim fails. If you do win your claim, then a legally capped percentage is subtracted from your compensation award. This is known as a success fee.
If you want to learn more about No Win No Fee solicitors, or you have other questions such as "How much can I claim for an ankle injury?", then contact our advisors today. Our friendly team is available 24/7 to answer your questions and offer you free advice.
Contact our advisors today:
Learn More About Ankle Injury Claims
Slips, trips and falls – If you've injured an ankle in a slip, trip or fall, this link takes you to our page on common slip, trip and fall claims.
Council Claim Case Study – If your ankle injury was the fault of the council, this article may prove useful.
CCTV Footage – You can request footage of yourself. Find out how.
Broken Ankle NHS Guide – More information on symptoms of this injury, and more.
Litigation Friends -Read about appointing someone else to claim on your behalf.
Thank you for reading our ankle injury claims guide.