By Stephen Bishop. Last Updated 1st June 2023. You may be wondering if you can claim compensation if you've experienced injuries due to a slip, trip and fall that wasn't your fault. In some cases, a personal injury claim could be a justifiable course of action. In this comprehensive guide, we explain slip, trip and fall claims and how our panel of No Win No Fee solicitors can help you.
If you'd like to make a claim today, you can reach out for free. We'll discuss your case with you and advise you on your legal options. You can get in touch by:
Below, you can learn more about the types of trip and falls you can claim compensation for, the average compensation payout for a fall, and how a No Win No Fee agreement can help you.
Jump to a Section
About Slip, Trip And Fall Accidents And Injuries
When we refer to "slip, trip and fall claims" and accidents, we simply mean incidents in which someone has hurt themselves after losing their balance.
This could have been caused by the likes of a wet floor, an upturned piece of carpet or a broken manhole cover.
Slip, trip and fall accidents can happen in a broad range of settings. As we'll see below, they're very common in workplaces, accounting for around a third of all accidents at work.
However, trips and falls are also common in public places, like shops, supermarkets and high streets.
Let's take a more detailed look at how common slips, trips and falls are.
How Common Are Slip, Trip And Fall Accidents?
The Health and Safety Executive outlined the top causes of slips resulting in injury, which included:
Obstructions in walkways
Uneven floor surfaces
Poor housekeeping or maintenance
Badly designed spaces
The Health and Safety Executive states that 33% of all workplace accidents in 2020/21 were caused by slips, trips, and falls on the same level.
The Criteria For Slip, Trip And Fall Claims
If you have been involved in a slip, or trip, or fall injury, you need to take the necessary steps to build a strong case. This involves the following:
Seeing a doctor
Get witness contact information
Make a note of everything that happened
Keep proof of expenses
Contacting a solicitor at Legal Helpline
Time Limits In Slip, Trip And Fall Claims
Slips and trips claims being successful can depend on whether or not you begin the process in time. Whilst people often wonder how much compensation for a fall injury they could receive, it's important to also be aware of the time limits involved.
The Limitation Act 1980 states that you generally have 3 years from the date you were injured to begin to the process of making a claim. However, there can be a few exceptions. For example, your injuries may not be immediately detectable. If so, you can use the date you became aware of them as the start of your 3-year time limit. This is known as the date of knowledge.
If the injured party is below the age of 18, there is no time limit to consider until they reach adulthood as they cannot represent themselves in civil proceedings. A claim can be made on their behalf by an appointed litigation friend until they turn 18.
Should the claimant have reduced mental capacity, the rules are similar. However, the time limit begins instead from the date they reach the point of being deemed to capable to claim for themselves – if this date ever occurs. A litigation friend can also act on their behalf before this point.
Get in touch if you have any questions, including information on the average payout for a slip and fall in the UK.
What Evidence Do I Need To Prove A Slip, Trip And Fall Claim?
In order to make a successful slip and trip claim, you will need evidence to support that pain, suffering or loss has occurred due to the negligence of the defendant. This section looks at what evidence could be gathered for slips and trips claims.
Below are some examples of evidence that you might consider gathering:
Medical evidence: Hospital reports or a diagnosis from a medical professional can prove the extent of your injuries.
CCTV footage: If possible, you could request CCTV footage of your accident. This evidence may show exactly how the accident occurred and who was at fault.
Photographic evidence: You might want to take photographs of your injuries and the accident scene.
Proof of expenses: Pay slips could prove a loss of earnings if you've had to take time off work to recover from your injuries. Additionally, receipts or bank statements can prove other expenses or financial harm you've suffered.
Additionally, we would advise you to seek legal advice ahead of making a slip, trip or fall claim. Solicitors can help you collect evidence and guide you through the claims process.
Our advisors are available to talk to for free and can answer your questions on slip and fall claims. Furthermore, they could connect you with one of the personal injury solicitors from our panel if they feel you have a valid claim.
How Do I Know Who Is Responsible For My Fall Accident?
Under the Occupier's Liability Act 1957, those in control of public places (the "occupiers") have a duty of care to do as much as reasonably possible to prevent hazards and ensure visitor safety. Restaurants, bars, shops and the like all have a responsibility to follow this legislation. On the other hand, local authorities also share this responsibility.
In many cases, slips, trips and falls usually happen as a consequence of local councils failing to properly maintain public footpaths, pavements and roads to an adequate standard. If you trip on a damaged paving slab that the council were aware of but failed to take reasonable steps to remedy, they could be held liable for your injuries.
Likewise, if supermarket staff failed to display a wet floor sign to indicate the hazard left after cleaning and you slipped as a result, you could be able to make a claim against them.
Determining who is at fault for the accident will depend on where you were injured. We can help you to determine who is at fault if you are unsure when making a claim for slip, trip or fall compensation. What's more, we could even help you determine how much compensation for a slip trip or fall injury you could be eligible for.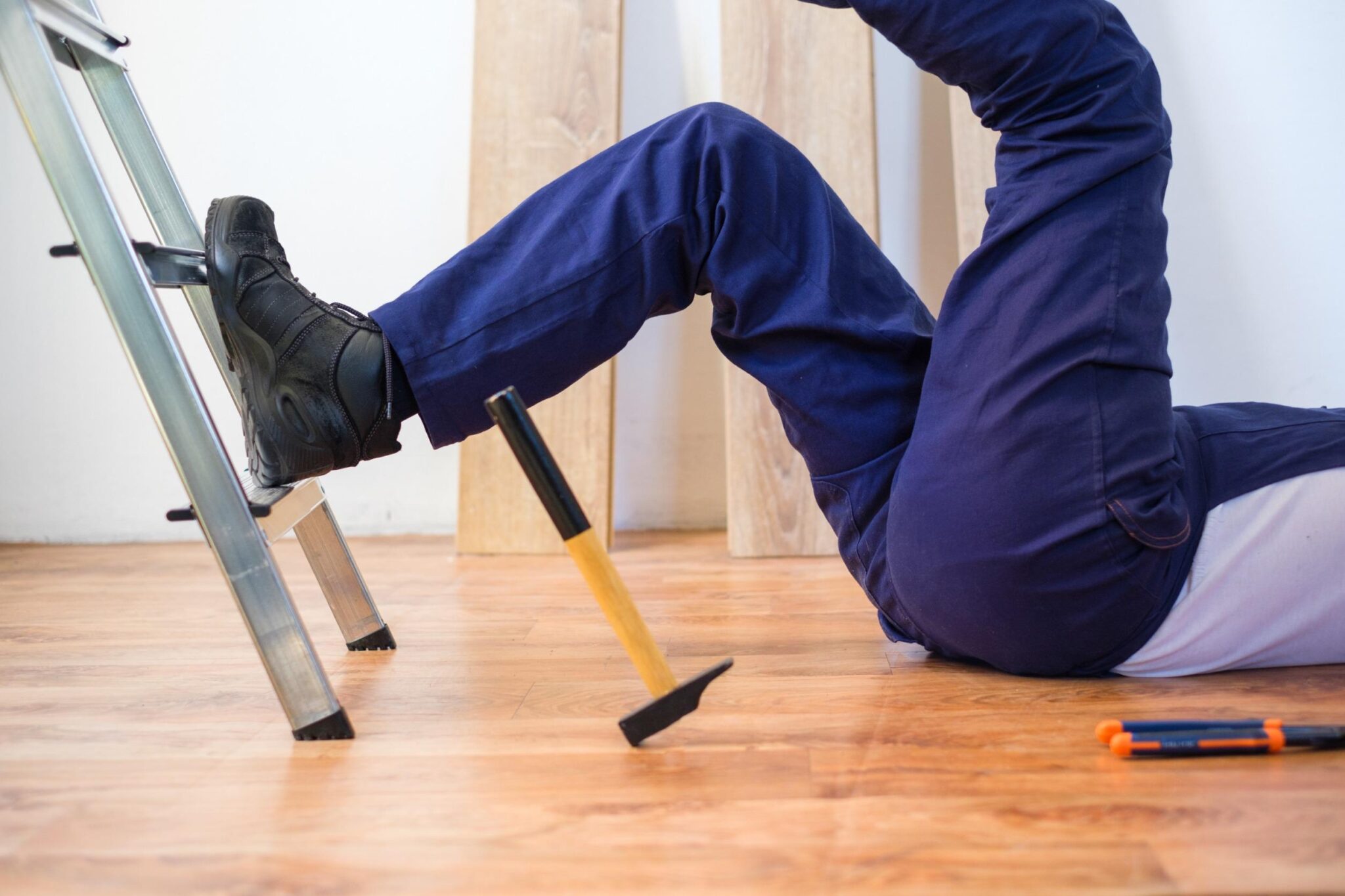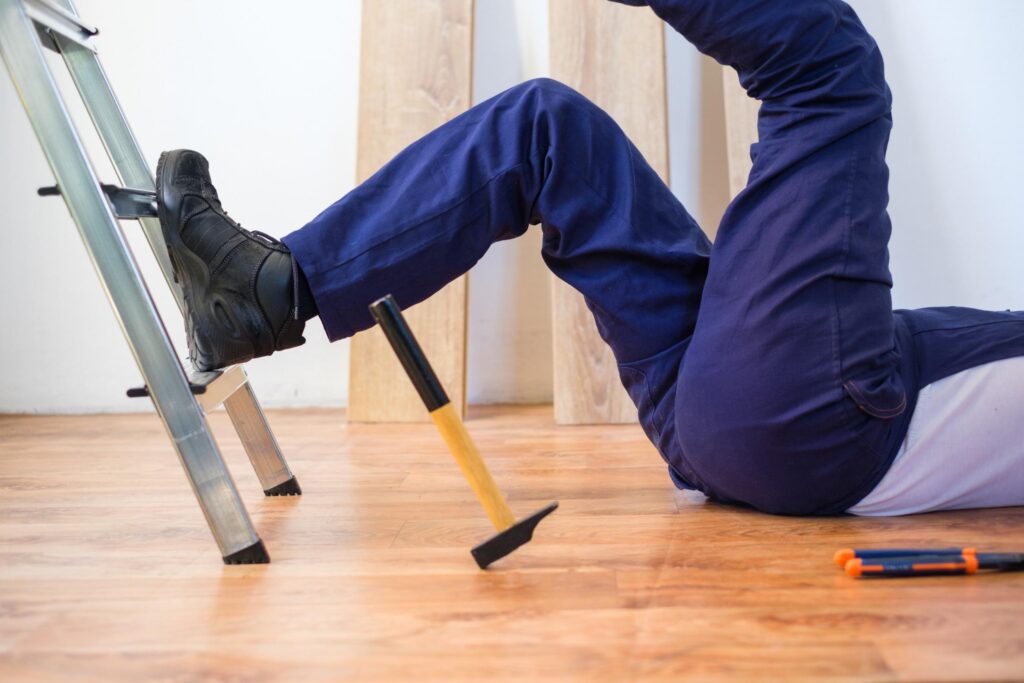 Claiming Compensation For A Slip, Trip And Fall At Work
If you want to make a slip, or trip, or fall at work claim, we can help you to get the compensation you deserve. All employers have a legal duty to implement appropriate safety measures to minimise hazards in the workplace. If they failed to uphold their duty of care, you could be entitled to compensation.
Slips And Trips In Public Places
If you have slipped, tripped, or fallen in a public area, it may be that the council that is to blame for the incident. We have handled many successful council compensation claims, and we can help you to get the compensation you deserve, be it pavement trip compensation or any other form of a payout. Your local council has a responsibility to maintain the area and if they have failed to do so, you deserve to be compensated.
Restaurants And Cafés
All businesses have a legal responsibility to ensure that they keep their employers, customers, and the general public safe. If you have been injured in a restaurant or café, we can help you to get the slip, trip or fall compensation you deserve. Most of these cases involve a claim for slipping on a wet floor, but we can assist no matter what type of slip, or trip, or fall you have experienced.
Pubs, Bars And Nightclubs
If you have experienced a slip, trip or fall in a pub or nightclub, it can be easy to assume that you have simply had one too many. But could the owner of the premises be to blame? If they have acted negligently or carelessly, don't dismiss the incident as your own fault. In fact, there is a chance that you could be entitled to a payout. Simply give us a call today for more information and see how much compensation for a slip trip or fall injury in a club we could help you win.
Slips, Trips And Falls When Shopping
Shops are another example of a public space where you could be injured due to a duty of care breach.  An example of an accident in a shop could include slipping on a wet floor that should have been dried up or clearly indicated with a  wet floor sign.
The occupier of the building has a responsibility to make sure the risk of injury to members of the public (and also to staff members) is kept to a minimum. If they do not take all reasonable steps to ensure this, then it could lead to people being injured and making slip trip and fall claims.
The Average Payout For A Slip, Trip And Fall Accident Claim
When making a personal injury claim for a slip and trip, the pain and suffering that your injury has caused you could be compensated with general damages. Below, we have created a table with examples of the compensation you could receive in general damages for a slip and fall. The compensation amounts listed have been taken from the 16th edition of the Judicial College Guidelines (JCG). This is a document many legal professionals use to help them value various injuries. This is because the JCG assigns compensation brackets to different physical and psychological injuries.
We cannot provide you with the average payout for a slip and fall in the UK. This is because compensation is awarded on a case-by-case basis. The various factors of your specific claim will also affect how much you receive. Therefore, you should only use the following table as a guide.
| Injury Type | Notes | Compensation Bracket |
| --- | --- | --- |
| Less Severe Brain Damage (d) | The person will have made a good recovery. However they may still struggle with their memory and concentration. | £15,320 to £43,060 |
| Moderate Pelvis and Hip Injuries (b) (i) | No major risk of disability despite significant injury to the hip or pelvis. | £26,590 to £39,170 |
| Moderate Neck Injuries (b) (i) | Dislocations or fractures that may require spinal fusion and result in immediate symptoms. | £24,990 to £38,490 |
| Hand Injuries - Severe Fractures To Fingers (f) | May result in partial amputations, impairment of grip and disturbed sensation. | Up to £36,740 |
| Less Severe Elbow Injuries (b) | Cases of impared function but with no major surgeries or disabilities. | £15,650 to £32,010 |
| Arm Injuries - (d) | Simple fracture of the forearm. | £6,610 to £19,200 |
| Minor Back Injuries (c) (i) | A full recovery without surgery within two to five years from a sprain, strain, soft tissue injury, or disc prolapse. | £7,890 to £12,510 |
| Moderate Shoulder Injuries (c) | Frozen shoulder with limited movement and pain for about two years. | £7,890 to £12,770 |
| Shoulder Injuries - Fracture of Clavicle (e) | The extent of the fracture, level of disability and any residual symptoms will affect how much is awarded. | £5,150 to £12,240 |
| Wrist Injuries (e) | Uncomplicated Colles' fractures. | In the region of £7,430 |
Special Damages For Slip And Trip Claims  
Alongside general damages, you could also receive special damages as part of your fall at work claim. This head of claim allows you to recoup financial losses that are caused by your injuries. For example, if you suffer a fall at work and hit your head, this could cause permanent brain damage and may mean that you cannot return to employment. In this case, you may be able to make a claim for your future lost earnings under special damages.
Under this heading, you may also be able to claim back the cost of:
Prescriptions
Domestic help or care
Home adjustments, such as widened doorways for wheelchair access
Medical bills
However, to claim special damages, you have to be able to provide evidence of your losses. This could include:
Payslips
Invoices
Bills
Receipts
Travel tickets
To learn more about slip, trip, and fall claims, or to find out how our panel of solicitors help claimants make slip and trip claims throughout the country, contact our team of advisors today.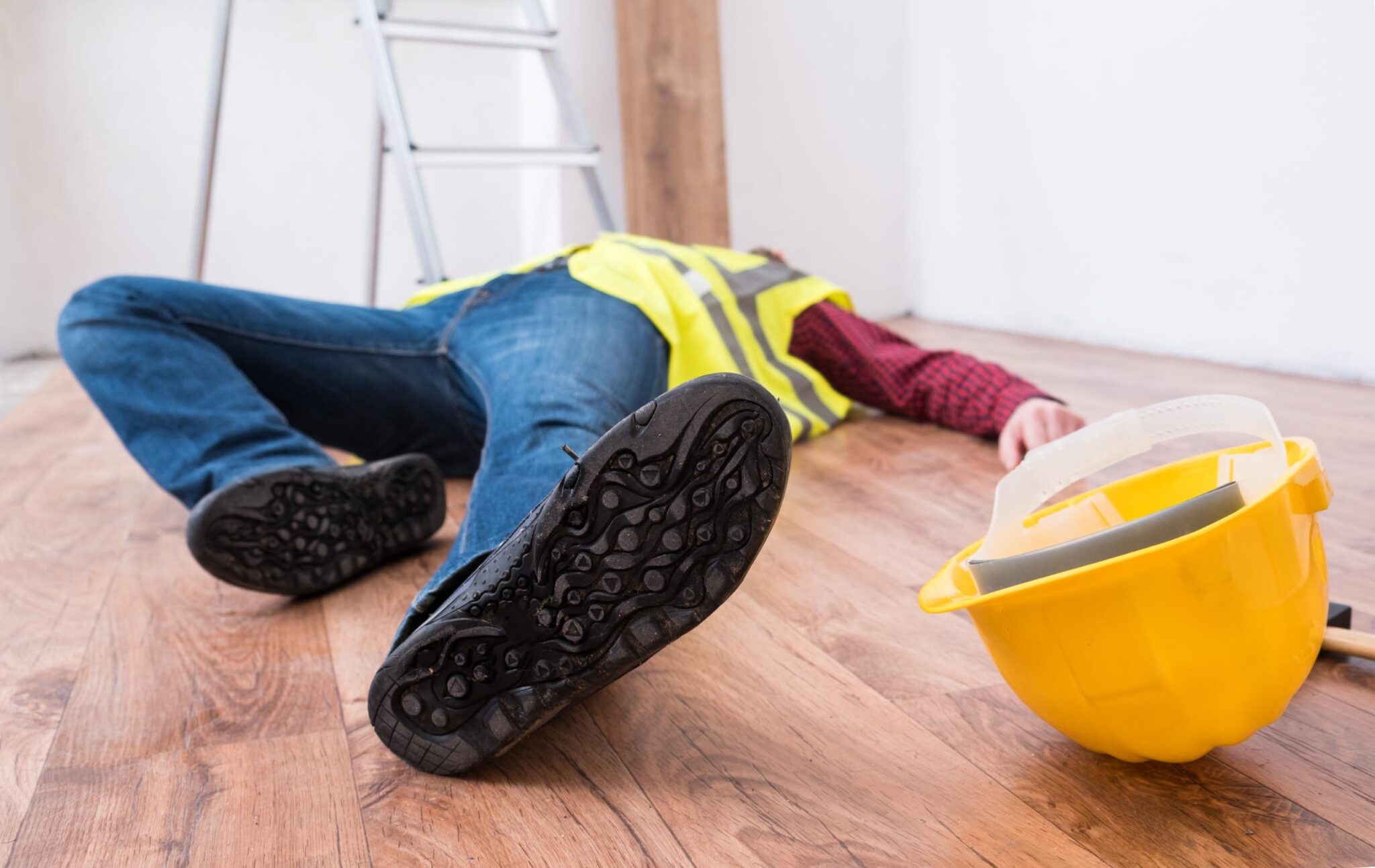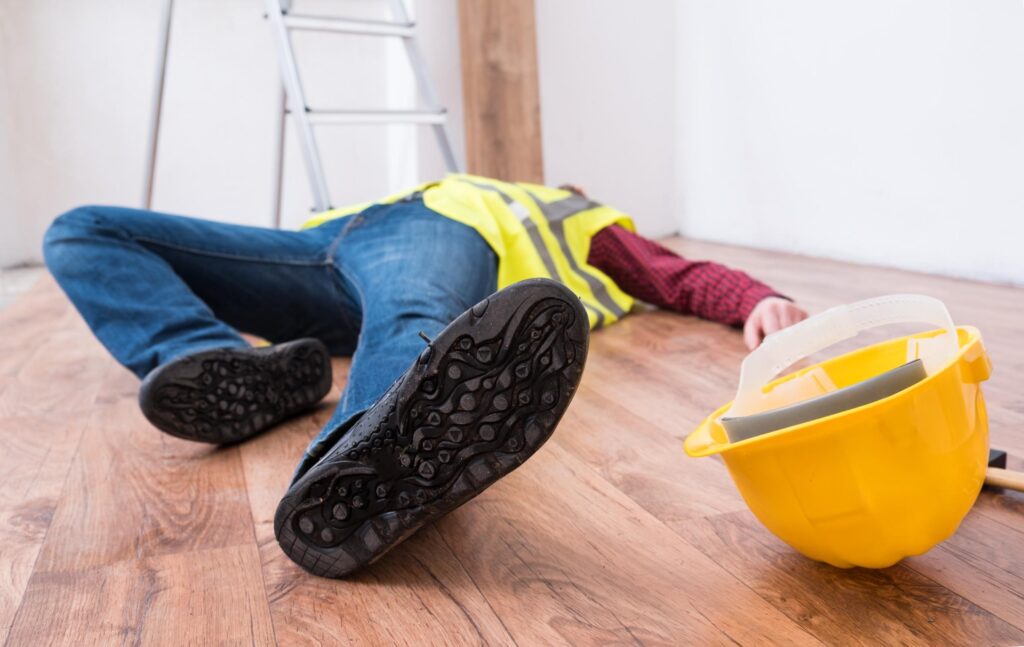 Make A Claim With No Win No Fee Solicitors
After discussing your claim with one of our advisors, they may connect you with a solicitor on our panel who has experience with slip and trip claims. They may offer to represent you on a No Win No Fee basis under a Conditional Fee Agreement (CFA).
Under this arrangement, you won't be required to pay any upfront or ongoing fees to your solicitor for their services. Also, if your claim proves unsuccessful, then you won't need to pay your solicitor for the work they have provided on your case.
If your claim is successful, then a legally capped success fee will be taken from the compensation awarded to you.
For more information regarding slip and fall claims, you can contact our advisors.
You can get in touch with our team today by:
Learn More About Slip, Trip And Fall Claims
For more advice on slip, trip and fall claims, you are welcome to contact our advisors for support.