By Lewis Winehouse. Last Updated 6th January 2023. As a worker in the NHS, you play an invaluable role in society. All staff are entitled under the law to work in a safe environment. This is an important right for everyone, especially NHS workers. Not just because what you do is important, but because those who depend on you need you to be safe and well. When an employer fails in their duty of care to their employees and allows them to suffer injuries or health problems because of an unsafe workplace, they could be liable to pay compensation, and that could lead to you having grounds to make an NHS workplace accident claim.
This guide will take you through some of the information you need to know about making an NHS accident at work claim and how our personal injury solicitors can help you do it. If at any time you have any questions or would like to begin a claim, you can get in touch with our team of personal injury claim experts. You can find the information on how to contact them at the top of this page.
Jump To A Section
A Guide To NHS Employee Accident At Work Claims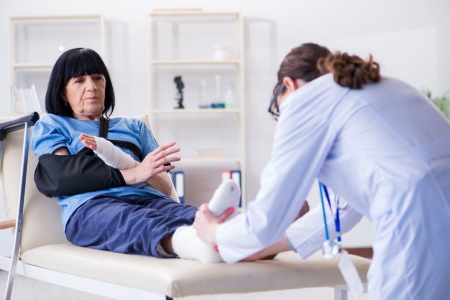 Working in the NHS carries with it certain hazards that may not be faced by workers in other sectors of the economy. But it also carries with it certain rights and protections as well. Like with any other employer, you have the right to seek compensation if you suffer an injury or a health problem that was caused by their negligence.
This guide will inform you about how you can make use of that right. It will go over what some of the different grounds for making a personal injury claim against the NHS might be, what rights and protections you are entitled to for workplace health and safety in the NHS, and what kinds of damages and income support you may be entitled to and how these are calculated.
We will also explain some of the benefits of working with Legal Helpline when it comes to making an accident claim, such as the free advice our team of personal injury claim experts can offer, the expertise of our panel of personal injury solicitors, and the financial benefits of making a No Win, No Fee claim. You will also find useful information and resources linked throughout this article, like this general guide to making workplace injury claims we have written here.
Claiming Compensation From The NHS – Time Limits
You may be wondering 'what is the time limit for claiming compensation from the NHS?'. Should an injury at work in the NHS occur as a result of negligence, then the time limit for starting a claim is 3 years, according to the Limitations Act 1980. This either runs from the date of the incident or the date of knowledge, which is when the injuries are connected with negligence.
If someone lacks the mental capacity to represent themselves in a claim, the time limit is suspended unless they regain the capacity to do so. A litigation friend can be appointed to represent anyone who is unable to start their claim. They can claim on their behalf at any point while the time limit is suspended.
Please speak to a member of our team for any questions you may have about injury at work claims.
What Are NHS Employee Accidents At Work?
Some workplaces carry a greater risk of accidents, injuries and health problems. Working in the National Health Service is one of them. Hospitals carry the risk of different types of health and safety issues, which we will list and discuss in detail in this article. Sometimes risks can't be avoided, and sometimes accidents can happen despite health and safety measures being in place. 
This article is about cases in which you could make a compensation claim against the NHS for allowing you to come to harm through negligence towards health and safety. The NHS has a duty of care towards you as a staff member, and if they violate this duty of care and you suffer harm because of it, you could be entitled to claim compensation.
NHS Duty Of Care To Staff
All employees, regardless of who they work for, are protected under the Health And Safety At Work etc Act 1974. This is a piece of legislation that requires all employers in both the public and private sectors to do everything reasonably possible to identify the risk of harm and prevent injuries from occurring in the workplace. There are other specific pieces of legislation, but this statute represents the key principle of workplace health and safety in UK law—that the employer is ultimately responsible for the safety of their employees.
The NHS outlines its own specific rules and regulations regarding workplace health and safety in this document. It specifies the workplace health and safety policies which both include and go beyond complying with the Workplace Health And Safety Act 1974.
NHS Workplace Accident Statistics
It is difficult to say definitively how common accidents and injuries are among NHS workers, although it is likely to be quite high. In a three year period between 2008 and 2011, 20,547 work-related injuries in the NHS were reported to the Health and Safety Executive. These include 2,057 sprained backs, 300 broken legs or broken arms, 50 skull fractures, five finger amputations and one case of blindness. The injuries reported to the HSE only include serious injuries—those causing the victim to take at least three days off work. Accidents less severe than this do not need to be reported. The HSE also estimates that 43% of the injuries that should have been reported to them were not officially recorded.
The most common cause of injuries for staff working in the NHS is slips, trips, and falls. However, in the past two years, the second-place spot has been taken by assaults on staff members, incidents of which have sadly risen over the past few years.
Overall the number of reported injuries has fallen somewhat over this period, though this may be due to under-reporting. Both Trade unions and NHS employment officers have alleged that some departments and hospital trusts within the NHS may be putting downward pressure on the number of reported workplace injuries in the NHS by discouraging staff members from taking the correct amount of time off work when they suffer injuries.
You can read more about the reports of NHS staff accidents in the source below.
Source
www.nursingtimes.net/roles/nurse-managers/exclusive-nhs-nurses-suffer-more-than-8800-serious-industrial-injuries-in-three-years-30-08-2011/
Types Of NHS Employee Accidents At Work
As with nearly all workplaces, there are various types of injuries or health problems that NHS workers might be at risk of. However, there are also health and safety risks that are nearly unique to working in the NHS (and the healthcare sector in general). These risks include:
Slips, trips, and falls.

Being subjected to a physical assault

Developing mental health problems as a result of stress, overwork or bullying

Manual handling injuries while moving patients or equipment.

Injuries caused by faulty equipment or inadequate PPE

Exposure to or infection with biological or chemical hazards, such as the coronavirus (COVID-19)
NHS Employee Slip And Trip Accidents
Slips, trips, and falls can cause serious injuries. Failing to prevent them through proper maintenance of the hospital's facilities could constitute a breach of the NHS' duty of care.
There are a number of failings that could potentially lead to slips, trips, and falls.
Failing to clear up spills and wet patches of floor

Failing to clear away rubbish, packaging, and wires that are loose on the floor.

Failing to keep carpets and linoleum in good condition or failing to replace flooring which is worn out or damaged.
We have a general guide to making slip, trip and fall claims which you may find useful. You can read it here.
NHS Employee Manual Handling Accidents
NHS workers, particularly porters and nurses, will regularly be tasked with manual handling activities. This can include moving beds around hospital wards, transporting patients, moving patients around in their beds, and moving supplies such as oxygen tanks around. Manual handling can carry with it certain risks, such as;
Suffering muscular-skeletal injuries: such as pulling muscles or suffering sprains and strains.

Suffering injuries as a result of dropping items or having items fall on you.

Having collisions while moving beds and carts around.
There are certain steps that the NHS could take to reduce the risk of NHS staff suffering injuries related to manual handling. These steps include:
Making sure all members of staff who are expected to perform manual handling are trained appropriately.

Not requiring staff members without manual handling training to perform such tasks.

Not requiring staff to perform manual handling tasks beyond their ability and physical strength.

Using machinery or lifting equipment wherever possible to perform lifting and moving.

Allowing regular breaks for staff and not requiring manual handling from them when they are fatigued.
We have a general guide to manual handling injury claims which you may find useful, you can read it here.
NHS Employee Equipment And Hazardous Substance Accidents
Working in the NHS could expose certain staff to hazardous materials. Particularly biological materials from patients with infectious diseases, such as COVID-19. Materials that have been potentially contaminated should be disposed of safely, and you and your work colleagues should be given training and equipment to do so safely. 
Between 2008 and 2011, 885 incidents involving biological agents likely to cause illness were reported among NHS staff. The majority of these incidents are believed to have been "needlestick" injuries caused by used needles or syringes. Many cases of being cut with contaminated instruments are only reportable when there is a risk of contracting viruses such as HIV or Hepatitis.
Exposure to hazardous materials can occur because of a lack of appropriate and functioning equipment, for example, inappropriate equipment being used to store and move contaminated instruments, or a lack of appropriate Personal Protective Equipment (PPE) such as gloves.
NHS Employee Accident At Work Claims Calculator
You are probably keen to find out how much money you may be entitled to for your injuries. At this early stage, it's difficult to say with certainty how much your claim could be worth. What we can do, however, is show you how your compensation would be calculated. 
This table below is a compensation claims calculator. It shows a list of example injuries that might happen in an accident and the approximate value of the compensation that can be awarded for them. The figures in this table have been taken from the Judicial College Guidelines, a legal publication used by solicitors and the courts to value claims.
These figures have been taken from the latest available guidelines, published in 2022. If you'd like a more precise valuation relevant to your unique circumstances, then please call the number at the top of this page and speak to one of our friendly advisors.
| | | |
| --- | --- | --- |
| Injury | Notes | Compensation |
| Toe injuries (a) | Amputation of all toes. | £36,520 to £56,080 |
| Toe injuries (b) | Amputation of great toe | In the region of £31,310 |
| Jaw fractures (I) | Serious and multiple fractures requiring prolonged treatment and resulting in permanent effects, such as pain and difficulty eating and the risk of the onset of arthritis. | £30,490 to £45,540 |
| Jaw fractures (ii) | Serious fracture with permanent consequences, such as pain and difficulty opening the jaw. | £17,960 to £30,490 |
| Jaw fractures (iii) | Simple fracture which requires a full immobilisation, but from which a full recovery is made. | £6,460 to £8,730 |
| Skeletal Injuries (a) | Le Fort Fractures of Frontal Facial Bones | £23,810 to £36,740 |
| Skeletal Injuries (b) | Multiple fractures of multiple facial bones, resulting in some degree of permanent deformity. | £14,900 to £23,950 |
| Dermatitis (a) | Pain and cracked skin on both hands, causing an impact on employment and mental health lasting for a prolonged period of time. | £13,740 to £19,200 |
| Dermatitis (b) | Dermatitis of one or both hands, settling after a period of treatment. | £8,640 to £11,410 |
| Dermatitis (c) | Short lived rashes on one or both hands. | £1,710 to £3,950 |
NHS Injury At Work – What Else Could Be Included In A Potential Claim?
If you work for the NHS, an injury at work could affect you in different ways. Your injuries may cause out of pocket costs and losses.
If your finances are affected due to the injury or illness sustained whilst performing your duties as an NHS employee, then you could be eligible to receive an additional payment known as special damages. This is made up of various figures that relate to the financial losses your injuries have caused you.
We have included some examples below:
Loss of earnings – Your injury or illness may prevent you from working while you recover. If this is the case, then your income may be affected. Your wages and other figures such as bonuses can be reimbursed to you via a special damages payment. It's possible that this could also be processed on a temporary basis via the NHS injury allowance.
Medical costs – You may require specialist treatment or prescription medication to aid in your recovery.
Care costs – For instance, you may require additional care at home either while you recover, or even on a permanent basis.
Adaptations to your home – It's possible your home may need to be fitted with certain modifications if you are left with a residual disability as a result of your injury.
There are other examples of special damages payments that could be included in a successful claim. Get in touch if you'd like to know more.
Do I Get Full Pay If Injured At Work in the UK?
If you've suffered an injury at work as NHS staff, you may wonder what financial security you have if you're unable to work. It's important to note that, regarding making a personal injury claim, you would only be able to do so if you can prove that your injury was caused by third-party negligence.
You may want to know if you get full pay if you're injured at work. This can depend on the nature of your employment contract. Details such as sick pay, holiday pay and other benefits or features are stipulated within the contract you sign before agreeing to take on the role.
Your employer is ultimately under no legal obligation to give you sick pay whilst you're off work injured, even if the injury was caused by employer negligence. This is one of the reasons you may find claiming compensation useful – as you can claim for loss of earnings as part of a claim.
To learn more about the sick pay benefits you may receive, you would need to contact your employer. However, if you have further queries about potential NHS staff compensation payouts, please contact us for a free consultation.
We can inform you of your claim eligibility and give you a compensation estimate at a time that works for you using the details above.
NHS Injury Allowance Claims
In addition to the compensation that you could claim for your injury, if you are employed by the NHS there is also a chance that you could be entitled to claim NHS injury allowance. If you take time off work due to an illness or injury caused by an accident or health and safety breach at work and you are on a phased return, then the NHS can top up your reduced earnings or sick pay for a period of up to 12 months. In successful cases, claimants may be entitled to claim up to 85% of their standard pay. You can read more about NHS injury allowance payments on the Royal College of Nursing website here.
Why Make An NHS Workplace Accident Claim With Us?
You have many options when it comes to making a claim, but we recommend working with us because of our depth of experience. When you work with us, you can rest assured in the knowledge that your solicitors will fight tooth and nail for the maximum level of compensation you could be entitled to. Having a good solicitor is important because making a claim can be time-consuming and complicated. You want to have an expert you can trust to handle the difficult aspects while you concentrate on getting better.
Making a compensation claim can last for several months if not longer. You won't be left out of the loop, however. With Legal Helpline, you will receive regular updates and have the ability to get in contact whenever you need an update. You can get all of this and more without the high legal fees that you might be charged by other solicitors firms, as all claims can be pursued on a No Win, No Fee basis.
No Win No Fee NHS Employee Accident At Work Claims
If you are eligible to claim for an NHS injury at work, we would recommend hiring a solicitor.
The solicitors on our panel could offer you their services on a No Win No Fee basis, which could benefit you if you have concerns about paying a solicitor upfront.
Under this arrangement, you typically won't pay for the solicitor's services if the claim is unsuccessful. Should your claim succeed, solicitors take a success fee that is capped by law under the Conditional Fee Agreements Order 2013.
Do you think you would benefit from this type of arrangement when hiring a solicitor for a claim following an injury at work? NHS staff are welcome to speak to our advisors for free. Find out how you can contact us in the next section.
Start An NHS Workplace Accident Claim With Legal Helpline
Call us today on 0161 696 9685, or arrange a phone call at a time that suits you with our online enquiry form. You can talk to one of the experts on our team about how your NHS workplace accident claim and find out more about how claims work and about whether or not you are eligible to make one. You can do this if you want to get started right away or if you still haven't made up your mind. Either way, our team of legal experts will be happy to provide you with a free consultation and answer all of your questions.
NHS Workplace Accident Claim Resources
Here are some further resources on making an NHS workplace accident claim:
Health And Safety Executive Website
Guide by JY
Edited by REG