How Much Could I Claim For A Food Allergy At Hard Rock
Hard Rock Cafe's are amongst the most recognisable and iconic diners across the world. With 180 cafes in 75 different countries, they truly are a global brand and carry an image that is synonymous with their logo. But what happens if you suffer an allergic reaction after eating in Hard Rock Cafe?
If you're in one of their UK branches, you may have gone for a social gathering with friends, or you may have popped in there for a spot of dinner. The last thing you expect whilst eating at any establishment is to suffer an allergic reaction. All restaurants in the UK, including Hard Rock Cafe, have to ensure that any allergens are marked and clearly explained so that you do not suffer an adverse reaction whilst dining on their premises.
In this article, we will explore how you can claim allergic reaction compensation after consuming items in a restaurant. We will also explore the duty of care such outlets have towards you and other diners.
If you can prove the allergic reaction and subsequent harm to health was caused by the failings of Hard Rock Cafe, you can call Legal Helpline on 0161 696 9685 and we can decipher quickly whether or not you have a potential case.
You can also chat with us now via our live chat service or write to us about your claim via our contact page.
If you would prefer to read up on the topic before making your decision, you can select a section that is most suited to your circumstances below.
Jump To A Section
A Guide To Claim For A Food Allergy Reaction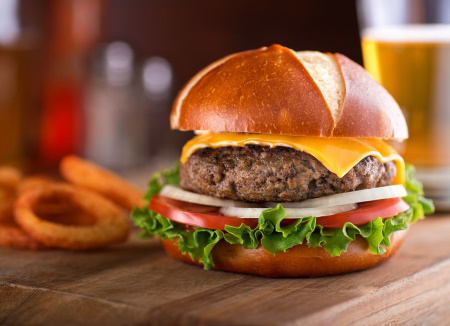 When we suffer from an allergy, eating out can be an anxious experience. You want to ensure that restaurants take adequate measures to ensure any allergens or possibility of cross-contamination is ruled out.
You can ask for the allergen to be left out of your meal, or you can order an item that specifically doesn't contain a specific allergen such as milk, nuts or wheat. We will take a look at the legal duties Hard Rock Cafe has when it comes to detailing allergen information on their menu, as well as what could happen if you're provided with the wrong details about allergens in your meal.
Ensuring any allergy requests are dealt with effectively is essential and must be adhered to under legal guidelines. If Hard Rock Cafe has neglected its duty of care, and you can evidence that this caused your allergic reaction, here at Legal Helpline, we can help you.
It is always recommended you seek guidance from a personal injury lawyer when it comes to a specialist type of claim like this, although you are under no obligation to seek one out. An expert in the field would be able to file the strongest possible case and maximise any compensation payout.
To connect with our panel of specialist allergic reaction solicitors, please get in touch today.
What Is A Food Allergy?
A food allergy is a serious and potentially life-threatening reaction that the immune system generates when ingredients or proteins in food are perceived as a threat to the body.
When the immune system encounters these perceived threats it releases chemicals like histamine to protect the body. Unfortunately, the release of these chemicals can trigger serious complications that can lead to severe and dangerous allergic reactions such as anaphylaxis.
More information can be found on the NHS website concerning food allergies. It is still not properly understood why some people develop allergies to foods that are considered beneficial to the body such as fruit, nuts and celery.
Studies show that people with other conditions like eczema and asthma have a higher likelihood of developing allergies, but theoretically speaking anybody can develop an allergy at any point in their life. Therefore, restaurants must be fully aware of the procedures they need to follow so they are not endangering people's health.
If you've experienced an allergic reaction after eating in Hard Rock Cafe, get in touch to learn more.
What Allergic Reactions Could Be Triggered At The Hard Rock Cafe?
There is a vast scale of severity when it comes to allergic reactions. Some reactions can go unnoticed like mild hay fever or a sore throat. Some reactions can be life-threatening such as anaphylactic shock. It is therefore paramount that the information you receive from Hard Rock Cafe is thorough and contains completely accurate information.
The main types of food allergy reactions are:
IgE-mediated – Symptoms can range from minor to extremely serious. It can encompass a wide range of symptoms such as:

Breathing/swallowing difficulties
Shortness of breath
Itchy or tingling mouth
Swelling or rashes (face, throat, mouth and body)
Dizziness
Vomiting
Feeling nauseous/hay fever symptoms
Wheezing
Anaphylaxis – This is relatively rare but also an extremely serious allergic reaction. You need to seek emergency assistance if you believe somebody is suffering from this type of reaction. Things to look out for include:

Breathing difficulties
Difficulties with swallowing or speaking
Swollen tongue
Loss of consciousness/dizziness
Chest pressure/tightness
Non-IgE-mediated – Symptoms of these reactions can have a delayed onset, in some cases several days later, including:

Vomiting
Constipation
Dry, inflamed and cracked skin, like eczema
Itchy skin/rashes or cramps
You may have had a mild reaction or spent a week in the hospital, but ultimately if can prove that you have purchased food in Hard Rock Cafe and had a reaction due to incorrect allergy information given by staff or not detailed on the packaging, our personal injury lawyers can take a look at this for you. Get in touch to learn more.
How Commonly Do People Suffer Allergic Reactions?
Allergy UK is a leading UK charity in the field of allergy research and awareness. Statistics compiled by them show that over 20% of the UK population suffers some type of allergic condition, which is amongst the highest rate in any developed nation. The number of allergy sufferers grew by approximately 2 million between 2008-2009, with nearly 50% of these people suffering from more than one allergy.
Between 1992 and 2012, there was a 615% increase in hospital admissions for anaphylactic shock, which highlights that this is an issue that will remain in our society for quite some time. The reasons for such a sharp rise remain unclear.
The last thing we expect is to be hospitalised after sitting down for a hard-earned meal in a restaurant. To learn more about your rights if you've suffered an allergic reaction after eating in Hard Rock Cafe, get in touch.
I Requested A Restaurant Leave An Ingredient Be Left Out
As Hard Rock Cafe serves several meals that are prepared on-site, if you request an allergen to be removed from your dish they should advise you if this is possible or not. If not possible, your request may be rejected and you'd be asked to order something else.
If, however, the restaurant accepts your request and serves you food containing allergens that you consume, they may be liable. It may have occurred because of:
Cross-contamination of dishes during preparation or cooking
A failure by serving staff to relay the request to the kitchen
A failure by kitchen staff to uphold the request
The outlet must make sure that the staff are properly trained to deal with allergy requests as well as knowing how to explain what allergens are present in each meal. You could ask to have the following removed from your dishes:
No tomatoes
No cheese
No fish
No milk
No nuts
No eggs
No wheat
No oats
You can speak to a senior member of staff if you wish to discuss allergens in food. It is an extremely serious matter, and if you want to ensure the restaurant is fully aware of the allergens they are handling then you are fully within your rights to discuss it with management.
By checking the Hard Rock Cafe website, menu, as well as conferring with staff at the restaurant you are ensuring it is safe for you to eat. In addition to this, you are also documenting the steps you have taken if you go on to suffer an allergic reaction. All these measures you have taken can be used as evidence to bolster your claim.
I Requested An Ingredient Not Be Used, But It Was
If you can prove you have had a conversation with a member of staff about removing an allergen before ordering your meal, and that request was accepted, if you go on to suffer a reaction, the restaurant could be liable.
Hard Rock Cafe has a legal responsibility to ensure they honour the agreement made. However, if it's not possible, they should let you know right away. Steps should also be taken to ensure that food isn't cross-contaminated, that the instructions are clearly relayed to the kitchen, and that kitchen staff ensure the dish is free of the offending allergen before it's cleared for service.
Our panel of personal injury solicitors will be able to investigate what triggered your allergic reaction after eating in Hard Rock Cafe and any evidence you have that negligence caused you to suffer an injury can be vitally important.
Exposure To Allergens Caused By A Negligent Restaurant
The Occupiers' Liability Act 1957, as well as other Acts of Parliament that we'll cover below, imposes a duty of care on all restaurants and eateries. They must ensure the premises and the items sold within the premises are safe.
It is unfair if you suffer sickness or injury down to the negligence of an outlet and you shouldn't be left in this position. Examples of negligence in this setting can include things such as:
Not addressing any slip, trip or fall hazards, such as dropped food or spilt liquid
Poor lighting or uneven footing within the premises or on its grounds.
Accepting a request to omit an ingredient but serving food containing it anyway.
A failure to train staff in allergens and the contents of the menu, leading to negligent and misleading advice
For example, you may have asked the server at Hard Rock Cafe if one of their desserts contains nuts. You're told "No" and become unwell after eating the dessert and find out that the nuts were not removed from the product. If this unreliable and inaccurate information was witnessed by somebody willing to back up your version of events, our panel of solicitors could offer to support you.
What Rights Does The Consumer Rights Act Offer Me?
The Consumer Protection Act 1987 clearly states that you have a right to hold a restaurant responsible for injury, damage or loss sustained due to negligence on their behalf when providing you with a product if it could be considered 'defective'.
Examples of a defective product include a meal from the menu that:
Contains an allergen you have asked to be left out when you placed your order.
Includes allergens or ingredients not detailed anywhere on the menu or by staff when quizzed
Contains an allergen that has not been listed on the menu or packaging but is contained within the product.
A dish subjected to cross-contamination
If you have evidence or suspect that a restaurant you've eaten in breached the Consumer Protection Act 1987, get in touch to learn more about your legal rights.
Could I Claim If I Did Not Tell The Restaurant About My Allergy?
You may be in a position where you did not inform the Hard Rock Cafe staff of an allergy and instead relied on the allergen information provided. Just because you did not make them aware of the allergen in question doesn't mean you can't claim.
An allergen does not have to be directly included in your meal for you to suffer a reaction. For example, your meal may have been contaminated with traces of allergens whilst it was being prepared in the same area as your order.
If you can prove with clear documented evidence that Hard Rock Cafe acted negligently and failed to make you aware of the presence of the allergen, this could be grounds for a claim.
Here at Legal Helpline, we can help you quickly and effectively if you're looking for legal advice. Feel free to call us on the number at the top of this page.
Failures To Show Allergy Information
Any licensed restaurant or premises that serves food must inform customers of any potential allergens to ensure that the customer is safe. It is possible to be allergic to any food, but the main types of food allergies, and those specifically covered by food law, include:
Dairy/Milk
Nuts
Shellfish
Mustard
Gluten
Celery
Soy
Cereal
Lupin
Sulphur dioxide
Eggs
Fish
Seafood
Wheat
If you can clearly show that Hard Rock Cafe was responsible for a lack of communication resulting in one or more of these allergens ending up in your meal, they could have breached their duty of care.
An example of this would include if you asked for a cheeseburger without the cheese due to your allergy. Following on from this conversation, the member of staff then acknowledged your request and stated they would make it clear to the kitchen that you have an allergy. You then receive your burger and suffer a reaction due to the presence of cheese.
If the exchange was heard by one or more people at your table who are willing to act as a witness concerning this particular conversation, this could prove your claim was the fault of the restaurant.
What Foods Could Cause People To Have Allergic Reactions?
There are a number of allergies that can cause people to have reactions. Some are more prevalent than others. Dairy products are a well-known allergen, for example, but there are lesser-known allergens such as sulphur dioxide too.
Some of the allergies customers could trigger include things such as:
Nut allergies
Soy allergies
Seafood allergies
Mustard allergies
Gluten allergies
Wheat allergies
Milk allergies
Lupin allergies
Fish allergies
Egg allergies
Fruit allergies
Shellfish allergies
Celery allergies
Cereal allergies
Hard Rock Cafe Allergy Menu
Hard Rock Cafe is known for its Rock n Roll themed bars and restaurants that primarily serve hot, meat-based meals. Their menu can be located on their website if you would like to take a closer look at what each meal includes.
The menu at the point of this article being published is as follows:
BBQ Cheeseburger
The Big Cheeseburger
Double Decker Double Cheeseburger
The Impossible Burger
Moving Mountains Burger
Steak Salad
BBQ Pulled Pork Sandwich
Grilled Chicken Caesar Salad
Grilled Chicken Sandwich
Baby Back Ribs
New York Strip Steak
Twisted Mac, Chicken & Cheese
Smokehouse BBQ Combo
Grilled Norwegian Salmon
Tupelo Chicken Tenders
One Night In Bangkok Spicy Shrimp
Classic Nachos
Wings
All-American Sliders
Dessert
Hot Fudge Brownie
New York Cheesecake
Allergic Reaction From Hard Rock Cafe Compensation Calculator
One of the most crucial aspects that fuels a claim is whether or not you will receive satisfactory compensation for your suffering. If you have suffered because of the negligence of Hard Rock Cafe and can provide strong evidence that they were responsible, you may find the figures in our table below of interest.
The figures below are taken from the Judicial College Guidelines. These guidelines are used by solicitors to measure the level of compensation that would be suitable in a personal injury case.
We have included the most common injuries that are suffered through a food allergy. It is crucial to note though that this particular type of claim causes a wide range of injuries and the scope of severity can vary.
| Injury Sustained | Notes | Compensation Award |
| --- | --- | --- |
| Minor Reaction | Short term which lasts a few days and does not show any signs of lasting damage. | Up to £3,710 |
| Moderate Reaction | More moderate cases can last around 7 days, stomach cramps, loss of appetite and diarrhoea may be apparent. | £3,710 to £8,950 |
| Serious Reaction | Serious cases might last much longer, including symptoms such as dehydration, severe weight loss and vomiting and diarrohea. Hospitalisation may also be required in this instance. | £8,950 to £18,020 |
| Severe Reaction | The most severe cases of food poisoning can last lasting up to a year. Causing serious stomach issues which persist for months, including several hospitalisation visits. | £36,060 to £49,270 |
There's a possibility you may not see your injury documented. If this is the case, you can call our team here at Legal Helpline and we will give you more specific advice.
What Special Damages Could Compensate You For
As is standard practice when it comes to a personal injury claim, the injury you have suffered may not be the only loss you may have incurred. There are usually a host of additional financial costs that you can look to claim back.
This can include the cost of travelling to the likes of medical appointments; wages lost because of absence from work, as well as any medical or counselling costs that are a result of the incident.
As part of a successful claim, you can be compensated so that you receive the full amount of any loss you have suffered.
If you have incurred expenses because of your allergic reaction after eating in Hard Rock, you must document evidence of these expenses. Without them, unfortunately, you would not be able to claim these costs back.
Evidence includes things such as receipts for your meal as well as bank statements providing evidence that you purchased items in Hard Rock Cafe. If you're looking to claim for loss of earnings your injury lawyer will require proof such as payslips and bank statements that show you have incurred a financial loss because of the event.
No Win No Fee Claims For A Food Allergy At Hard Rock Cafe
It is natural to be reluctant to take action against a big company. Revisiting the memory of a painful incident where you have suffered injury, distress and discomfort is not a pleasant experience for any of us either. On top of this, Hard Rock Cafe is a large international chain and will have a strong legal team ready to refute your case.
Luckily, you will also have a strong legal team ready to argue your case too. We can represent you on a No Win No Fee basis. This means that you will pay no costs for the claim upfront or while the claim progresses. And if the claim doesn't lead to a successful outcome, you will not be obligated to pay any of your solicitor's costs.
If the claim is a success, you will pay a small success fee from your compensation award. This fee is capped by law and you would only have to pay it if the claim is successful. If it isn't, there are no costs involved.
Speak To Our Solicitors About an Allergic Reaction After Eating In Hard Rock Cafe
If you've endured an allergic reaction after eating in Hard Rock Cafe and would like to discuss your claim with somebody at Legal Helpline, there are several ways you can do this:
References
Thanks for reading our guide on what to do if you suffer an allergic reaction after eating in Hard Rock Cafe. Below, we've included some other guides you may find useful.
Shellfish Allergy Claims – learn more about allergy claims involving shellfish
Food Standards Information – government guidance on food standards
NHS – Anaphylaxis Information – NHS guidance on anaphylactic shock
Wheat Allergy Claims – discover what's involved in proving wheat allergy claims
Information About Food Allergy Solicitors – find out more about food allergy compensation claims.
Guide by AC
Edited by REB