If you have suffered an allergic reaction after eating at Burger King, you may be feeling angry and frustrated, especially if your allergic reaction was due to Burger King's negligence in leaving out ingredients from your food that you requested not to be added, or failing to warn you of allergens in your food. 
Whether you have suffered an allergic reaction from Burger King food via a food delivery service, while in the restaurant, or from visiting the drive-through, you may be entitled to compensation if it can be shown with evidence that the allergic reaction was Burger King's fault. 
This informative guide offers useful information on Burger King and allergies you may suffer from eating certain foods from their menu. We also offer insight into your rights when ordering food, Burger King's responsibilities when it comes to food allergens, and how you could begin a personal injury claim if you've been harmed by an allergic reaction to Burger King food that was not your fault.
Here at Legal Helpline, we offer free support and guidance to those looking to make personal injury claims for a wide range of different circumstances. We could assess your case for free to see if you could be entitled to a Burger King food allergy compensation payout and could help you take the first steps towards making a claim. 
If you'd like to get started with a claim or have any questions about anything contained in our guide, you can reach our expert team on 0161 696 9685.
Jump To A Section
A Guide To Claiming For A Food Allergy In Burger King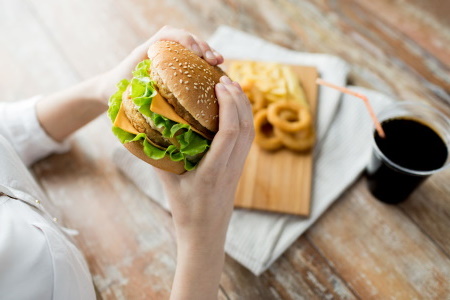 If you are aware that you have food allergies, whether nut allergies, egg allergies or any other type of allergy, you would usually take care to avoid the allergens that trigger a reaction. 
When ordering food in a Burger King restaurant, via the drive-through or through a meal delivery service, you could expect to be able to request that your food does not contain such allergens, by either ordering dishes that do not contain allergens or asking for certain ingredients to be left out of your food.
But what happens if you are not advised that certain allergens are present in your food, or the staff fail to leave out an ingredient that you are allergic to? 
If you've suffered an allergic reaction after eating Burger King food for these reasons, and it can be shown that the restaurant breached their duties, you could be eligible to make a personal injury claim against them for the harm you've suffered from the reaction, as well as expenses associated with your reaction. You could do this with the help of a personal injury lawyer. While you don't necessarily need to use the services of a personal injury lawyer when making a claim of this type, it may be wise to get legal advice and support, as some claims can be complex and may be difficult to prove. A lawyer would have the capability to build a strong case for Burger King to answer and could help to maximise the amount of compensation you receive too.
This guide lays out Burger King's responsibilities to you as a customer when it comes to a food allergy. We take a look at what responsibilities the company has when it comes to the Burger King allergy menu in the UK, what responsibilities the staff have when omitting items with allergens out of a meal at your request, as well as what could happen if you are not provided with the correct information from staff about allergens present in your meal.
What Are Food Intolerances And Allergies?
Before we take a look at how to claim for an allergic reaction after eating at Burger King, we should first look at what a food allergy actually is. In simple terms, according to the NHS, a food allergy is where the body sees certain ingredients as a threat and launches an immune system reaction to the perceived threat. This could cause a range of symptoms that may develop right away, or sometime after the foods have been consumed. In some cases, an allergic reaction to Burger King might happen seconds or minutes after eating food with allergens in it, while others may only present hours or days afterwards.
What Is An Allergic Reaction Or Food Intolerance To Burger King Foods?
There are several different types of allergic reactions that could be suffered, ranging from minor to those that pose a threat to life, which is why it is essential that the Burger King food allergy information you receive is wholly accurate. The main types of reaction are:
IgE-mediated – This type of reaction is one of the most common, and symptoms could range from minor to extremely uncomfortable. They could include:

Shortness of breath

Hives

Facial swelling, or swelling of the throat, mouth or body

Wheezing

Feeling dizzy or faint

Feeling nauseous or sick, or vomiting

Difficulty breathing

Hay fever symptoms

Difficulty swallowing

Tingling of the mouth

Itching of the mouth

Anaphylaxis

– This kind of reaction could be life-threatening. If you suspect you or someone else is suffering anaphylaxis from a food allergy in Burger King or anywhere else, it should be treated as an emergency. Symptoms that may present could include any of those listed above, as well as:

Tight chest

Problems swallowing/speaking

Dizziness

Collapse

Breathing difficulties

Swollen tongue

Non-IgE-mediated– These types of reaction often develop quite some time after consuming food containing allergens. Symptoms may include:

Dry, red cracked skin, like

eczema

Constipation

Vomiting (without any diarrhoea)

Redness or itching of the skin

Cramps
Whatever kind of allergic reaction after eating at Burger King you've suffered, if it was due to being given incorrect Burger King nutrition allergy information by staff on pre-packaged foods, on Burger King's menus or on their online Burger King allergen list, you could be entitled to make a claim against them for the harm that their negligence has caused.
What Percentage Of The Population Have A Food Allergy Or Intolerance?
Allergy UK's published statistics reveal that more than 20% of the population suffer some type of allergy. This is one of the highest percentages across the world. According to their report, a staggering 44% of UK adults suffer one type of allergy, with nearly half of allergy sufferers being allergic to more than one thing. It was revealed that between 2008-2009, the number of people with allergies jumped by around 2 million, which could indicate that allergies could be a growing concern.
If you are an allergy sufferer and have suffered an allergic reaction after eating at Burger King, due to the negligence of their staff or the company itself for not informing you of allergens contained within your food, you may wish to consider making a claim against them for the harm you've suffered as a result.
I Requested One Of The Following Foods Be Left Out By Burger King Staff
While the food at Burger King is usually pre-prepared, if you have checked the Burger King allergy facts and have found that you are allergic to an item that could be removed from your meal, you could request that they leave this item out, and they could, according to guidelines from the government, comply with your request if it's possible for them to do so. If they cannot, they ought to advise you as such.
Burger King should provide restaurant allergy training to its staff and they should be able to answer your questions on what you can ask to be left out of your food in order to get your meal free of allergens. Some of the requests you could make to be left out of your meal could include:
No Cheese

No Oats

No Fish

No Milk

No Tomatoes

No Eggs

No Wheat

No Nuts
If you are unsure of whether the Burger King allergy facts you are being given by the staff are accurate, or are concerned that the member of staff you've asked does not understand your request fully, you could ask to speak to a senior member of staff to ensure you are able to order without concern that your food could contain allergens. 
If you have a severe allergy that could cause life-threatening consequences, such as a nut allergy, it may be best to check the website, menu and request from a senior member of staff that your food would not contain such an allergen before you consume it. If you are at all unsure as to whether your food would be safe to eat, it may be best to choose somewhere else to eat.
Burger King Ignored A Request To Leave Out One Of These Ingredients
As mentioned above, if you suffer an allergy to an ingredient that could be removed from your meal, you could ask for it to be omitted when preparing your food. However, if you suffer an allergic reaction after eating at Burger King because your request had not been followed, this could lead to Burger King being held liable for the harm you've suffered if it can be proven that it occurred due to their negligence.
Claims could relate to mistakes where you have requested:
No Cheese

No Eggs

No Fish

No Milk

No Nuts

No Oats

No Tomatoes

No Wheat
For example, if you are eating at Burger King and have a nut allergy, and request that your food does not contain nuts, you would expect to receive food without this allergen, or for the restaurant to give you an allergy warning that they could not serve you the item without nuts. 
If they fail to remove an allergen or warn you that an allergen cannot be removed, and you suffer an allergic reaction due to their negligence, you may be able to claim compensation.
Can Restaurants Be Liable For Negligently Serving An Allergen?
According to the Occupiers' Liability Act 1957, businesses, including restaurants, owe their customers a duty of care to allow them to use the facilities safely. If they fail to do so, and you suffer harm because of this, the business may be held liable for the harm you've suffered, as well as any expenses relating from such harm.
Burger King's negligence could include incidents where:
Staff have ignored a request to prepare a meal that doesn't contain an allergen, and you are served food containing the allergen, which leads to a reaction.

Burger King has failed to include accurate information on their printed or online allergen information, such as on the Burger King dairy allergy menu or failed to inform their staff of allergens contained in foods they are serving so they could accurately inform customers.
If, for example, you've asked for items without nuts at Burger King, and, for instance, peanut allergy symptoms have presented after eating their food, you may be eligible to claim compensation if it could be proven that inaccurate allergen information had been given or nuts were not removed from your food, as per your request. Such cases could be complex, however, and it could be a good idea to seek legal support when it comes to making a claim. We at Legal Helpline could help you with this.
Allergic Reaction Consumer Protection Rights
According to the Consumer Protection Act 1987, you have a right to hold Burger King responsible for injury, damage or loss sustained due to negligence on their behalf when providing you with a product, if it could be considered 'defective'. A defective product could include one that:
Contains an allergen that has not been listed on the packaging of a pre-packaged food item

Contains an allergen you have asked to be left out when preparing your food
What If A Product Contains Traces Of An Allergen, But It Is Not An Ingredient?
In these cases, if you have specifically requested a product not to be included in your food, but it has become contaminated with the allergen while it is being prepared, the product could still be considered to be defective and you may still be able to claim.
I Didn't Tell Burger King About A Food Allergy, Could I Still Claim Compensation?
If you haven't warned the serving staff of your allergy, then you may be wondering if you could still make a claim if you've suffered an allergic reaction after eating at Burger King. The answer is yes if the packaging, menu or website did not warn you of allergens being present in the foods being served.
Failing To Warn Customers Of Allergens And Other Ingredients
Food providers must, by law, inform customers if foods contain the following allergens. This warning should be on their menu, website or on the food packaging:
Wheat

Sulphur dioxide

Soy

Shellfish

Seafood

Nuts

Mustard

Lupin

Gluten

Fish

Eggs

Dairy/Milk

Cereal

Celery
If the Burger King egg allergy information given is not accurate on the menu, product packaging or website, for example, and you suffer an allergic reaction after eating at Burger King due to eggs being included were not stated, you may be able to claim compensation.
Foods Which Can Causes Intolerances And Allergic Reactions
Many different types of foods could cause a reaction or intolerance. Some of the allergies Burger King customers could suffer from might include:
Wheat allergies

Sulphur dioxide allergies

Soy allergies

Shellfish allergies

Seafood allergies

Nut allergies

Mustard allergies

Milk allergies

Lupin allergies

Gluten allergies

Fruit allergies

Fish allergies

Egg allergies

Dairy allergies

Cereal allergies

Celery allergies
Burger King Allergy Menu UK
Main Menu
Whopper
Steakhouse Angus
Bacon Double XL
Big King XL
Double Whopper
Triple Whopper
Bacon King
Classic Cheese Melt
Chilli Cheese Melt
BBQ Double Melt
Double Cheeseburger
Cheeseburger
Bacon Double Cheeseburger
Hamburger
Whopper JR
Kids Cheeseburger
Kids Hamburger
Chicken Fries
Roadhouse Crispy Chicken
Jalapeno Chicken Fries
Crispy Chicken
Crispy Chicken
Chicken Royale Cheese & Bacon
Chicken Royale
Chicken Sandwich
Chicken Strips
Crispy Chicken Salad
Nuggets
Rebel Whopper
Halloumi Bacon King
Double Halloumi Chilli King
Double Halloumi King
King Fish
Halloumi Burger
Veggie Bean Burger
Garden Side Salad
Kids Veggie Burger
Breakfast
Breakfast King
Ultimate Breakfast Sandwich
Bacon And Egg Sandwich
Sausage And Egg Sandwich
Bacon Butty
Sausage Butty
Hash Browns
Quaker Porridge
Sides
Mac 'N' Cheese Bites
Chilli Cheese Bites
Classic Fries
Onion Rings
Apple Slices
Sweet Treats
Oreo Fusion
Oreo Shake
Chocolate Milkshake
Strawberry Milkshake
Vanilla Milkshake
Caramel Sundae
Chocolate Sundae
Strawberry Sundae
Ice Cream Cone
Hot Chocolate Brownie
Whatever item on the menu you've suffered an allergic reaction to, if it can be shown that it was due to Burger King's negligence, you could claim compensation. We'd be happy to assess your case for free to see if you could claim.
Calculating Compensation For An Allergic Reaction To Burger King Food
You might be wondering how much compensation you could claim for an allergic reaction to Burger King food if they are at fault for your reaction. We have opted not to include any kind of personal injury claims calculator within this guide, because we feel the table below better represents the amounts that could be awarded for such cases. 
The figures below are from the Judicial College Guidelines, which is a regularly updated publication giving approximate guidelines for compensation for specific injuries. We have included injuries we feel could relate to an allergic reaction after eating at Burger King, but if you cannot see the injury you've suffered below, you could call our team for further information.
| Type of injury | Notes | Guideline Amount |
| --- | --- | --- |
| Severe Allergic Reactions | Symptoms may require hospital admission from anything from a few days to weeks. Claimants may suffer diarrhoea, severe pain and vomiting. There may be some continuation of symptoms that could impact their work and quality of life in general. | £36,060 to £49,270 |
| Serious Allergic Reactions | A short-lived but serious reaction. However, this should resolve over time. | £8,950 to £18,020 |
| Minor Allergic Reactions | Not as severe as the above but hospital admission may be required initially. | £3,710 to £8,950 |
| Mental Anguish | Fear of losing their life | £4,380 |
How Are Special Damages Calculated And What Could I Claim?
In addition to the general damages (those you could receive for the suffering, pain and loss of amenity due to your allergic reaction), you may also be able to claim compensation for what's known as special damages. These are the expenses associated with your reaction. They could include, but are not necessarily limited to:
Medical and travel costs – Trips to see your lawyer, prescription costs, counselling costs and more could be claimed for as special damages.

Care costs – If you've needed someone to care for you due to your illness, care costs could also be included.

Loss of wages – If time off work recovering from your reaction has meant you have lost out on income; this could also be included in your claim.
It is vital, however, that you prove any expenses you are looking to claim for. Therefore, you should keep evidence such as bills, receipts, payslips and bank statements so that you could include such expenses within your claim.
No Win No Fee Food Allergy In Burger King Compensation Claims
Whether you've suffered a Burger King food allergy because the information on the Burger King allergen chart was incorrect, or because staff have failed to leave an ingredient out of your meal, we believe that if Burger King is at fault for your allergic reaction to a Burger King meal, you should be able to make a claim against them without having to fund your claim upfront.
No Win No Fee claims allow you to do just that, and we could connect you with a solicitor who could take on your claim under these terms. The process starts with you signing what is known as a Conditional Fee Agreement, which details a small, legally capped success fee that you would agree to pay your solicitor in the event of a successful claim. If your solicitor was unsuccessful in getting you any compensation, the success fee would not be payable, nor would you have to pay the costs the solicitor incurred while pursuing a claim on your behalf.
If you would like to begin a claim for an allergic reaction after eating Burger King food under No Win No Fee payment terms, we'd be happy to connect you with a lawyer working on this basis. We could also answer any questions you may have about the process if you contact our expert team.
Contacting Legal Helpline
Whether you've had a food allergy in Burger King and are not sure whether they could be held liable for your reaction, or you'd like our help with beginning a claim for an allergic reaction after eating at Burger King, we could help. To access free, no-obligation advice, or to be connected with a lawyer that could help you, simply:
Call the Legal Helpline team on 0161 696 9685.
Use the Live Chat service on this page.
Or, fill in the contact form and one of our expert team will get in touch with you.
We look forward to offering you expert guidance on making a claim for an allergy at Burger King UK.
References
Information On Food Standards – This page covers intolerances and food allergy information.
What Food Allergy Training Should Be Given?– This page offers information on training staff.
Testing For Allergies – Allergy testing information can be found on this page.
Claim For A Wheat Allergy – Our guide to claiming for a wheat allergy could be useful to you.
Solicitors For Food Allergy Claims – Our handy guide to retaining the services of a food allergy solicitor.
Peanut Allergy Claims – If you're looking to make a peanut allergy claim, this page offers information on the personal injury claims time limit, as well as other useful information.
Guide by JS
Edited by REG