Marks & Spencer has legal responsibility for the health and safety of its staff and customers. That means that they must ensure that certain health and safety policies are enacted in all of their outlets to keep the risk of accidents to a minimum. If someone gets injured in a Marks & Spencer's supermarket and it is found that Marks & Spencer's had not done what was required of them to prevent accidents, then the person affected by it could make a personal injury claim.
We've put this guide together so that if you've had an accident in an M&S supermarket you know whether you are entitled to make a personal injury claim, it can serve as an introduction and a starting off point for seeking out a personal injury solicitor to help you make a claim. Legal Helpline can provide you with further advice and a consultation with a personal injury lawyer from our panel if you get in touch using the contact details at the bottom of this page.
Jump To A Section
 A Guide To Personal Injury Claims Against Marks & Spencer Supermarkets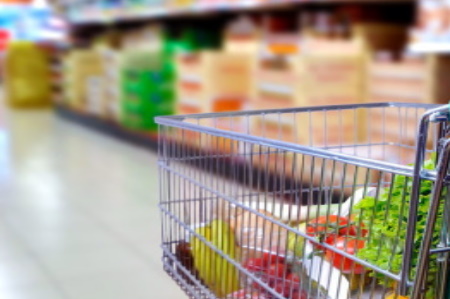 If you have been injured in a supermarket because the supermarket failed to put in place certain health and safety measures, you could be entitled to claim compensation from that supermarket. This is true for both members of the public doing their shopping as well as for employees working in the supermarket.
Before you begin to attempt to seek compensation, however, you could benefit from having some information on supermarket injury claims and what kind of supermarket accidents could entitle you to make a personal injury claim. That is what this guide aims to do. It will explain some of the technicalities of how an accident might occur, what kind of injuries it might inflict, and what Marks & Spencer's obligations are as a company to prevent accidents. It will also answer questions you are probably asking like how much money you could get for a successful claim and how you will be able to afford to make a claim without having to pay up-front costs.
What Is An Accident In An M&S Supermarket?
You may not think of a supermarket as being a particularly dangerous place, however, if health and safety are not properly observed then there is the possibility of accidents occurring in a supermarket that could inflict quite serious injuries.
Slips, trips and falls
Allergic reactions and food poisoning sustained from food purchased.
Being struck by items falling off of shelves
Accidents while using M&S shop equipment such as trollies and ladders.
Accidents such as these could cause injuries ranging from minor cuts and bruises to broken bones, head injuries and severe illnesses. You ought to get in touch with us if you have been hurt in an accident that was not your fault.
Types Of Supermarket Accident Claims
There are numerous different potential causes for making a personal injury claim for an accident in a supermarket. They include:
Slips, trip and fall claims
Accident involving trolleys and goods carts claims
Allergic reaction claims
Injury at work claims
Accidents involving various different supermarket facilities.
The following sections will detail how these accidents could happen, what sort of health and safety failures could lead to them, and how they could entitle you to seek compensation.
Falls, Trips And Slips On Supermarket Grounds
Slips, trips and falls are one of the most common ways to suffer an accident and an injury in a public place. Usually, a slip or a trip will only cause the person who has the accident to suffer cuts or bruises at the most, but it is entirely possible for someone to suffer quite serious injures simply by tripping on something and falling over, especially if they were to trip and fall down a flight of stairs, or if an elderly person were to trip and fall. Falling injuries can cause broken limbs, severe head injuries and sometimes even internal injuries.
Slips, trips and falls can be caused by loose sections of carpets or flooring tiles, rubbish or packaging being left lying around or wet patches of floor. It is the responsibility of Marks and Spencer to ensure that its shops do not pose these types of risks. A policy should be enforced of keeping its supermarket's floors clear, clean and in well-maintained condition. If someone has an accident as a result of their failure to do this, then it could be grounds for a compensation claim. We also have a guide dedicated specifically to information about slip, trip and fall claims which you may find useful.
Roll Cage And Supermarket Trolley Accidents
Roll cages used by staff and trolley's used by customers can cause accidents if they are not used in a responsible way. They can cause both staff and customers to get hurt by being knocked over by one, or by breaking while they are being used. Roll cages, in particular, can be somewhat more dangerous as they are larger, heavier, carry more goods and can restrict the vision of the person using it.
Roll cages and trolleys must be maintained or else taken out of use if they are faulty, it is the shop's responsibility to ensure that people are not using cages or trolleys that could break or which have a fault that could cause an accident (i.e. the gate of a role cage coming open while it is in use and spilling its contents everywhere). Staff should also be instructed in the safe way to use roll cages so that they know how to avoid accidents while moving them around.
If you have an accident involving a trolley or a roll cage in an M&S supermarket, why not consider ringing us to find out about your eligibility to bring a compensation claim.
Reactions To Allergens In A Shop Or Supermarket
There are rules and regulations which the law states M&S must follow in order to ensure that people don't suffer allergic reactions. You can read about them here. They relate to the preparation and serving of goods containing allergens. Food must be prepared in such a way as to prevent cross-contamination and food should be labelled clearly if containing allergens either on its packaging or instructions on where to find information on a visible noticeboard close by.
Most allergic reactions to food result in relatively mild symptoms such as vomiting, rashes, diarrhoea and so on, but in some cases, they can cause difficulty breathing as a result of the throat closing up or anaphylactic shock, which can be life-threatening.
If someone was to suffer an allergic reaction of any kind as a result of consuming food and drinks purchased at Marks & Spencer that contained allergens not properly labelled a compensation claim could be made.
Injuries Caused By Falling Objects
In a supermarket, there will usually be a number of shelves which are taller than a person's head, with objects being stored above head height. In some cases, these shelves might stock items large or heavy enough to cause significant injuries, such as metal tines, glass bottles and home appliances. Having an item fall off the shelf and hit you might cause only cuts and bruises or could cause serious lacerations and bone fractures.
That is why it is very important that supermarkets ensure that goods are stocked on shelves properly, not haphazardly in a way that could make them be knocked over. It is also important that the shelves themselves are in proper working condition, and that damaged or rickety shelves are repaired or replaced rather than used for displaying goods when they cannot be relied upon to hold the weight of the goods.
If you have been hurt by having an item fall off a shelf and hit you and you think it was because of the state of the shelf or because of the way the items had been arranged then call Legal Helpline to find out if we could help you to seek compensation.
Work Accident Claims
Marks & Spencer isn't just obligated to provide a safe shopping environment for its customers; it must also ensure that it is a safe place to work for its employee's. All the reasons that a customer could have an accident could also cause staff to suffer an accident (slips and trips, roll cage and trolley accidents, falling objects etc.) and these could also entitle staff members to make a personal injury claim. There are other injuries and health problems that people working in supermarkets could have to deal with. These could include
Manual handling injuries. These can be caused by pulling a muscle or developing long term muscular-skeletal issues. These can occur as a result of not being given manual handling training, being made to lift and move loads beyond your capacity or which should have been moved with lifting gear.
Work-related stress, bullying and harassment. Employers cannot overwork their staff; staff are entitled to breaks and a certain amount of time in between shifts. Overwork and stress can lead to mental and physical health problems. if you raised these issues with your employer, and no rearrangements were made to reduce your workload, then you potentially could be entitled to claim compensation. The same goes for sexual harassment and bullying, and if no action is taken to prevent the person responsible from continuing, then you could claim compensation.
Being assaulted at work. You have every right not to have to worry about being attacked. If your workplace is vulnerable to being attacked your employer should enact certain measures; such as employing security guards, having working security doors and working CCTV, if not they could be liable for a compensation claim for being assaulted at work.
Other Ways You Could Be Injured At A Supermarket
There are various facilities that are a part of a supermarket which must all be maintained to a safe standard. Otherwise, accidents could potentially occur. These might include:
Accidents involving potholes or broken pavements in the car park outside the shop
Accidents involving staff ladders – customers having them fall on top of them.
Accidents involving faulty or poorly maintained escalators, lifts and automatic doors.
If ever you suffer an injury in a supermarket accident, call our team to find out if you could be eligible for compensation.
Duty Of Care In The Retail Sector
Employers in the retail sector have a duty of care to their employee's. There are a variety of laws outlining the rights of workers and regulations specific to the health and safety of workers in various sectors and workplaces. However, the guiding principle that all employers are beholden to is outlined in the Health And Safety At Work Act 1974, which in brief, is that employers are responsible for ensuring that the workplace is safe, that the risk of accidents or health risks to their employees is minimal and doing all reasonably within their power to ensure that this is the case.
Marks & Spencer is responsible for the health and safety of its visitors and customers. As the proprietor of a public place of business, they are bound under the Occupiers Liability Act 1957 to be liable in the event that they are found to have caused someone to come to harm on their property through the negligent operation of their place of business.
Calculator For Personal Injury Claims
The amount of compensation you can receive is calculated on an individual case-by-case basis depending on your needs and the health impact of your injuries. The worse an injury and its lasting effects, the larger the compensation sum is likely to be. At this stage, it wouldn't be realistic to offer you an estimate of what sort of compensation you could be entitled to. However, we can provide this chart, which gives some examples of the sums of compensation that can be awarded for the types of injuries one might expect to occur as a result of the accidents listed in this guide.
| | | |
| --- | --- | --- |
| Injury | Notes | Compensation |
| Very severe foot injury | Foot injuries causing severe and permanent pain or serious disability. | £78,800 to £102,890 |
| Severe foot injury | Fractures of the feet causing restriction of movement and permanent pain. | £39,390 to £65,710 |
| Serious foot injury | Less severe injuries than listed above, but still leading to lasting pain, the risk of arthritis and prolonged treatment. | £23,460 to £36,790 |
| Moderate foot injury | Permanent deformities leading and lasting symptoms with continuing risk of developing arthritis. | £12,900 to £23,460 |
| Modest foot injuries | Simple metatarsal fractures, ruptured ligaments, puncture wounds foot injuries which are likely to heal. | Up to £12,900 |
| Amputation of all toes | Loss of all toes either as a result of traumatic loss or because of medical amputation. | £34,270 to £52,620 |
| Amputation of great toe | Loss of big toe from either foot | In the region of £29,380 |
| Severe toe injuries | Severe crush injuries or the loss of one or two toes. | £12,900 to £29,770 |
| Serious toe injuries | Serious injuries to two or more toes leading to permanent scarring and discomfort. | £9,010 to £12,900 |
Costs And Expenses You Could Be Compensated For
Having an injury or an illness can cause you to lose money, it could permanently affect you and your family's financial situation. Luckily compensation can be claimed for any losses and expenses related to your injury so that your financial situation can be brought back to normal should you happen to have to spend money or lose income.
There are a number of ways that you could claim compensation for losses and expenses:
Loss of earnings: You could claim back wages you would have earned had you not been forced to take time off work to recover. If you are permanently unable to work because of your injury, then you could be able to receive a compensation annuity equivalent to you yearly earnings until you reach the national retirement age.
Medical expenses: Any treatments, medications or physiotherapy sessions that you have to pay for instead of being covered by the NHS that are vital to your recovery you could claim these costs back as a part of your compensation.
Travelling expenses: Getting back and forth to doctor's appointments and collecting medications can be costly in and of itself, travel expenses can also be claimed back as a part of your compensation.
Always remember to keep all of the paperwork relating to your income and your expenses so that an accurate amount of compensation can be tallied. If you want anything clarified as to what you are entitled to claim, simply call our team.
No Win No Fee Claims For An Accident In Marks & Spencer
There is no need to be put off by the cost of taking on a personal injury solicitor in order to make a personal injury claim. Legal Helpline can provide you with a no win no fee solicitor. A no win no fee agreement means you aren't under any obligation to pay the solicitor until or unless you win compensation. If you do win compensation, then the compensation itself can be used to pay the solicitor, by granting a pre-arranged amount to the solicitor as a success fee. For further information or to ask questions about the details of a no win no fee claim just call our team.
How Do I Make A Successful Claim?
The first step to making a successful claim is to find the right personal injury lawyer. At Legal Helpline our panel of personal injury lawyers are knowledgeable and experienced professionals, they will work hard to win you the maximum amount of compensation you are entitled to. You can also keep in touch throughout the claims process to get updates on its progress so you will never be left out of the loop.
Contact Legal Helpline Today
To get in touch with us about starting a claim or receiving legal advice just call us, use 0161 696 9685 to speak to a member of our personal injury claims team, or use this page to arrange a phone call back from our team.
Supporting Resources
Information On Shop Accident Claims
Guide by KT
Editor ML.