By Richie Arnold. Last updated 23rd June 2022. Certain types of injuries can leave us with cuts, gashes and lacerations that could leave a scar. If the injury happened through no fault of your own, it's possible that you could make a personal injury claim for permanent scar compensation.
Permanent scarring can arise due to many different reasons such as undergoing surgery, being in a road traffic accident, suffering from a burn, or falling over and cutting yourself on something.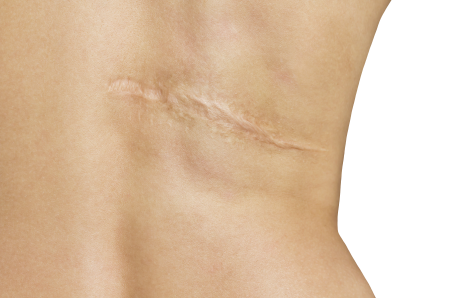 Some scars are able to heal and fade so that they are barely noticeable over time, but some scars are more severe and are very noticeable, which the victim can find distressing, especially if the scar is on the face or other uncovered areas of the body such as the neck, arms and legs.
If you have been injured due to no fault of your own and have been left with permanent scarring, you may be able to claim compensation.
Legal Helpline has a panel of personal injury solicitors that possess years of experience helping many people to claim permanent scar compensation. They'll be happy to help you too.
Select A Section
What Is Permanent Scarring?
Injuries that cause permanent scarring can be painful and cause significant discomfort, especially during the healing process.
According to the law in the UK, when making a compensation claim for permanent scarring, the type of scar needs to fit into one of the following categories:
Scar contractures – A permanent scar of this type is when the skin has shrunk and contracted or stretched after being damaged. An example of this could be when skin across the knee has been burnt in a fire causing it to shrink which in turn reduces the ability to move and bend the knee as normal.
Keloid scars – When the skin heals without the proper dressings or stitches, large welts that are dark in colour may sometimes form. Apart from being a cosmetic issue, if these scars cover a joint such as the knee or elbow, they can prevent the normal function of that joint.
Flat and pale scars – In most cases, these kinds of scars, although can present a cosmetic issue, do not affect the normal function of the skin and body.
If you are unsure as to which category your scar is in or whether you have a legitimate claim, contact Legal Helpline for help and guidance.
What Are The Causes Of Permanent Scars?
There are many different causes of permanent scar injuries with some being more common than others. The most common causes of a permanent scar injury are:
Accidental Injury – Accidents can occur anywhere that result in a permanent scar.
Scratches and bites – Depending on what has scratched or bitten you, the resulting scars could be large and severe, for instance being bitten by a large dog will most likely leave a prominent scar.
Medical Negligence – In these instances, scars are usually caused by botched surgery or poor stitching and aftercare.
Clinical / Beauty treatment Negligence – Different cosmetic procedures such as laser hair removal or botox that are becoming increasingly popular, if not done correctly, can result in injuries causing scarring.
Tattoos and Body Piercing – These procedures if not done correctly could result in the client being left scarred permanently.
Medical Conditions – Scars caused by illnesses and rashes are very common and can often be worsened by incorrect treatment.
There are a number of other causes or permanent scarring but these are noticeably the most common and typical of the permanent scar injury compensation claims we have dealt with over the years.
Tips On What To Do After An Accident
If you have been involved in an incident or accident which has resulted in you sustaining a scar, you may be thinking about permanent scar compensation claims.
In most cases, scar injuries occur as a result of a primary injury and so it is firstly very important to ensure that you have the primary injury looked at and treated by a medical professional before doing anything else.
Once you have done this and are confident that your health isn't at any risk, you should begin to gather as much evidence as you can that will support your future claim. The type of evidence you should try to collect is:
Evidence that proves the accident took place – Try to get witness contact details so that a statement may be obtained, depending on where the incident that caused the scar took place, make sure it is recorded in an accident book, and take photos if possible of the scarring.
Evidence that proves negligence – By collecting the evidence as suggested above, such as witness statements, should help to prove negligence. Taking photos of where or how the incident resulting in the scar took place may also show negligence.
Proof of the permanent scar injury – When you consult a medical professional, a report should have been written stating your injury, the severity, treatment and future prognosis. Ask for a copy of this report.
Proof of Expenses – Keep all official records, such as receipts, of any expenses you have incurred as a result of your scar.
Gathering enough of the right evidence to support your claim isn't always easy or straightforward.
This is one of the many reasons it can be beneficial to hire a personal injury claims firm as they will know the sort of evidence needed and where to find it and how to obtain it.
If you have not yet seen a medical professional, as part of our service, Legal Helpline can arrange a free local medical for you to have your permanent scar injury thoroughly assessed.
Examples Of Permanent Scar Compensation Claims
Below, we've included some examples of different types of permanent scar compensation claims.
Permanent Scars Caused By Burns
Scars caused by burns can not only be just cosmetic but can also have an impact on a person's mobility.
Skin burns may result from actual contact with fire, or from being in contact with a hot object such as an oven or boiling water for example. The scars from burns come under the scar contractures category and cause the skin to either shrink or stretch.
When this happens over a mobile area of the body or a joint, due to the change in the elasticity of the skin, the joints may not be able to function properly and usual body movements may not be able to happen.
Click Here To Learn More About Burn Injury Claims
Permanent Scarring After A Workplace Accident
Accidental Injury is the most common cause of permanent scar injuries. This is because an accident can happen anywhere and may be due to a number of different reasons.
You may have an accident at home which is your own fault such as cutting yourself whilst preparing dinner, you could have an accident whilst out shopping which may be your fault or the fault of someone else, or you could have an accident at work which you may be entitled to make a compensation claim.
If you have been injured whilst at work leaving you with a permanent scar injury and it was somebody else's fault, before starting your claim, there are a few things to consider first:
As it happened at work, rather than filing a normal personal injury claim against a group or an individual guilty of causing your scar, you would need to make an accident at work This would mean that personal responsibility would not be included in your claim and instead compensation will be paid by the employer's liability insurance rather than someone's personal individual finances.
The legitimacy of your claim will depend on whether it can be proven that your employer had acted in a negligent manner resulting in your accident and subsequently your permanent scar injury. Legal responsibility can only be rightfully assumed if your employer did indeed act in breach of their duty of care to you as their employee and therefore negligently.
Accident at work claims can be slightly different in the way that they are conducted in comparison with a general personal injury claim as it involves claiming from the employer's liability insurance.
Hiring an experienced legal firm to deal with your claim at this stage can be really helpful as they already know what is needed here to conduct your claim properly in order to gain the best outcome for you, freeing you from the stress and worry of trying to understand the legal jargon often seen in cases like this.
Click Here To Learn More About Accident At Work Claims
Claiming Permanent Scar Compensation Relating To Medical Negligence
Medical negligence is quite a common cause of scarring and occurs more often after a surgical procedure that wasn't necessary in the first place.
Such scars are likely to be aesthetically damaging rather than debilitating to your physical health or well-being.
However, you shouldn't have to suffer in silence if your scar was the result of clinical or medical negligence. Often, the doctor or medical body that they work for such as the NHS or private practice can be sued for compensation.
Commonly, clinical and medical negligence usually occurs due to the doctor or surgeon either;
Making a mistake during your surgical procedure
Failing to fully explain to you the possible risks, including scarring, that can sometimes result from the procedure
Failing to obtain the full and relevant consent for the procedure to take place
Permanent Scar Compensation Payouts For 2022
Before starting a claim for permanent scar compensation, you need to take into consideration every aspect of your life where your injury has had an effect.
The elements that can make up the final amount can include:
General Damages – These refer to the physical aspect of your claim as well as it's psychological effects. Any pain and suffering or any distress or anxiety for example that has resulted from your injury will be considered here.
Special Damages – all financial losses relating to the injury, such as:

Medical Costs – Any medical costs that you may have incurred due to your injury should be included.
Travel Costs – If you have incurred extra travel costs perhaps due to travelling to medical appointments etc., directly due to your injury, you can claim for these.
Loss of Income – If your injury has caused you to need time away from work, you can include this in your claim.
Care Claim – If your scar is very severe or affecting your mobility causing you to need a carer even if only temporary, you can add this to your claim.
It's really important to keep a record of financial costs and any receipts so that you can prove the financial impact you have endured and therefore add to the claim. If you don't keep the receipts or are not able to prove these expenses, they will not be considered.
As a guideline, we have provided a list of average compensation payouts for permanent scarring to give you an idea of what is possible.
These amounts shown are in accordance with the guidelines of the Judicial College and are only relevant to the actual injury itself. In general, the more severe an injury is, the more compensation will be awarded.
| Reason for Compensation | Average Award Amount | Comments |
| --- | --- | --- |
| Severe Scarring Caused By Burns | Likely to exceed £104,830 | For severe burn injuries that leave scars and the requirement for the likes of skin grafts, compensation awards can exceed this level. |
| Very Severe Facial Scarring | £29,780 to £97,330 | These amounts are for claimants that are young, between the ages of teens to early 30's usually, disfigurement and psychological effect are both severe. |
| Less Severe Facial Scarring | £17,960 to £48,420 | Similar to above but slightly less severe, but still very significant. |
| Significant Facial Scarring | £9,110 to £30,090 | The worst effects will have been or will be reduced with plastic surgery, but some disfigurement will still exist. Psychological reaction is still not great but is better than in the initial stages. |
| Less Significant Facial Scarring | £3,950 to £13,740 | There may be one scar or a group of small scars but these can be camouflaged with specialist make-up. Psychologically, the effect will be no more than that of a generally sensitive young person. |
| Trivial Facial Scarring | £1,710 to £3,530 | The effect of the scarring is only minor. |
| Body Scarring - Large Noticeable or Significant Singular Scar on Legs, Back, Arms, Hands or Chest | £7,830 to £22,730 | Scar very noticeable. |
| A single noticeable scar or cluster of little scars on legs, arms or hands with slight cosmetic effect | £2,370 to £7,830 | |
Please remember that these amounts are averages and not necessarily a promised indication of what you may receive should your claim be successful.
No Win No Fee Claims For Permanent Scarring
Before deciding to go ahead with your compensation claim for permanent scarring, you should consider the potential legal fees you may be faced with.
Some legal firms may ask for payments upfront or during the legal process to cover their fees regardless of what the outcome may be, potentially leaving you under enormous financial strain if your claim isn't successful.
However, with Legal Helpline, this isn't something you need to worry about as we offer a No Win No Fee service whereby we will not ask for any fees to be paid prior to the conclusion of your case, and only in the event that we win your case for you will we ask for any payment.
This is usually then taken as a small percentage of the final settlement amount and not directly out of your current finances.
If you didn't win your case, however, the No Win No Fee service policy states that you will not be charged anything at all. No win means no fees and so also means little risk.
Get Help Claiming Permanent Scar Compensation
Now you've had a chance to learn more about claiming permanent scar compensation, you may wish to move forward with a case. If so, we can help.
When you get in touch with us we'll discuss your case with you in detail, free of charge. We'll answer all of your questions and tell you if you could be entitled to compensation, without imposing any obligation on you to proceed.
If you would like to discuss your case with us:
Learn More About Personal Injury Claims
Thank you for reading this guide to claiming permanent scar compensation. Below, we've included some other personal injury claims guides that you may be able to learn more from.​
Laser hair removal burns compensation claims
Has your permanent scar been caused by burns from laser hair removal because of negligence? If so this page details in more depth the process of claiming compensation for laser hair removal burns.
This is a very informative guide designed by the NHS which gives lots of information about types of scars, treatments and the effects scars can have.
Here is some useful information from the Citizens Advice Bureau on what to do if you have an accident at work. They also include links to further help and information regarding this matter.
Example Claim Made Against The Council
Was your scar left by an injury caused by the council? This claim may help you understand how much your claim against the council could be worth.
What Is The Average Compensation For Being Knocked Off A Bike?
An example case study that gives an example of how permanent scarring could be caused and how much a claim such as this could be worth.
Thanks for reading our permanent scar compensation claims guide.