How Do I Claim Damages For An Taco Bell Allergic Reaction?
Taco Bell is a fast-food business that started life in America in the 60s. Since then, their Mexican inspired food outlets have popped up around the world, including across the UK. They offer many different styles of tacos and burritos which are easy to eat on the go. As with all restaurants, Taco Bell has an obligation to protect customers who suffer from food allergies by listing any allergens contained in their food. In this article, we'll look at mistakes that could lead you to claim for an allergic reaction after eating at Taco Bell.
If you decide that you want to begin a claim, why not let Legal Helpline assist you? Our friendly advisors can provide free legal advice on making a claim along with a no-obligation assessment of your case. If they believe there's a reasonable chance that your claim will be successful, you could be referred to a No Win No Fee personal injury lawyer from our panel.
To ask about your claim options right away, why not contact our advisors on 0161 696 9685. If you would like to know more about allergic reaction claims before contacting us, please carry on reading.
Jump To A Section
A Guide To Claiming For A Food Allergy In Taco Bell
Taco Bell is a household name in America, serving Mexican inspired food to the masses every day of the week. In the UK, there are nearly 50 branches up and down the country. You can order food in a branch, online or via their app. Whichever method you choose though, the company is obliged to make it easy for you to find allergen information if you need it.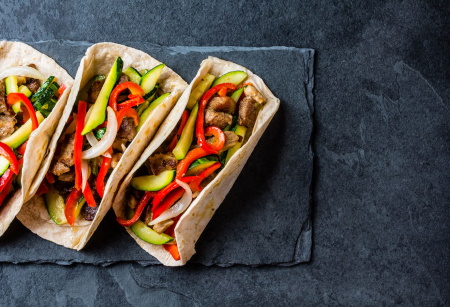 If you suffer an allergic reaction after eating at Taco Bell because you weren't able to identify what allergen your meal contained, or because the restaurant staff were negligent in some other way, you could be entitled to begin a compensation claim against them, provided you can prove that they breached their duty of care. As we progress, this article will explain what duty of care restaurants have towards their customers and what type of negligence could lead to a claim.
Proving that your allergic reaction was caused by somebody else's mistake can be a complex thing to do. That's the reason we advise that you seek legal advice from a specialist lawyer. We also suggest you do so as soon as you can. That's because it's often much easier to remember what happened leading up to the event in the weeks after it took place. Plus, there is a personal injury claims time limit of 3-years. The 3-year limitation period will usually start from the date the allergic reaction happened. Don't leave claiming until the last minute though, as there are various steps your solicitor will need to take before they're able to file your case.
When you've completed our guide, if you would like to talk to us about claiming, or if there's any additional information you need, please get in touch with an advisor on the number at the top of the page.
What Is An Allergy To Food?
Food allergies are not curable (source) which means the only way to prevent allergic reactions is to avoid known allergens altogether. But what is an allergic reaction to food? You might find the answer to that question quite surprising. The symptoms of an allergic reaction are caused when your immune system releases antibodies because it mistakenly believes an ingredient is dangerous to you. The most common antibodies include histamine and immunoglobulin E (IgE).
Information on the NHS website reveals that the most common symptoms include:
Itchy eyes and sneezing.
Swelling of the eyes, face, mouth, throat and some other parts of the body.
Wheezing or shortness of breath.
Difficulty swallowing properly.
Tingling (or itching) in the mouth.
Feeling dizzy.
A red, itchy raised rash known as hives.
Feeling sick or vomiting.
Diarrhoea or stomach pain.
All of these symptoms can either happen right away or up to 48-hours after consuming the allergen. They'll usually last a matter of days or weeks for mild cases but can lead to hospitalisation.
The most severe form of allergic reaction is called anaphylaxis. It is life-threatening and sometimes fatal if not treated quickly enough. Some patients have Epi-Pens to help reduce the risk but all cases should be referred to the emergency services quickly.
What Is An Allergic Reaction Caused By Taco Bell Food?
Now that we've explained that allergic reactions are the result of a mistake by the body, you might wonder why you could sue Taco Bell if you have an allergic reaction to their food. Well, it's because there are very strict laws about how allergens are advertised by food businesses to protect vulnerable customers.
It's when those laws are breached and cause a customer to suffer that it's possible a claim could be made. As we go through this guide, we'll consider what responsibilities restaurants have and when a claim might be possible.
Are Allergies To Foods Common?
In this part of our guide, we're going to look at how common allergies are. To do so, we've provided statistics from Allergy UK, a charity who supports those with allergies. It's important to state that this data isn't exclusively about food allergies.
In the year ending February 2014, over 19% of emergency hospital admissions were caused by anaphylaxis.
Estimates suggest that the NHS spends over £900 million dealing allergic diseases each year.
Over 44% of British adults are allergy sufferers. Of those, 48% suffer from more than one allergy.
I Asked Taco Bell To Serve Me From The Allergy Menu
If you order from the Taco Bell website, there's a really handy allergen menu where you can highlight the ingredients you're allergic to. When you do, a list of suitable meals is presented to you. For instance, you might ask for:
No tomatoes.
No cheese.
No wheat.
No eggs.
No fish.
No oats.
No nuts.
No milk.
If you place an order and specifically request an item is left out, you might be able to ask for compensation if the restaurant agreed to your request and didn't fulfil it properly, which caused you to suffer an allergic reaction. If that's happened to you, why not ask Legal Helpline for advice on starting a claim by calling the number above? You'll receive free advice even if you don't go on to start a claim.
How Negligence Could Expose You To An Allergen
Taco Bell is an international business with restaurants around the world. They probably have a legal team who support the business and make sure they meet any legal requirements regarding allergens. They'll also spend a lot on training their staff to help keep their customers safe, but despite all of their efforts, mistakes can happen. If they do, and you suffer an allergic reaction as a result, as long as you can clearly prove the restaurant was at fault, you could make a Taco Bell allergy claim.
For instance, you could claim for allergic reactions caused by:
Kitchen staff who fail to follow the recipe properly.
A lack of allergen information on display in the restaurant.
Staff providing incorrect advice when asked.
Kitchen staff not following safety procedures which leads to cross-contamination of your meal.
If you believe that negligence by Taco Bell staff was the reason for your allergic reaction, Legal Helpline could support you with a claim. Please let us know the details of your claim, and we'll start the ball rolling.
Rules And Legislation On The Handling Of Allergens
There are way too many different food laws to list in our guide but each one exists to provide protection to consumers. For instance, some will make it illegal to include dangerous ingredients while others are used to ensure there's nothing misleading in the way the food is advertised.
The Consumer Rights Act 2015 provides a number of rights as well. In general, it requires products to arrive in the condition advertised and fit for purpose. That means if an allergen isn't advertised as an ingredient, but it is in the product you receive, the producer could be in breach of the rules and you could claim against them.
How Not Telling A Restaurant About Your Allergy Affects A Claim
When you choose to eat out, as an allergy sufferer you're not obliged to tell the restaurant about what causes you to suffer. Although it might be a good idea to let them know, there's no legal reason to. The duty of care regarding allergens lies solely with the restaurant and it is their legal obligation to ensure customers who need to, can find allergen information easily.
Therefore, if the restaurant hasn't clearly pointed out that allergens could be present (see the next section for details on how), you could seek compensation if their omission caused you to suffer an allergic reaction. If you explain what happened when you ordered, we'll check if you could claim for an allergic reaction after eating at Taco Bell.
The Restaurant Did Not Display Allergy Information
So, how should restaurants and other food businesses tell you about allergens that are present in their meals? Well, the easiest way is to list each allergen against items on the menu. If this isn't done, another option is to display a prominent sign which indicates where you can obtain allergen information. For instance, the sign could tell you to check the website or ask a member of staff.
When you're unable to easily find out what allergens are present, you could begin a claim for the suffering caused by a subsequent allergic reaction. Talk to an advisor today and they'll explain your options.
Foods Which You May Be Allergic To
If you're an allergy sufferer, or you live with one, you're probably well aware of what ingredients can cause you to suffer. But you might not realise how many different food allergies there are so, for your information, we've listed some of them below:
Sulphur dioxide allergies.
Lupin allergies.
Wheat allergies.
Egg allergies.
Dairy allergies.
Mustard allergies.
Celery allergies.
Fruit allergies.
Cereal allergies.
Gluten allergies.
Seafood allergies.
Nut allergies.
Fish allergies.
Soy allergies.
Shellfish allergies.
If you've suffered an allergic reaction to any of the foods listed, because the restaurant or takeaway failed to fulfil their duty and advertise the presence of allergens properly, we could help you start a claim. Please let us know what happened and we'll assess your claim for free.
Taco Bell Nutrition And Allergy Information
For your information, we've listed some of the items that are currently available to order from Taco Bell. We should state that menus can vary, and some options might not be available, especially while the COVID-19 restrictions are in place.
Tacos
Crunchy Taco Supreme.
Soft Taco.
Crunchy Taco.
Soft Taco Supreme.
Burritos
Volcano Burrito.
7 Layer Burrito.
Cravings Value Menu
Beef Nacho Griller.
Nachos with Nachos Cheese Sauce.
Crispy Chicken Soft Nacho.
Cinnamon Twists.
Fries with Nacho Cheese Sauce.
Cheesy Roll-up.
Spicy Chicken Griller.
Meat Free
7 Layer Burrito.
Cheese Quesadilla.
Taco Bell has a really handy allergen menu where you can choose what items you want to be left out and it will show you the menu options that will be suitable.  However, even with that option, a mistake could be made which could entitle you to ask for compensation if the error caused an allergic reaction and you can prove that they were at fault. Please feel free to ask a member of our team if you're eligible to claim.

Taco Bell Allergies And Illness Compensation Calculator
You probably want to know how much compensation will be paid if your claim is won. Unfortunately, it's not as simple as providing a personal injury claims calculator as every claim is unique and there are many variables involved. Therefore, we've listed some allergic reaction compensation amounts in the table below, but for a more personalised estimate, why not check what your claim could be worth with a member of our team?
| Category of Claim | Information | Compensation Range |
| --- | --- | --- |
| Severe | These allergic reactions will lead to very severe symptoms. Once recovered, the claimant may have ongoing problems that reduce their ability to work and have an impact on their enjoyment of life. | £36,060 upto £49,270 |
| Serious | These allergic reactions will lead to serious symptoms as well but they will generally be very short-lived. | £8,950 upto £18,020 |
| Moderate | The allergic reactions in this bracket will usually require some time in hospital but, once treatment has finished, the symptoms will clear up fairly quickly. | £3,710 upto £8,950 |
| Minor | These allergic reactions are much less serious. They'll usually have cleared up in a few days or weeks. | From around £860 upto £3,710 |
The figures above are taken from a document used by insurers, courts and solicitors when valuing claims called the Judicial College Guidelines (JCG). They list different injuries by severity and example compensation figures. As the severity of your injury is linked to the amount of compensation paid, your solicitor will need to provide evidence that shows the extent of your suffering. Therefore, they'll arrange for you to attend a local medical assessment as part of the claim.
When you visit, the medical specialist who sees you will review any medical records, examine you and ask questions about the impact of your allergic reaction. Once they've finished their investigation, a report will be compiled detailing their findings and sent on to your solicitor.
How Else May I Be Compensated?
The compensation shown in the previous section was for the pain and suffering that resulted from your allergic reaction. It's referred to as general damages. On top of that, your solicitor is also able to ask for financial costs and losses incurred as a result of your reaction to be paid back too. This is called special damages and can include a range of items including medical expenses, travel costs, care costs, lost income and future lost earnings in more serious cases.
To discover what could be included in your claim following an allergic reaction after eating at Taco Bell, explain how you've been affected to a member of our team today.
No Win No Fee Claims For A Food Allergy In Taco Bell
There are many things that can get in the way of a personal injury claim. One of the main reasons people are deterred is because they're concerned about how much a solicitor will charge. We completely understand that worry so our panel of specialist lawyers provide a No Win No Fee solution for any claim they take on. That means any financial risk is reduced which will also make the claim a lot less stressful.
Of course, before your claim is accepted, a solicitor will need to check it has a chance of success. Once they've completed their checks, and when you're happy to continue, the claim can begin.
You'll be given a contract called a Conditional Fee Agreement (CFA) to read and sign. Using a CFA to cover the cost of your claim has many benefits including:
You won't have to pay anything upfront. This means that the claim can be started almost immediately.
The solicitor will not charge any fees while the claim is ongoing.
If your case is lost, you won't have to pay your solicitor's fees either.
The only time you'll have to pay a 'success fee' is if your solicitor wins the case and compensation is paid. This fee is a percentage of your compensation and it's listed in the CFA so you'll know how much will be deducted at the start of your case. By law, success fees are capped at a low level.
To enquire whether you're able to claim using a No Win No Fee solicitor, discuss your case with an advisor today.
How To Make A Claim
As you've made it to the end of our guide about claims for an allergic reaction after eating at Taco Bell, we hope you have decided that you'd like to use Legal Helpline to support a claim. If that's the case, here are our contact details:
To make your claim as easy as possible, our advisors have been specially trained to ask the right questions. They'll listen to your allegations in a no-obligation telephone-based consultation and review whatever evidence is available. Then they'll either provide advice on what you should do next or they'll link you with a personal injury lawyer from our panel if your case seems strong enough. To reduce the financial risk of claiming, if your case is accepted by the lawyer, it will be conducted on a No Win No Fee basis.

References
This is the final section in this article about starting a claim for an allergic reaction after eating in Taco Bell. We do hope that you've found the information useful and that it's helped you to decide whether to make a claim. For additional support, we've added some links, guides and resources below. Let us know if you would like us to provide any additional information.
Anaphylaxis Care – Advice from a UK charity about what medication can help with allergic reactions.
Latex Allergies – Information on when latex, often found in protective gloves, can lead to an allergic reaction.
Product Recalls – An up to date list of recalled foods which can happen due to unlisted allergens.
Claiming For A Child – Information on the process of making a personal injury claim on behalf of a child.
Allergic Reaction To Peanuts – A guide that explains when personal injury claims could be possible because of an allergic reaction to peanuts.
Illness At Work Claims – Information on the process used if you fall ill at work due to the negligence of your employer.
This concludes our guide on claims following an allergic reaction after eating at Taco Bell. Thank you for reading!
Guide by BE
Edited by REG