Being an allergy sufferer can make choosing food tricky. You might spend a lot of time looking for allergens on food packaging or menus to try and avoid an allergic reaction from happening. But what if the allergen information isn't there or you're given incorrect advice from a member of staff? Well, if negligence causes you to suffer an allergic reaction, you might be able to sue the retailer or food producer for causing you to suffer. In this guide, we're going to discuss claiming compensation for an allergic reaction after eating at Wimpy. We'll review the forms of negligence that could happen, when a business may be responsible, and the amount of compensation you might receive.
Legal Helpline can help you start a compensation claim. We provide a no-obligation review of any case and free legal advice too. If the advisor concludes your case has a good chance of success, they could direct you to a personal injury lawyer on our panel. To reduce the financial risk of claiming, they'll handle any claim they accept on a No Win No Fee basis.
Please contact us today on 0161 696 9685 for a free assessment of your claim. Alternatively, please continue reading to find out more about claiming against Wimpy UK following an allergic reaction.
Jump To A Section
A Guide To Claiming For A Food Allergy In A Wimpy Restaurant
Allergic reactions can be managed quite well by a sufferer if they're able to check the ingredients of any food they're thinking of purchasing. To help with that, there are laws in place that mean food producers, retailers and businesses need to clearly indicate that an allergen is present in their products. If they don't uphold their duty of care and fail to display the correct information, they could be liable for any suffering sustained by a customer who goes on to have an allergic reaction.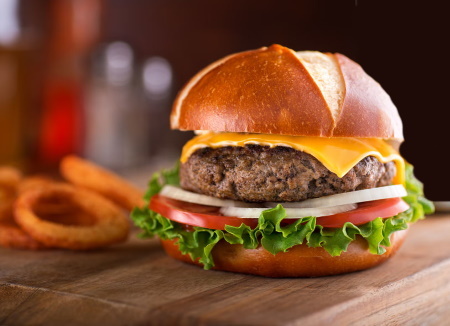 During this guide, our focus will be on claiming for negligence that leads to an allergic reaction after eating at Wimpy. We'll review what rules need to be followed and when you might be eligible to make a claim. Then we'll supply information about compensation amounts.
If you get one thing from this guide, it should be this: start the claim as soon as you can. There is a 3-year personal injury claims time limit. It usually commences from the day of your allergic reaction. While that can seem like a long time, a solicitor will need as much time as possible to gather the supporting evidence required to assist with your claim. Starting early is also always best because you'll still have a fresh memory of what happened.
When you've completed our guide, we'd love to support you if you decide to make a claim. Please contact us when you're ready and let a member of our team walk you through the process.
What Is An Intolerance Or Allergy To A Food?
The body's immune system is an amazing thing, but it is actually the cause of allergic reactions. When you eat, the immune system sometimes believes, wrongly, that an ingredient poses a danger. At that point, it releases antibodies to try and protect you. It is this process that leads to allergic reaction symptoms. The NHS website states that common symptoms include:
A cough or shortness of breath.

Red, itchy watering eyes.

Feeling sick or vomiting.

A runny or blocked nose.

Dry cracked skin.
When an allergic reaction is particularly bad, it can cause a life-threatening condition called anaphylaxis. If not treated as an emergency, anaphylaxis can be fatal.
What Is An Allergic Reaction Triggered By Food From Wimpy?
As you can see, allergic reactions are nobody's fault, which means you might think it's not possible to sue after an allergic reaction to Wimpy food. However, as you'll see as we go through this article, there are times when negligence can lead to an allergic reaction. When that is the case, you might be entitled to seek compensation for the pain and suffering caused.
We'll review food regulations designed to help allergy sufferers, some scenarios that could cause a reaction to occur and when you might be entitled to start a claim. For free advice about your case, please reach out to an advisor today.
How Frequently Do People Experience Allergic Reactions To Foods?
While you're probably reading this guide because you're well aware of how difficult it is to manage allergies, some people may not realise just how serious they are. According to data from Allergy UK:
It is estimated that allergies cost the NHS £900 million a year (10% of the GP prescribing budget).

A massive 44% of adults in Britain suffer from at least one allergy and almost half of those people suffer from two or more allergies.

Between 2013 and 2014, 19.2% of emergency hospital admissions were caused by anaphylactic reactions.
The Restaurant Left The Allergen In My Order
It's quite normal for customers to ask for an ingredient to be removed from a food order where the food is prepared within the restaurant. In some cases, the restaurant might not be able to carry out the request and suggest that you choose another item.
However, if they agree to fulfil your request, but fail to do so, there might be a chance of claiming if the negligence led to an allergic reaction and you can prove the restaurant failed in its duty of care. Here are a few menu options that you might ask to be removed.
No Milk

No Oats

No Tomatoes

No Wheat

No Fish

No Eggs

No Cheese

No Nuts
To prove that this type of negligence caused you to suffer, you could use witnesses who overheard what happened. Also, if the receipt for your meal shows instructions to remove an item, you could use that to support your claim. One of our advisors can review your evidence for free so please get in touch today.
How Negligence May Expose People To Allergens
In large restaurant chains, including Wimpy, the organisation will produce allergen information leaflets, web pages and signs to be displayed in their restaurant. They will also spend a lot of time and money training staff about allergens. Even when all of that has been done, mistakes can still happen which could lead to a customer suffering an allergic reaction.
Scenarios where that could happen include:
When staff don't display the allergen warning signs provided.

If kitchen safety protocols aren't adhered to and cross-contamination occurs.

Where waiting staff fail to inform you correctly about an allergen when asked.

If the chef uses an ingredient not listed on the menu.
Should any of the above be true in your situation, please discuss your case with an advisor to find out if you'll be able to make a claim.
What Protections Do You Have Under The Consumer Rights Act?
There are several pieces of legislation which protect us when making a purchase in the UK. One is the Consumer Rights Act 2015 which puts an onus on retailers or manufacturers to supply items that are fit for purpose and as advertised.
If you make a food purchase which doesn't contain allergen information, it could mean the producer has breached their duty of care towards your safety and, as a result, you could be able to seek a compensation payment for your suffering if their negligence led to an allergic reaction.
What Happens If You Didn't Tell The Restaurant You Have An Allergy?
If you're eating out at a restaurant, you may wish to tell the staff about your allergy when ordering a meal. However, if you didn't mention it, you could still be entitled to ask for compensation if you had a reaction because it was unclear that an allergen was present in food that you ordered.
Failures Of A Restaurant To Provide Allergy Information
In the scenario above, a restaurant could still be liable for your allergic reaction if they failed to highlight the allergens present in their meals. The methods they can use to do this include:
On food packaging.

On the menu.

With prominent signage.
Having a sign which says "Check our website for allergen information" may be suitable as long as it is displayed prominently.
If a restaurant fails to use the methods listed above to show you what's included in their food, then you could claim compensation for any suffering caused by a subsequent allergic reaction. If that's the case, let us know what happened in a free review of your claim.
Foods Which Could Trigger Allergic Reactions
While you may be aware of common allergens because they make the news headlines regularly (such as a nut allergy), you might not be aware of all of them. Therefore, we've created a detailed list below:
Gluten allergies

Shellfish allergies

Sulphur dioxide allergies

Milk allergies

Wheat allergies

Soy allergies

Fish allergies

Fruit allergies

Cereal allergies

Dairy allergies

Nut allergies

Egg allergies

Seafood allergies

Lupin allergies

Mustard allergies

Celery allergies
Our panel of solicitors can help with cases of allergic reactions caused by any allergen if it's due to negligence of the staff at a restaurant, café or bar. Please call today and check your eligibility to claim compensation.
Example Wimpy Restaurants Menu
For general information, we've listed the Wimpy menu that was available when this guide was written. In many restaurants, the number of options on menus has been reduced due to the COVID-19 pandemic to try and reduce the number of staff required in kitchens. That means that not all items may be available in all restaurants.
Single Burgers
Wimpy Hamburger

Quarter Pounder Mushroom

Wimpy Cheese Burger

Fish Finger Burger

The Original Quarter Pounder Cheese

Smoky BBQ Burger

Wimpy Spicy Bean Burger

Gourmet Chicken Burger

Bender In A Bun With Cheese

Spicy Southern Fried Quorn

Quarterpounder Bacon & Cheese

Breaded Chicken Fillet
Big Fillers
Spicy Bean & Slaw

Half Pounder Bacon & Cheese

Double Wimpy Cheese Burger

Mega Burger

The Original Half Pounder

Quarter Pounder Club

Wimpy King Size
Grills
All-Day Breakfast

Wimpy Grill

Sausage, Egg & Chips

International Grill
Fish Plates
Chicken Plates
Extras
Cheeso Rings

Firecracker

Onion Rings

Chicken Strips

Pork Bender

Bacon

Mozzarella Melts

Cheese Slice

Quarterpounder Patty

Wimpy Special Sauce

Wimpy Mayo

BBQ

Wimpy Ketchup

Sweet Potato Chips

Chips

Sausage Patty

Breakfast Sausage

Free Range Fried Egg
Contact the team at Legal Helpline if you believe you suffered an allergic reaction after eating at Wimpy because their negligence meant that you weren't aware of an allergen being present in an item on their menu, causing you to have an allergic reaction.
Food Allergy In A Wimpy Restaurant Compensation Calculator
So that you can get an idea of potential compensation amounts for an allergic reaction after eating at Wimpy, we've supplied the table below. It isn't a personal injury claims calculator as we know, from experience, that everybody's claim is unique, and a calculator can lead to confusing results. Instead, the table contains compensation amounts from the Judicial College Guidelines which is used by courts to help work out settlement amounts.
| Reaction Type | Compensation Bracket | Detailed Information |
| --- | --- | --- |
| Severe | £36,060 to £49,270 | This type of allergic reaction is likely to lead to hospitalisation and there could be some long-term health implications. Abilty to work and enjoy life will be adversly affected. |
| Serious | £8,950 to £18,020 | This type of reaction will be short-lived with some time in hospital required but symptoms will usually fully resolve over time. |
| Mental Anguish | £4,380 | In cases where the claimant feared for their life during the allergic reaction, this compensation might be awarded. |
| Slight | From around £860 to £3,710 | An allergic reaction with minor symptoms which are usually resolved in a matter of days or weeks. |
A personal injury solicitor will need to demonstrate the true nature of your suffering to try and ensure you receive the correct compensation category. To do this, they'll arrange for you to attend a local medical assessment. In your appointment, a medical specialist will ask several questions and review any medical records available to them. Then, a report will be written to show the types of injuries you sustained, whether there will be any long-term effects and what impact the injuries have caused you on a day to day basis.
Additional Ways In Which You May Be Compensated
The first thing your solicitor will claim for will be the pain, suffering and inconvenience caused by your allergic reaction. This is known as general damages. The amounts shown in the last section were for this type of compensation.
On top of that, they can also claim for any financial expenditure you've made because of your reaction. This is known as special damages which can be made up of:
Care costs.


If your allergic reaction leaves you needing support while your body recovers, you could include any relevant expenses in your claim. That might cover the fees of a professional carer or the time of a member of your family who supported you.

Travelling costs.


Any travel-related expenses could also be claimed back within special damages. They could cover any additional costs linked to alternative travel arrangements if you're unable to drive. Also, you might include parking and fuel costs incurred due to medical appointments.

Medical Expenses.


When you're recovering, there's a chance you'll need to pay out for over the counter medication, prescriptions or treatment that's not available on the NHS. If that's true, you could make a claim for these costs.

Lost Earnings.


Depending on the length of your recovery period, you could lose several days or weeks income. If that's the case, you could ask for the salary loss to be compensated. Also, where you're left with a long-term or permanent disability that affects your work prospects, you could ask for future lost income to be paid as well.
Your solicitor will need to supply evidence to prove your losses, so we'd recommend keeping a diary of spending along with any receipts or other evidence to support your claim. If you'd like to check what might be allowed within special damages, speak to us today.
No Win No Fee Claims For A Food Allergy In A Wimpy Restaurant
There are many different reasons people put off making a claim after suffering an allergic reaction. One common reason is that they're concerned about the costs of asking a personal injury solicitor to take on the case. We use a panel of solicitors who offer a No Win No Fee service for any claim they agree to take on. Not only does that reduce much of the stress involved, but it will also reduce a lot of the financial risks too.
Before agreeing to take the claim on, your solicitor will review it to check that there's a realistic chance of success. When you are both happy to commence, you'll get a Conditional Fee Agreement (CFA) to review. This document is the No Win No Fee agreement that will fund your claim.
When you claim using a CFA, you'll benefit because:
You won't be asked to pay any fees before the claim starts. That allows your solicitor to start straight away.

As the claim moves on, you won't be asked to pay any solicitor's fees.

Should your claim fail, you won't be liable for any solicitor's fees at all.
To cover the solicitor's costs and time, they'll retain a small percentage of your settlement if compensation is awarded. This is referred to as a success fee. Within your CFA, the success fee will be clearly indicated so there are no surprises at the end of the process. Legally, all success fees are capped so you shouldn't worry too much about this.
We'll let you know if you're able to use a No Win No Fee solicitor once your claim has been assessed.
Begin Your Allergy Reaction Claim Against A Restaurant
Thanks for visiting Legal Helpline today. We hope that this article has given you the confidence to seek compensation if you've suffered an allergic reaction after eating in Wimpy. If that's true, and you want us to assist you, please contact us by:
To begin the process, one of our advisors will listen carefully to what happened and give you advice, for free, on your options. Then, if the claim seems viable, your case will be sent to a personal injury lawyer from our panel. If they decide to take your claim forward, they'll do so on a No Win No Fee basis.

References
Thank you for reading this Legal Helpline guide about making a claim for an allergic reaction after eating in Wimpy. We're now going to provide you with some extra resources that we think will prove useful. If there is any further advice you require, please do let us know.
Allergic Reactions To Wheat – Our guide about claiming for a reaction caused by wheat allergies.
FAQ: Claiming For An Allergic Reaction – All of your questions answered about personal injury claims for allergic reactions.
Nightclub Accident Claims – Information about when you could start a personal injury
claim for injuries sustained in a nightclub.
Severe Allergic Reactions – Detailed information about anaphylaxis from Allergy UK.
The Food Safety Act 1990 – This piece of legislation is used as the basis for many other legal standards in the UK.
What Are The 14 Allergens? – A list of allergens from the Food Standards Agency which need to be declared on food packaging.
Guide by BE
Edited by REG