I Suffered Harm Due To An Asda Pharmacy Prescription Error, How Do I Make A Claim?
When you visit a pharmacy to collect a prescription, you're very likely to trust that the medication you receive is what the doctor prescribed. But what if the wrong medicine was dispensed? In this guide, we'll look at how you might suffer if you're given the wrong prescription, and in particular, we're going to look at the circumstances in which you could claim for an Asda Pharmacy prescription error. Not only will we look at the potential suffering a mistake could cause, we'll look at reasons why a mistake could happen and when you could be entitled to claim compensation.
Here at Legal Helpline, we believe you should be able to claim for pharmacy negligence without worrying about the costs involved. Therefore, we provide free legal advice on the claims process. Furthermore, we offer a no-obligation assessment of your claim. Finally, if your claim has a chance of being successful, we could introduce you to a solicitor from our panel. Any claims they handle are on a No Win, No Fee basis.
If you already know that you'd like to begin a claim, please call us on 0161 696 9685 today. To find out more about claiming because a pharmacist made a mistake, please carry on reading.
Jump To A Section
A Guide On Claims For Wrong Medication Errors By Asda Pharmacy  
All medical professionals have a duty of care to ensure their patient's safety. That includes pharmacists. Their role is a vital part of any patient's treatment and any mistakes made at the point of dispensing medication could cause serious suffering. Pharmacists are sometimes located in hospitals, care homes, GP surgeries, supermarkets or in their own retail outlet. In this case, we're looking at a supermarket-based pharmacy.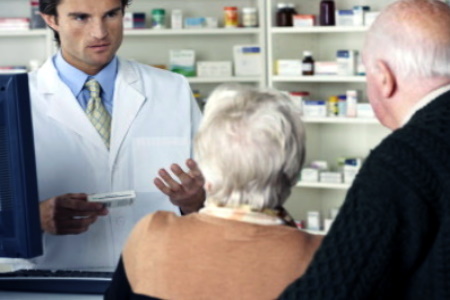 We're going to look at when you could be entitled to compensation following an Asda Pharmacy prescription error. Before we do, we'll look at the role of a pharmacist, what types of mistakes they could make and when they might be liable for your suffering. Then we'll look at the claims process and how a medical negligence solicitor could help you.
Due to the complexity of some medical negligence cases, we'd always advise having a specialist on your side. We also advise that you seek legal advice as soon as possible. That's because there's a 3-year time limit that applies to medical negligence cases in England and Wales, the same as the personal injury claims time limit. In the case of a prescription error, the 3-years would begin from the date you found out about the mistake. Although the time limit seems a long time, the sooner you begin, the better. That's because some of the tasks involved in gathering evidence, arranging medical assessments and compiling a claim are sometimes lengthy procedures.
If you have any questions remaining after reading this guide, please get in touch. Our advisors can offer free legal advice and review your case with you. If you decide to make a claim, our panel of solicitors could work for you on a No Win, No Fee basis.
What Is A Prescription Error By A Pharmacy?
A prescription error is when you receive the wrong medication which causes you to suffer in some way. This could mean you receive the wrong drug, an incorrect dosage, strength or where the instructions provided are incorrect. Any of these mistakes could cause you to suffer, and if they do, you may be entitled to compensation.
Here are some potential reasons why a prescription error could occur:
Because the drug given looked or had a similar name to the one prescribed.

Where the pharmacy is short-staffed and dispensing is rushed as a result.

When a technician or pharmacist failed to check with a doctor when the prescription was unclear.

Or where you're given somebody else's prescription by mistake.
These, or any other mistakes, which result in you suffering because you've taken the wrong medicine, could result in a compensation claim.
What Is The Job Of A Pharmacist?
The General Pharmaceutical Council (GPhC) govern pharmacists in the UK. They set the standards by which a pharmacist should adhere to. They also set out their responsibilities. According to its website, pharmacists are responsible for:
The quality of all medication dispensed.

Ensuring medication is dispensed within the law.

Checking that any medication dispensed is suitable for the patient.

Providing advice about how to take medicines. This advice should also explain any potential side effects.
Also, pharmacists should:
Offer local services like blood pressure tests.

Ensure the systems and procedures they use are fit for purpose.

Supervise the preparation of medication to be given to patients.

Provide advice on medicines sold in the pharmacy based on symptoms described by patients.
When Could I Claim For A Mistake By A Pharmacy?
Essentially, a compensation claim could be made if you've suffered in any way due to a mistake by a pharmacy. As mentioned earlier, the types of mistake which could cause you to suffer include:
Incorrect dosage errors.

Mistakes on usage instructions.

Receiving the wrong medication.

Receiving out of date medication or where the packaging was damaged.
What Are The Effects Of Wrong Medication Negligence?
The range of effects of taking the wrong medication is quite startling. In some cases, there may be no reaction at all. However, in other cases, a prescription error can be fatal. Here is more information on what could happen:
No Adverse Reaction.

If the medication you receive causes no adverse reaction, in some cases, you wouldn't be able to claim compensation. However, even though no side effects occurred, you could still suffer because you didn't take the medicine the doctor prescribed. This could mean your underlying condition worsens. If that's the case, and it can be linked to the

prescription error

, you could still seek compensation.

An Adverse Reaction.

In some cases, the mistake could cause you to suffer side effects. These could include stomach cramps, nausea, dizziness or vomiting. In some cases, you could have to spend time in hospital to help you recover. As well as the symptoms listed already, some medications can cause damage to internal organs. Generally, these symptoms won't be life-threatening but could take months or even years to fully recover from.

An Allergic Reaction. When your GP prescribes a medicine, they'll check their records for any known allergies. They'll then make sure the prescribed drug doesn't contain an allergen. However, when a pharmacist makes a mistake, the drug you're given won't be checked. Some people suffer minor symptoms following an allergic reaction. These can include watery eyes, swollen lips, itchiness, a rash or feeling lightheaded. However, in more serious cases, anaphylactic shock can occur. If this isn't treated quickly, it can lead to cardiac arrest and be fatal.
How To Raise Concerns About Your Pharmacy
The GPhC is the governing body for pharmacists in the UK. As such, any complaints or concerns should be raised with them. On their website, they list several things you might want to inform them about. These complaints could be raised by patients or members of staff within the pharmacy. Some of the concerns you might want to raise include:
Dispensing errors including medication mistakes, dosage errors or incorrect instructions.

Serious unprofessional or inappropriate behaviour.

Criminal conduct of a pharmacist.

Dishonesty or fraud (such as claiming money wrongly from the NHS).

Practising while unregistered.

Working while under the influence of alcohol or drugs.

Where the pharmacist has a health condition which could affect their ability to work safely.
While you don't have to raise a complaint to claim compensation, your solicitor may ask you to do so. That's because, when the GPhC releases their findings, it could provide evidence of negligence which caused your suffering. Please speak with an advisor for advice on this.
Could I Be Eligible To Claim For A Pharmacy's Negligence?
As we've already mentioned, proving medical or clinical negligence cases can be tricky. If you're looking to claim for an Asda Pharmacy prescription error, a medical negligence solicitor would need you to show:
First, the pharmacist owed you a duty of care. This will generally be straightforward to establish. 

Second, that the pharmacist operated in a substandard manner. That means the service they provided was below the standard that would reasonably be expected of a competent pharmacist in the same scenario. In legal terms, this is known as breach of duty.

And finally, that you were made ill, suffered an injury or your original condition became worse. as a result of the pharmacist's breach of duty. 
To prove all of these things, you'll need evidence to support your claim. Therefore, later in this guide, we'll provide examples of the type of evidence you could collect. Even with evidence though, specialist medical evidence might be required to prove what happened. That's why we always advise you to employ a solicitor who specialises in medical negligence claims. The solicitors on our panel have worked on medical negligence claims for many years and specialise in this field. If you'd like to find out if you could begin a claim, call an advisor today.
Calculating the Value of Claims For Wrong Medication By A Pharmacy
You've now seen how an Asda Pharmacy prescription error could affect you. Therefore, in this section of the guide, we'll show you how much your claim could be worth. You may have come across a personal injury claims calculator before. We find they can sometimes be cumbersome to use, so instead, we've included a table to show how much compensation you could be entitled to.
It's important to point out that the table contains compensation figures that makeup just one part of your claim. As everybody is affected differently, it's impossible to give accurate personal estimates within this guide. However, once your claim has been assessed, you could receive a more accurate estimate.
| Injury | Compensation | Notes |
| --- | --- | --- |
| Injury, non-traumatic. | Up to 49,270 | These injuries will result in diarrhoea, vomiting, acute pain and also fever. The patient will require some days or possibly weeks in hospital with further ongoing symptoms like incontinence, IBS and haemorrhoids. There will be a significant impact on life enjoyment as well as the ability to work. |
| Injury, non-traumatic. | Up to £18,020 | These injuries will result in short lived but serious symptoms. They might include vomiting and diarrhoea which will diminish in around 2 to 4 weeks. That said enjoyment of food, bowel function and sex life could all be impacted on for a couple of years. |
| Injury, non-traumatic. | Up to £8,950 | These injuries will result in stomach cramps, alteration of the bowel function and some fatigue. They lead to significant discomfort which may mean the patient has to stay in hospital for a few days. The initial symptoms might last for around 2 weeks. However, complete recovery could take as long as 1 to 2 years. |
| Injury, non-traumatic. | Up to £3,710 | These injuries will result in symptoms with varying degrees of disabling pain. They could include diarrhoea and stomach cramps which last no more than a few weeks. |
| Lost Income | Up to £500,000 + | This covers lost income while off work in the initial period following the prescription error. Longer-term, if the patient's ability to work is reduced, future lost income could be claimed. |
| Kidney | Up to £60,050 | Damage to the kidneys which cause a significant risk of future urinary tract infection or loss of natural kidney function. |
| Bowels | Up to £65,440 | Severe abdominal injury resulting in impairment of bowel function. This could have an impact on work ability too. |
| Bladder | Up to £75,010 | Damage that leads to serious impairment of control with incontinence and some pain. |
The figures in the table are taken from the Judicial College Guidelines. This is a legal document that courts, solicitors and insurers use to determine compensation amounts. To try and determine the exact nature of your suffering, our solicitors will arrange for an independent medical assessment to be carried out as part of the claims process.
Special Damages Which May Be Claimed
When you claim for an Asda Pharmacy prescription error, your solicitor can claim for both general damages and also special damages. General damages are designed to compensate you for the pain, suffering and loss of amenity caused by the injury or illness you sustained. The table in the last section gave some examples of general damages payments.  In this section, we'll concentrate on special damages. This is the compensation that's paid to cover any financial costs you've incurred after being given the wrong medicine. Here are some examples:
Travelling Costs.


Any fuel or parking costs linked to hospital or medical appointments could be included in your claim.

Medical Expenses.


You'll probably receive free NHS treatment to help you recover from any illness. However, the cost of prescriptions and over the counter medication could all add up. Therefore, you could be entitled to claim these back.

Care Costs.


In some cases, if you need the support of somebody else to assist you while recovering, you could claim back any associated costs. You may want to include any professional carer's fees, for instance. Also, the time of a family member or friend who cared for you could be claimed back.

Loss of Income.


Should your employer only pay statutory sick pay, you might lose out on some of your salary when taking time off for medical appointments or to recover. Therefore, these losses could be included in the claim.

Loss of Future Income.


Where an illness is likely to affect your capacity to work in the future, you could claim for the loss of future earnings. This would be based on your current age, how long you're likely to be affected, salary and job prospects.
To make special damages claims, you'll need evidence such as receipts, bank statements and wage slips to prove your losses.
Steps You Could Take If Harmed By A Prescription Error
Something really important in medical negligence claims is evidence. It's important because proving liability for your suffering can be tricky. Therefore, the more evidence you can supply the better. It needs to demonstrate what happened, who was at fault and how you suffered as a result.
Here are some examples of the evidence you could use to support your claim:
Samples of any medication you were given. This might be required if it needs to be tested to confirm what was supplied.

A copy of your original prescription.

Medical records from your doctor. Initially, this will be used to determine what the doctor prescribed and the advice they gave. Furthermore, they could be used to identify how you suffered after taking the wrong medication.

A record of any expenses you've incurred as a result of the prescription error.

Witness statements from anybody who heard the advice given by the pharmacist.

Packaging and labels from the medication that you received.
After you've collected the information listed, we can assess whether your claim is viable or not. Remember, there is a time limit for claims so please get in touch as soon as possible.
Why Make Your Claim For A Prescription Error With Us?
We'd like to help you begin your claim for an Asda Pharmacy prescription error if you've now decided to make one. Here is some more information about how we work, should you need it:
We have a team of specialist advisors who provide free claims advice.

They will also assess your claim on a no-obligation basis.

We operate our claims line 24-7 so you can begin when it's most convenient.

If your claim is accepted, a solicitor from our panel will be appointed and will provide regular updates.

The solicitors on our panel aim to always try and secure a full and fair compensation amount for you.
Your solicitor will guide you through the complexities of the legal process, explaining legal jargon along the way. And if ever you have a query or would like an update on your case, they'll be on hand to take your call
If you'd like more information about how we could help you begin your claim, please get in touch with us today.
No Win, No Fee Wrong Medication Claims Against Pharmacies
Making any form of personal injury claim can be quite stressful. One of the biggest concerns is the cost of hiring a solicitor. That's why our panel of solicitors provide a No Win, No Fee service. By doing so, more people can begin a claim because the financial risks involved are reduced, giving peace of mind and the confidence to pursue justice
When you begin, the solicitor will assess your claim to ensure there's a chance you could be compensated. If they take the case on, they'll provide you with a No Win, No Fee Agreement to sign. This is also known as a Conditional Fee Agreement (CFA).
Within the agreement, you'll see a statement which explains that there are no solicitor's fees to pay in the event of an unsuccessful claim. In addition, you will not have to pay any fees upfront or during the claim. 
If your case is successful, your solicitor may seek a small contribution toward their fees. This is known as a success fee and is deducted from the compensation you are awarded at the end of the claim. Don't worry, the success fee is legally capped! 
To find out if you could sue an Asda chemist on a No Win, No Fee basis, please get in touch today.
Begin A Prescription Error Claim Against A Pharmacy
Now that you've completed this guide about making an Asda Pharmacy wrong medication claim, we hope you're now in a position to decide whether you'll claim or not. If you are, and you'd like Legal Helpline to assist you, then here's how to get in touch with us:
Call a member of our team on 0161 696 9685 for free claims advice.

Ask us to call you back about your clinical negligence claim by completing our

online enquiry form

.

Or, if you prefer, you can use our online chat facility to connect to an advisor.
The claims process will begin when you get in touch. We'll start by listening to what happened and how you suffered. Then we'll review the evidence to see if it establishes liability. Should your case be deemed strong enough, we could refer you to a medical negligence lawyer from our panel. Any claim they agree to handle will be conducted on a No Win, No Fee basis.
References
Thanks for reading our guide about claiming for an Asda Pharmacy prescription error. Hopefully, the information has proven useful and you now know whether to begin a claim or not. To assist you further, we've provided links to some more useful resources as well some more of our own guides.
Pharmacy Negligence Claims – This guide looks in general at when a personal injury solicitor could help you claim for suffering caused by a prescription error.
Care Home Prescription Errors – A guide that explains how you could claim on behalf of a loved one who's suffered after receiving the wrong medication in a care home.
Misdiagnosis Claims – Information on personal injury claims for suffering caused by a medical misdiagnosis.
Deaths Caused By Medication Errors – An NHS response to a freedom of information request relating to deaths caused by medication errors.
Pharmacy Inspection Reports – A website where you can read the latest inspection reports for pharmacies in your area.
Pharmacy Information – An NHS guide which provides information on pharmacist duties and what to expect when you visit a pharmacy.