Cohens Chemist runs over 180 pharmacies across the whole of the UK. As with any pharmacy, they have an important role in a patient's treatment. A pharmacist's main role is to ensure the patient receives the correct medication and advice on how to take it. If a mistake is made, the patient could suffer serious side effects, or their illness could become worse. Therefore, this guide is going to look at when you could make a Cohens Chemist prescription error claim. We'll review how they might happen, how you could suffer and when you might be entitled to claim compensation.
Legal Helpline could help you begin a claim against a pharmacy. We provide a no-obligation assessment of any claim as well as free legal advice about the claims process. Furthermore, if your claim is valid, we could refer you to a medical negligence solicitor from our panel. If they take your claim on, it'll be on a no win no fee basis.
If you're ready to discuss a pharmacy negligence compensation claim today, then you can call an advisor on 0161 696 9685 right away. If you'd like to learn more about the claims process before calling, please continue reading.
Jump To A Section
A Guide On Cohens Pharmacy Prescription Error Claims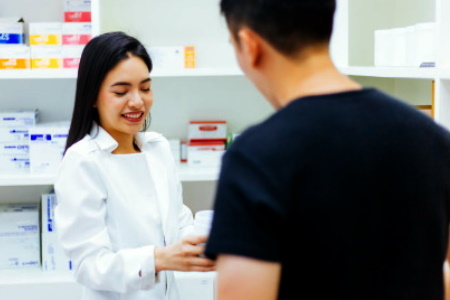 Qualifying as a pharmacist takes many years of training. Pharmacists are responsible for the dispensing of medications to fulfil prescriptions. Some pharmacies are based within GP surgeries, others in supermarkets and some operate in their own retail unit. Wherever they're based though, a pharmacist has a duty of care towards their patient's safety.
In this guide, we're going to consider when a Cohens Chemist prescription error could lead to a compensation claim. We'll look at what can happen when you're given the wrong medication and how it could happen. We'll also look at the role a medical negligence solicitor has in helping you to claim. We always advise that you use a specialist solicitor for this sort of claim and that you contact them as soon as possible. That's because, there's a personal injury claims time limit in the UK.
When claiming for a dispensing error at a pharmacy, you'll have 3-years to make your claim. The date won't usually start from the date the error was made. It's more likely to start from the date you were made aware of the resultant harm. This could be when a doctor links your suffering to a mistake with the prescription. Any solicitor will need to prepare your claim and gather evidence to support it. All of this can take some time. Therefore, the sooner you begin your claim, the better chance it will be submitted within the time limit.
After you've read our guide, you can contact an advisor to begin your claim. They'll also be able to help you if you have any unanswered questions.

What Are Prescription Errors By Pharmacists?
A Cohens Chemist prescription error could happen in a number of different ways. You might receive the wrong drug altogether, the wrong dosage or receive incorrect instructions about when to take the medicine. If any of these errors lead to you suffering, then you might be entitled to claim compensation.
There are a number of reasons why a mistake could happen. These include:
Where the pharmacy is busy or short-staffed.
When medication is given because it looks the same or has a similar name to the one prescribed.
If the pharmacist or technician fails to check the meaning of a medicine abbreviation.
When you receive somebody else's prescription because your names are similar.
Whatever the reason for the mistake, if the pharmacist has been negligent and caused the mistake which led to you suffering, we could help you begin a compensation claim.

What Does A Pharmacist Do?
The role of a pharmacist is quite varied. Their responsibilities are set by the General Pharmaceutical Council (GPhC). According to the GPhC, pharmacists are responsible for:
The quality of any medication provided to patients.
Making sure that medicines are supplied legally.
Giving advice to patients on how to take medication. Also, they need to advise on possible side effects.
Ensuring prescribed medications are suitable for the patient.
As well as those responsibilities, pharmacists are also required to:
Use systems within the pharmacy that are fit for purpose.
Advise on over the counter medication based on patient's symptoms.
Supervise the preparation of medications for patients.
What Circumstances Caused By Prescription Errors Could I Claim For?
As mentioned already, there needs to be some form of suffering caused by any prescription error for you to be able to make a claim. This could be a new sickness caused by the mistake or because your underlying illness became worse.
This could happen as a result of:
Being given the wrong dosage or strength of medication.
Receiving somebody else's medication.
Being given a drug that was different to the one prescribed.
When the instructions on the prescription label are incorrect.
Receiving incorrect verbal advice on taking the medicine.
Being given a medicine which you're allergic to.
When the medicine dispensed causes an adverse reaction to another prescription medicine you're taking.
There are no doubt other forms of negligence which could lead to a claim. Don't worry if you don't see a scenario that matches your experience. If you believe your prescription contained the wrong medication, then we could help you begin a claim.

What May Be The Effects Of Getting The Wrong Medication?
The effects of taking the wrong medication can vary quite a lot. It's possible that there will be no adverse reaction at all. However, it's also possible, in some cases, for a prescription error to be fatal.
Here are some possible outcomes of taking the wrong medication:
You suffer no reaction at all. Although this might seem good, it's also possible that your underlying condition could get worse. That will usually be because you didn't take the medication that was actually prescribed. In these cases, it could still be possible to begin a claim.
There is an adverse reaction. The types of symptoms that can occur include nausea, vomiting, diarrhoea, stomach cramps. It can also be possible for damage to be caused to internal organs. These symptoms aren't usually life-threatening but could mean you need to spend time in hospital. They can also be long-term injuries which affect your ability to work.
Finally, you could suffer an allergic reaction. This is where your body's immune system reacts to an allergen to try and protect you. Milder symptoms include rashes, itchiness, dizziness and swelling of the mouth or tongue. However, in more serious cases, you might go into anaphylactic shock. This is a medical emergency that can be fatal in some circumstances.
Raise Issues About Pharmacists In The UK
According to the General Pharmaceutical Council's website, there are a number of things you can raise complaints or concerns about. These include:
Criminal conduct which might affect the pharmacist's ability to practice.
Dispensing errors as described throughout this guide.
Fraud such as wrongly claiming money from the NHS.
Dishonestly claiming sick pay while working.
Working under the influence of drugs or drink.
Serious inappropriate behaviour.
Practising without being registered to do so.
Having a health condition which could interfere with the safe operation of the pharmacy.
If you are a patient or member of staff in a pharmacy with concerns, you can report them to the GPhC directly.

Checking Eligibility To Claim For Wrong Medication Negligence
To be entitled to claim compensation for a Cohens Chemist prescription error, you'll need to prove a number of things. If you can't then a solicitor is unlikely to take your claim on.
You will need to show that:
The pharmacist treated you in a way which was below the standard that would reasonably be expected of a competent medical professional. Legally, this is called a breach of duty.
You were made ill, were injured or your underlying condition was made worse.
Your suffering was caused by the breach of duty. This is known as causation.
If you believe all of the above is true in your case, then you could be entitled to compensation. Please get in touch to find out if we could help you begin your claim today.

Wrong Medication Claims Calculator
Now that you've read information about why a pharmacy claim might be possible, you might want to know how much compensation you could receive. It's important to note that every claim is unique. Therefore, an accurate estimate can't be provided within this guide. However, once your claim has been assessed, your solicitor could provide you with a better estimate.
What we can show you is the personal injury claims calculator table below. It shows compensation amounts that could be paid if you're given the wrong medication. The figures come from a legal document used by solicitors, insurers and courts to determine compensation amounts.
| Type Of Injury | Range of Compensation | Further Details |
| --- | --- | --- |
| Adverse Reaction | £36,060 to £49,270 | Symptoms in this category will include acute pain, diarrhoea, vomiting and also fever. Hospitalisation will be required for some days or possibly weeks and there will be further ongoing symptoms such as haemorrhoids, incontinence, IBS. All of these will cause a significant impact on work ability and enjoyment of life in general. |
| Adverse Reaction | £8,950 to £18,020 | Symptoms in this category will be serious but short lived. They include diarrhoea and vomiting that will reduce over a 2 to 4 week period. However, bowel function and enjoyment of food could all be affected over a few of years. |
| Adverse Reaction | £3,710 to £8,950 | Symptoms in this category such as stomach cramps, fatigue and alteration of the bowel function will cause significant discomfort that might mean hospitalisation for a few days. Symptoms could last up to 2 weeks but full recovery might take between 1 and 2 years. |
| Adverse Reaction | Up to £3,710 | This category covers symptoms that cause varying degrees of disabling pain, diarrhoea and stomach cramps which last up to a few weeks. |
The amount of compensation awarded is based on the severity of your suffering. Therefore, you'll need to provide evidence to substantiate this. When you claim for clinical negligence, your solicitor will arrange for you to be assessed by an independent doctor. Our panel of solicitors try to ensure these are carried out locally to reduce the requirement for travelling. When you attend the appointment, the doctor will ask you a number of questions and examine you. Then, they'll produce a report for your solicitor. This report will explain how you suffered and what impact the injuries caused. It will also advise if there will be any long-term effect.
Your solicitor will submit the report with your claim. It will be used to try and make sure you receive the right level of compensation for your suffering.

Special Damages In Compensation Claims
When claiming for a Cohens Chemist prescription error, your solicitor will look at two different parts of the claim. These are general damages and special damages. General damages are paid for the suffering and pain caused by the prescription negligence. The figures listed in the previous section were examples of general damages.
Special damages, however, are paid to compensate for financial costs incurred as a result of the negligence. Here are some examples of special damages you could claim for:
Travelling Expenses.
It's often the case that you'll need to visit a GP or hospital on more than one occasion while you're receiving treatment. If that's the case, you could claim back any related fuel or parking costs.
Care Expenses.
If you need somebody to care for you while you're recovering, then you could claim back any associated costs. For instance, you could ask for any professional carer's fees. Also, if a friend or member of your family supported you, then their time might be claimed for.
Medical Costs.
Any treatment you receive is likely to be free on the NHS. However, you could still have to pay for prescriptions or other medicines. Therefore, you could ask for these amounts back as part of your claim.
Lost Income.
If you take time off work for a medical appointment or to recover, you could lose income if you're not paid full sick pay. Therefore, it could be possible to claim these losses back.
Future Loss of Income. Finally, if your illness

means your ability to work is likely to be affected in the future, you could ask for future lost earnings too.
To help your solicitor claim for these losses, try to keep hold of receipts and bank statements. These can used as evidence to support your losses.

Steps To Make A Successful Compensation Claim
When making a medical negligence claim following a Cohens Chemist prescription error, you'll need to provide evidence.  Without evidence, it's highly unlikely a pharmacist would accept liability for your suffering. Therefore, if you are considering a claim, you could try to obtain the following evidence:
A copy of your original prescription. You may be able to request a copy if you don't have the original.
Any packaging that the medication came in. That could be a bottle, box or blister pack.
Samples of the medication in case it's required for testing.
Medical records from the doctor who prescribed the medicine. In the first instance, this could help prove what was actually prescribed. Also, records could be used to show how you suffered as a result of the wrong prescription being given.
Witness statements from anyone who was with you when a pharmacist gave you incorrect information or instructions.
Once you have as much evidence as possible, you could make contact with us. We'll review what evidence you have and let you know if anything else is required.

Why Let Our Team Handle Your Claim?
Hopefully, now that you've nearly completed our guide, you're considering letting Legal Helpline assist you. In case you're not sure how we work, here is some more information about us:
Our friendly advisors offer completely free legal advice about claims.
We also offer a no obligation initial assessment of your case.
Should your claim be taken on by a solicitor from our panel, it'll be on a no win no fee basis.
Our claims line is open 24-7 so you can begin when it suits you.
You'll be kept up to date with your case via regular updates from your solicitor.
Our panel of solicitors works hard to try and make sure you receive a full and fair compensation amount.
Should you require any more information, please don't hesitate to ask.

No Win No Fee Wrong Medication Claims Against Pharmacies
There are people who worry about the costs involved with a prescription error claim. That's why we provide free legal advice and a free assessment of any claim. It's also why our panel of solicitors work on a no win no fee basis for any claim they take on.
As the solicitor risks not being paid if the case is lost, they'll always review your claim before agreeing to take it forward. If they do agree, then they'll prepare a Conditional Fee Agreement (CFA) for you to review and sign.
The CFA is a legal contract between you and the solicitor. It provides some key information including:
Information about success fees.
A statement to confirm that the solicitor's fees don't have to be paid if the case is lost.
A success fee is a fixed percentage of your compensation, typically 25%, which is used to cover the solicitor's fees if the case is won. You don't need to send money to cover the success fee though. Instead, when compensation is awarded, the solicitor deducts the success fee before the rest is paid to you.
If you would like to find out whether you could make a wrong medication claim on a no win no fee basis, please enquire today.

Begin A Wrong Medication Claim Against A Pharmacy
Thank you for taking the time to read our guide about claiming for a prescription error. If you've decided that you'd like us to help you begin your claim, then there are a number of ways to contact us. These are:
You can call a member of our team on 0161 696 9685 to start the claims process.
We can arrange to call you back at a convenient time if you complete our enquiry form.
Or, finally, you can connect with an online advisor by using our live chat facility.
Remember, when you get in touch, we'll begin by reviewing your case with you. We'll look at what happened, how you suffered and who was to blame. Then we'll review any evidence you can supply. Finally, if your claim appears viable, we could refer you to a medical negligence solicitor on our panel. If they agree to handle your case, they'll work on a no win no fee basis. There's no obligation to proceed and you won't be pressured into claiming. Therefore, call us today to discuss how we could help you begin your medical negligence claim.

References
If there's anything else you'd like to know, please contact our team today. For now, though, we've provided some links to more of our guides as well as some other useful links and resources.
Find A Pharmacy – A useful tool from the NHS where you can search for pharmacies within your area.
Standards For Pharmacy Professionals – Information from the General Pharmaceutical Council about new standards that pharmacists should adhere to.
List Of Medicines – This is a list of all medication available from the NHS. It describes each medicine, how they should be taken and any potential side effects.
Pharmacy Errors – A guide that explains when a medical negligence lawyer could help you claim for pharmacy negligence.
Misdiagnosis Claims – This guide explains when medical negligence claims can be made following suffering caused by a misdiagnosis.
Care Home Pharmacy Negligence – Finally, a guide which explains how a claim could be made if a patient in a care home is given the wrong medicine.
Guide by BE
Editor MA.