Unfortunately, construction is one of the most hazardous fields in which to work. Indeed, during the year 2020/21, there were more fatal injuries in construction than in any other industry. Employers are responsible for protecting their employees' health and safety when they are at work. Therefore, construction companies should take every reasonable precaution to protect you from a construction accident.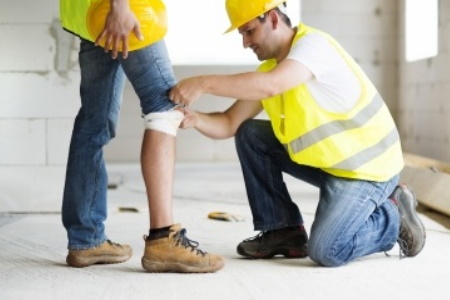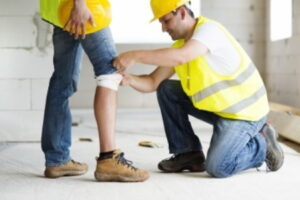 Unfortunately, despite regulations to protect workers, building site injuries do happen. If you have suffered a construction site injury that was not your fault, you may be eligible to make a compensation claim.
You could make a building site accident claim for new injuries or long-term health conditions. Legal Helpline can help you claim compensation for your injuries. Firstly, we have a free claims helpline that you can call to speak to an advisor about making a claim. Moreover, we can provide you with a skilled lawyer from our panel to handle your compensation claim.
To see if you can claim compensation for a building site injury, please get in touch with us using the details below:
Jump To A Section
A Guide On Making A Construction Accident Claim
The construction industry is a vast field of work. Indeed, builders, carpenters, civil engineers and road workers can all be seen as construction workers. When we think of a construction accident, we may think of accidents on a building site. But a construction site injury can happen in any of the professions mentioned above.
If construction companies do not uphold proper standards of health and safety, this can cause accidents. For example, construction workers may be struck by a heavy falling object. Or a construction worker may be injured in a vehicle accident. We will look at how accidents on construction sites can happen in more detail later in this guide.
We will explain how to make a building site injury claim in this guide. To learn how to claim compensation for your injuries, please read on.
What Is A Building Or Construction Accident?
A construction accident could be an accident on a building site or in another construction industry field, such as civil engineering.
Because construction is a hazardous industry, employers must take special precautions to prevent accidents at work.
Employers owe their workers a duty of care. A duty of care means that the employer is responsible for protecting their worker's health and safety while they are at work. It is common for workers in the construction industry to be contractors, self-employed or casual workers. However, the duty of care applies to anyone on a construction site, not just employees.
When Could You Claim For Compensation?
Firstly, a construction company should've owed you a duty of care.
Furthermore, the construction company breached that duty, causing an accident on site.
And finally, the accident was a direct cause of your injuries.
A solicitor could help you when establishing the above.
How Many Injuries Occur In The Construction Industry?
As we have mentioned, the construction industry is one of the most dangerous fields in which to work. During the year 2020/21, 39 construction workers died because of fatal workplace accidents. Construction statistics for the year 2019/20 show there were 40 fatal workplace accidents in the industry as reported by employers.
Each Year, How Many Construction Workers Are Injured?
Construction statistics for Great Britain in 2020 show that the estimated annual average of self-reported, non-fatal injuries to construction workers each year is 61,000. According to HSE, the rate of self-reported non-fatal injuries marks a downward trend.
In addition, 81,000 people have long term health conditions caused by working in the construction industry. 57% of these people have musculoskeletal injuries. 26% suffer from work-related stress or anxiety, and 17% have other long-term health problems related to construction.
Slips, trips and falls are the most common accident in construction.
Common Types Of Construction Accidents
What are the 4 four main causes of accidents in the construction industry? According to the HSE, the following are the four most common types of construction accidents causing non-fatal injuries.
Slip, Trip And Fall Accidents
Slips, trips, and falls on the same level cause 26% of construction accidents. A trip and fall accident can happen because of debris left on the floor or loose wires. Similarly, a slip and fall accident can happen in adverse weather if the construction workers do not have the necessary footwear. Falls can cause lower back injuries. Or the worker may suffer a fracture to their ankle or knee.
Handling, Lifting or Carrying Accidents
Construction workers are often injured while carrying out manual handling activities. These accidents account for 19% of non-fatal construction site injuries. Manual handling accidents can result in musculoskeletal injuries, such as a slipped disc.
Falls From A Height
Construction workers often work on raised platforms or use ladders to reach high places. A worker can fall off a ladder if it is not properly set up or is faulty. Similarly, a raised platform can collapse between workers' weight, causing them to fall from one level to another.
Accidents involving falls from a height account for 19% of construction accidents causing non-fatal injuries. A fall from a height can cause back injuries, neck injuries and fracture injuries.
Moving, Flying Or Falling Objects
A worker being struck by moving or falling objects can cause traumatic head injuries. In serious cases, a construction worker may suffer from brain damage. If a construction worker has not been provided with a hard ha where it's necessary, this can worsen their head injuries.
Other common accidents in construction include:
Vehicle accidents, such as a forklift truck tipping over and crushing a worker. Or a vehicle accident can take place if a construction site vehicle runs a worker over.
Vibrating tools that are used for long periods can cause hand-arm vibration syndrome. Hand-arm vibration syndrome can cause numbness and pins and needles in the hands. Hand-arm vibration syndrome is also known as vibration white finger (WVF).
If workers are exposed to excessive noise over time, they may experience noise-induced hearing loss (NIHL), also known as industrial deafness.
Common Causes Of Construction Accidents
Construction companies have a responsibility for making sure that construction sites are safe for everyone on them. Unfortunately, the following mishaps can cause a construction accident.
Inadequate Breaks
Employers should provide their workers with adequate breaks in all fields. Therefore, construction workers must have adequate breaks, especially driving vehicles or operating potentially dangerous machinery. If a worker is fatigued at work, they may make an error that leads to a machinery or vehicle accident.
Inadequate PPE
Workers should be provided with personal protective equipment (PPE) by their employer if it's necessary. For example, a worker may require specialist work boots and a hard hat. If a worker works at a height, then they may need a safety harness. A lack of PPE can mean that a worker is more likely to be injured.
Exposure To Hazardous Substances
A builder may be exposed to hazardous substances on a construction site. For example, lead is a poisonous substance that is still used in roofing. If lead enters the body, over time it can damage the nervous system.
Therefore when hazardous substances are used, employers must take steps to protect construction workers.
Building Site Health And Safety
Under the Health and Safety at Work etc. Act 1974, employers have a duty of care towards their workers. The employer is responsible for ensuring that the working environment is safe and hygienic for their workers. Consequently, the employer should take measures, such as carrying out regular risk assessments, to ensure that the construction site is safe.
If a safety hazard is identified, the employer should apply the correct measures to reduce or remove the risk it poses.
If the construction company neglects their duty of care and a construction accident takes place, it could be held liable for any building site injuries caused.
General Health And Safety In The Construction Industry
There is also industry-specific legislation about health and safety standards in the construction industry. This includes The Control of Noise at Work Regulations 2005 to safeguard workers from noise-induced hearing loss.
The Construction (Design and Management) Regulations 2015 also deals with how risks should be dealt with when planning construction projects. Construction companies should follow relevant regulations to ensure that they foster a safe working environment.
Personal protective equipment (PPE) can mitigate risks in the working environment, such as being struck by a falling object. However, PPE should only be used as a last resort if the hazard can't be reduced or removed.
Employers are responsible for ensuring workers are provided with the correct PPE—for example, a hard hat or protective work boots.
Moreover, employers are also responsible for ensuring that workers are properly trained to carry out their jobs safely. You may be eligible to make a building site injury claim if you have been injured because of inadequate PPE provided by your employer or training at work.
Contractor And Self-Employed Construction Worker Accidents
Self-employed workers can still make a building site accident claim for compensation. Construction companies owe all of those on their site a duty of care, including self-employed workers contractors.
Although, in these circumstances, your employer wouldn't necessarily be the construction company, if you're working on their site and their negligence causes you injury, you could still claim.
Calculating Compensation For Construction Accidents
Compensation for building site injury claims can vary. For example, it can fluctuate depending on the severity of your construction site injuries.
To prove the severity of your injuries (and that the accident caused or worsened them), you'd attend a medical assessment. An independent medical professional would assess your injuries and create a report that a solicitor could use as evidence in a claim. They could also use it to help value your injuries.
You can use the table below to estimate how much compensation you could claim. The compensation amounts in this table are based on Judicial College Guidelines. These guidelines are used by legal professionals alongside the medical report when valuing injuries.
Please note, the amount of compensation you receive may vary depending on your circumstances. Additionally, the table only estimates how much you could receive for injuries and not financial losses.
| Type Of Injury | Severity | Settlement | Comments |
| --- | --- | --- | --- |
| Ankle Injury | Very Severe | £46,980 to £65,420 | May include tansmalleolar ankle fractures which also include a lot of soft tissue damage and injury. Such injuries could result in some deformity and may result in risk of future injuries to the legs. |
| Ankle Injury | Severe | £29,380 to £46,980 | Settlements are based on factors such as the presence of or the risk of developing osteoarthritis, suffering problems with sleeping, suffering scars and the need to wear specially adapted footwear. |
| Ankle Injury | Moderate | £12,900 to £24,950 | The person could suffer a torn ligament, a fracture or other injury which does cause some form of less serious disability. The person could have problems walking on an uneven surface and in using stairs and similar facilities. |
| Knee Injury | Severe (ii) | £48,920 to £65,440 | A fracture of the leg which does extend into the persons knee joint. This will cause constant pain and may also limit by how much the person could move about and use the leg. |
| Knee Injury | Moderate (ii) | Up to £12,900 | The injury could involve similar injuries as above but which will be less serious and which may be recovered from quicker. May also include cuts, lacerations, bruising and twisting injuries. |
| Neck Injury | Severe | In the region of £139,210 | Where the person has suffered a neck injury. This injury could be associated with an incomplete paraplegia. It could result in the person suffering from permanent spastic quadriparesis. |
| Neck Injury | Moderate (i) | £23,460 to £36,120 | Dislocations and fractures which give rise to immediate symptoms. The person could need to have a spinal fusion carried out. |
| Back Injury | Moderate (i) | £26,050 to £36,390 | The moderate (i) bracket includes a wide range of different injuries. Thse could include crush fractures, lumbar fractures and the substantial risk or developing osteoarthritis. |
| Back Injury | Moderate (ii) | £11,730 to £26,050 | Back injuries which could give rise to soft tissue injuries, back pain and back injuries. |
| Back Injury | Minor (i) | £7,410 to £11,730 | The person will recover properly in 2 - 5 years. |
If you would like an estimate that is tailored to your claim, please call our advisors. They give no-obligation, free legal advice.
What Special Damages Can I Claim?
If you claim compensation for a construction accident, you could receive up to two heads of claim. General damages are compensation for the pain, suffering and loss of amenity that your injuries have caused.
Special damages are compensation to repay your expenses associated with your injuries and the accident. For example, you may wish to claim compensation to cover:
Your travel costs (to and from the hospital, for example)
Medical bills
Care costs (even if gracious care was provided by family or friends while you recovered)
Loss of income if you had to take time off work to recover, for example
And if you lose mobility as a result of your building site injury, you could receive funds to pay for the cost of adapting your home or mobility equipment.
You'd need to prove these financial losses. Consequently, you can do this by providing documents such as receipts, bills or bank statements.
Steps To Take If Injured In A Construction Accident
You could do the following if you are injured on a construction site:
Firstly, you should get the correct medical treatment. A medical professional should treat your injuries as soon as possible. What's more, any entries into your medical records for this injury could be used as evidence later.
Secondly, you could report the accident to the relevant member of staff on site. Make sure that the details of the accident are recorded accurately in the accident log book. If possible, ask for a copy of the report.
Furthermore, you can collect evidence to support your construction site injury claim. For example, you can photograph your injuries and the hazard that caused your injuries. And you can ask colleagues to provide their contact details so you can collect witness statements to support your claim later.
Finally, you could contact Legal Helpline today. We can provide you with a skilled No Win No Fee solicitor from our panel to handle your compensation claim if it has a favourable chance. Moreover, a claims advisor can offer you free legal advice.
Make A Construction Accident Claim With A No Win No Fee Solicitor
We can connect you with a No Win No Fee solicitor to help you with your building site accident claim. A No Win No Fee solicitor will handle your compensation claim without charging you a solicitor's fee beforehand. Instead, they would charge a success fee on the condition that they win your claim.
This success fee is only taken after the compensation comes through. What's more, it's capped by law.
If the claim loses, you don't have to pay any solicitor fees at all.
Before your solicitor starts working on your claim, you would sign a Conditional Fee Agreement to formalise this. (This is also known as a No Win No Fee agreement.)
Many claimants prefer making a No Win No Fee claim because it's a more affordable way of funding the services of a solicitor. What's more, there is less risk financially as the success fee payment is only due if you win your claim.
To learn more about making a No Win No Fee claim, please read our online guide.
Talk To Legal Helpline About Your Case
Legal Helpline can help you if you have been injured in a construction accident that was not your fault. Please feel free to:
Call us on 0161 696 9685 to speak to an advisor about your prospects.
Alternatively, chat to us about your claim using the chat popup on your browser.
Or you can email us using our online enquiry form.
Read More About Building And Construction Accidents
We hope this guide to construction site injury claims has proven helpful. You can also read these guides to learn more about subjects such as making a No Win No Fee claim.
FAQs On Construction Site Injuries
We will now answer some commonly asked questions about construction site injuries.
What is the most common accident in construction?
The most common accidents in construction are slips, trips and falls on the same level. A loose cable or a nail sticking out of the floor can cause a tripping accident.
What are the four main causes of accidents in the construction industry?
The top four causes of accidents in the construction industry are:
Slips, trips and falls
Handling, lifting or carrying accidents
Falls from a height
A worker is struck by a falling, flying or moving object
Construction companies are responsible for carrying out risk assessments to identify safety hazards on site. After that, companies should make sure that construction sites are safe environments for their workers.
Thank you for reading this guide to claiming compensation for a construction accident.
Written by HC
Edited by RV