By Stephen Bishop. Last Updated 23rd May 2022. In this online guide, we are going to look at how to use a mental health compensation calculator. Additionally, we will cover some of the reasons why you might want to make a claim for harm caused to your mental health.
You may assume that if you have been injured in an accident, for example, a car accident or accident at work that you can only claim for the physical injuries that the incident has caused you. However, this is not the case.
You can claim compensation for the mental injuries that your accident has caused you. Mental injuries can be debilitating and might stop you from being able to live your life as you did before.
We can't hope to cover every possible combination of circumstances that could lead to a claim in this guide. However, we can still answer any more questions that you may have after reading this guide. You can call 0161 696 9685 and speak to one of our claims experts, or get in touch with us online. They can help you further.
Jump To A Section:
A Guide To Mental Health Compensation Calculators
This guide is going to talk about how a mental health compensation calculator could help to value your personal injury claim. We start the guide off with an overview of what psychological injuries are.
The next part of this guide looks at different types of psychological injuries and illnesses. This includes conditions caused by head injuries and brain injury. We'll also look at how clinical negligence could cause mental harm.
Next, we will look at the types of evidence you might be able to submit to support a mental health claim. You will also find some advice on how to work out whether your claim is valid or not. We have added an example table showing compensation ranges, as well as an explanation of the damages you may wish to seek.
This guide will also explain how a No Win No Fee agreement could help you fund legal representation for your claim. We end this guide with our contact information, some useful links, some statistics on mental health, and a short FAQ section.
Is There A Claims Deadline?
The general time limit to make a personal injury claim in the UK is three years. However, there are external factors that might cause this time limit to differ. For example, if the claimant doesn't have the mental capacity to claim or if the claimant is a child, they cannot represent themselves. This could affect the time limit that applies.
If you would like to check to find out which deadline will apply based on your own circumstances, call our team. Explain your circumstances to one of our advisors, and they can tell you whether your claim is valid and, if so, which claims time limit will apply.

What Are Psychological Injuries?
A psychological injury or psychiatric injury is an injury that, first and foremost, affects your mental well-being. A psychological injury can come about as a direct result of a physical injury (for example, a head injury that results in brain damage).
It could also come about as a result of a physical injury that did not cause the psychological injury directly, but that has caused it indirectly. This could be because of shock or trauma.
For example, you may have been involved in an accident where a piece of machinery malfunctioned and caused a crush injury to your leg. The trauma of the incident could cause you to suffer from post-traumatic stress disorder (PTSD).
In order to claim compensation for your injuries, the accident that caused them must have been caused by the negligence of a third party. In addition to this, the third party must have owed you a duty of care.
For more information on whether you're eligible to claim, speak to an advisor today. While you have the option of using a mental health compensation calculator, our team of advisors could value your claim based on the individual circumstances of your claim.

Types Of Mental Health Illnesses
There is a wide range of different medical conditions that could be considered to be mental health problems. We cannot list them all in this guide, but we have listed some of the most common below:
PTSD.
Generalised Anxiety Disorder (GAD).
Depression.
Anxiety
Obsessive-Compulsive Disorder (OCD).
Newly manifested phobias.
Panic disorder.
You may be suffering from the effects of a psychological injury that we have not mentioned above. If this is the case, you can get in touch with a member of our team today. They'll be able to assess your claim and tell you how much it could be worth.
Brain Damage And Head Injuries
A Traumatic Brain Injury (TBI), is any type of injury that has an effect on the working of the brain. The effects of a TBI can range from minimal to fatal.
There are a number of different ways an injury could cause damage to your brain. For example:
Bleeding inside the brain. This can put pressure on the brain.
A blood clot inside the head. This can also put pressure on your brain.
Bruising on the brain.
A skull fracture. This could damage your fracture is depressed, meaning that a skull is damaged.
Some TBIs are recoverable, or partially recoverable. Others will leave the victim with permanent brain damage. A TBI can result in a loss of cognitive ability, such as memory loss, impaired concentration, or affected speech, hearing or sight.
There are many ways a TBI can be caused, We've included some of them below:
A road traffic accident. For example, this could cause your head to hit the steering wheel or drivers' side window.
Falling from a height. This could cause a head injury if you fall on your head.
If your brain injury was caused by the negligence of a third party who owed you a duty of care, you may be able to claim compensation. You could use a mental health compensation calculator, but this isn't necessary. Call and ask our claims team for some advice on how much you could be owed.

Mental Health Medical Negligence
A mental or psychological injury could also occur as a result of medical negligence. Every medical professional has a duty of care to provide you with a minimum standard of care. If there is a breach of this duty of care, it could result in mental harm.
This could happen when you're seeking medical attention for a physical injury. For example, you might not be given enough anaesthetic during the surgery, meaning that you regained consciousness partway through. This could be traumatic and might lead to you experiencing PTSD.
Alternatively, you could also seek medical attention for your mental health and clinical negligence makes it worse. For instance, you might seek medical attention for your anxiety but be given the wrong medication, which makes the condition worse.
Some examples of how medical negligence could cause a psychological injury, or make an existing condition worse, are given below:
You're prescribed the wrong medication for your depression. This means that your condition is not treated and gets worse.
You have a difficult and traumatic childbirth experience because the attending staff were negligent. As a result, you experience PTSD.
Evidence And Eligibility To Claim For Mental Health Problems.
In order to claim compensation for harm caused by your mental health, you need to show that the party who owed you a duty of care was liable for your injuries. For example, if you're claiming for stress and anxiety caused by your working conditions, you would need to show that your employer could have reasonably done more to prevent this harm from coming to you.
Examples of evidence you could provide that could support your claim include:
Photographic or video evidence showing the cause of the harm you suffered, if appropriate.
The contact details of any witnesses who could provide testimony to support your claim.
Proof of financial losses. For example, receipts, invoices and bills for the costs you have incurred as a result of your injuries.
As part of your claim, you'll usually be invited to a medical assessment. This is where an independent expert assesses your injuries and confirms that they're consistent with the injuries you've experienced. The report from this assessment will be used to value your claim.
Instead of using a mental health compensation calculator to value your claim, why not speak with our team of advisors today? If your claim is valid, they could connect you with a lawyer from our panel to value your claim.
Psychological Injury Compensation Calculator For 2022
If you are eligible to start a psychological injury claim, then you'll likely have questions about how much compensation you could potentially receive. Psychiatric injury compensation amounts can vary according to the circumstances of each specific case. The amount you may be offered if you make a successful claim will depend largely on what type of mental injuries you are diagnosed with and how severe they are deemed to be.
You could consider using a psychological injury compensation calculator to receive an estimate on how much compensation you might get. You can also view the compensation brackets that relate to different injuries in the table below. The brackets are based on the 16th edition of the Judicial College Guidelines, published in April 2022. Please only use these as a guide because you're actual settlement will vary.
| Type of Injury | Severity of Injury | Additional Info | Compensation |
| --- | --- | --- | --- |
| Psychological damage | Severe | This bracket would include marked problems with respect of a range of factors including life and education. | £51,460 to £108,620 |
| Psychological damage | Moderate to severe | While there will be significant problems relating to various factors, there will be a better prognosis than in cases above. | £17,900 to £51,460 |
| Psychological damage | Moderate | In this bracket, marked improvement will have been made and there will be a good prognosis. | £5,500 to £17,900 |
| Psychological damage | Less severe | The amount of compensation within this bracket will depend on things like how badly the injured person had their sleep affected. | £1,440 to £5,500 |
Please be advised that these guidelines aren't guaranteed. Instead, they're based on previous compensation settlements that have been awarded in past claims. For more information on how much you could be owed, we recommend speaking to an advisor today for a free, no-obligation assessment of your claim.

How Much Could I Get For The Wider Effects Of My Injury?
There are two possible kinds of damages that you could receive as part of your claim. These are general damages and special damages.
General damages are paid to you to to compensate for the pain and suffering caused by your injuries. This can cover physical injuries, but it can also cover mental injuries, too. For instance, if an event has left you with anxiety which you constantly experience and which stops you from enjoying other things, this could be covered under general damages.
Special damages are related to some type of monetary loss you've incurred as a result of your injuries. This can be a loss you have already suffered or one that is predicted to occur in the future.
You will need to provide documented proof that you have lost out financially to claim special damages, though. We have given examples of the evidence you could provide below:
The cost of private medical care that you had to pay for yourself.
Loss of earnings if you had to take time away from work, and were not paid in full during this time.
Lowered income potential if you won't be able to work as much in the future, or if you can no longer work at all.
Care costs, if you need care at home and had to hire a nurse.
If you'd like to find out what your claim could consist of based on your own circumstances, call our team. An advisor can evaluate your claim for you.If your claim is valid and has a good chance of success, you could be connected with a solicitor from our panel.
What Steps Do I Need To Take?
You don't necessarily need to use a mental health compensation calculator as part of the claims process. A solicitor would be able to value your claim for you as one of the steps of starting a claim.
We have listed some other steps below that could strengthen your claim or increase your chances of success:
Seek medical attention. This will ensure that you get any treatment, like medication or therapy, that you need. It'll also mean that there's a record of your injuries that can be referred back to.
Gather any applicable evidence that might be needed to support your claim.
Seek legal advice. While not a requirement, having a solicitor work on your claim could help you get more money than you would otherwise. They could also make the claims process run more smoothly.
If you'd like free legal advice about the process of claiming, speak with us today. You could be offered a No Win No Fee agreement from one of the solicitors on our panel. Read on for more information on what exactly this means.
No Win No Fee Mental Health Claims
If a mental health compensation calculator indicates that you might be entitled to compensation, you might be unsure about the next steps to take. For example, you might feel that you need the guidance and support of a personal injury lawyer but cannot afford to pay for their services without any guarantee of compensation.
We could help. You may be able to engage a solicitor with a No Win No Fee agreement. If so, you won't pay any upfront or ongoing fees to the lawyer. If you don't win your claim, then your lawyer will not ask to be paid a fee at all.
Provided your claim is successful, a modest success fee will be deducted from your compensation. The value of this fee is limited by law. Our team can tell you more about No WIn No Fee agreements if you give them a call today.

Contact Our Team About Mental Health Compensation Calculators
You may have decided that, rather than use a mental health compensation calculator to value your claim; we can help you with this. You can call our claims team, and they can provide you with important facts such as the personal injury claims time limit that will apply.
They can also help you to arrange for a solicitor to value your claim for you. You can use the information below to get in touch with us. Our team of advisors will be ready and waiting to provide you with the free legal advice you need.
You can get in touch by:
Useful Mental Health Resources
Here are some links to some of the other claims guides we have published on this website.
How To Claim For Medical Negligence
Claiming with a Child Brain Injury 
Making A Claim For Sexual Abuse
And here are a few links to other websites that have some useful information.
Statutory Sick Pay (SSP) Explained 
The Mental Health Act- NHS Guide 
NHS- Therapies and Counselling
How Many People Are Affected By Mental Health Issues?
Using statistics that were provided by MIND, we have made this graph that shows how common mental illnesses are in the UK.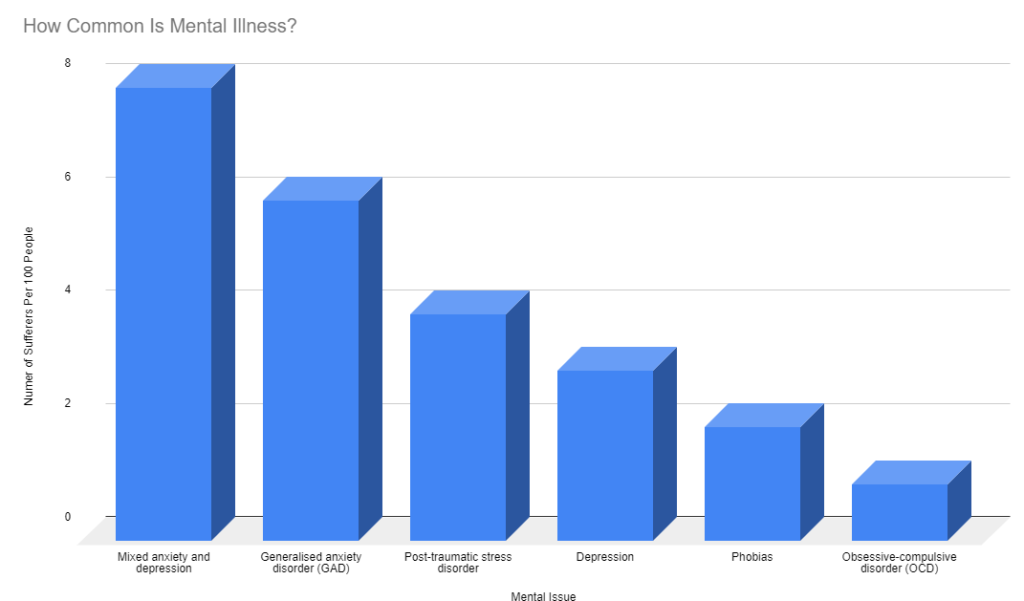 As you can see, around 8 in every 100 people experience a combination of depression and anxiety. 4 in every 100 people suffer from PTSD.
However, these statistics don't show how many of these conditions could be caused by the negligence of someone with a duty of care towards the injured person. For this reason, we cannot speculate on how many of these instances of mental health issues could form the basis of a valid claim.

Frequently Asked Questions
Below, we are going to try and provide simple and straightforward answers to common mental health claim questions.
Can I claim for physical symptoms?
Sometimes mental illnesses can cause physical issues, like headaches or weight loss. If this is the case, and your mental injury was caused by a breach of duty of care, they could be included in your claim.
Could you claim compensation for anxiety?
Yes, you could be able to claim for anxiety, if it was caused by the actions of a liable third party. To find out if you have a valid claim, call and speak to one of our claim advisors, they can help you with this.
Could you claim for work-related stress and anxiety?
Yes. If your employer failed to take all reasonably practicable steps to ensure that you didn't experience any mental injury, then they could be liable for the harm caused to you. As a result, you may be able to claim.
You're welcome to contact Legal Helpline if you would like to speak to an advisor about topics such as mental health compensation calculators or claiming with the support of mental health solicitors who offer No Win No Fee agreements. You can reach us by using the contact details included in this guide.
Written by MW
Edited by FS