Maintaining a well-kept personal appearance is an important part of our lives. We trust our beauty professionals to help us achieve our best appearance possible. Unfortunately, beauty treatment clients can find themselves seriously injured because of an unqualified or incompetent beauty professional's negligence.
In fact, HABIA (Hair and Beauty Industry Authority) released a report revealing that more than 50% of beauty treatment professionals fall well below the qualifications required to safely perform beauty treatments on their clients. This means that more than 50% of beauty treatment professionals have the potential to expose their clients to a wide range of injury risks. In cases where beauty treatments have been mishandled, the risk of injuries can include; allergic reactions, skin and chemical burn, blood borne diseases, and post-procedural infections. These injuries can occur while undergoing several beauty treatments such as; microdermabrasion, laser skin treatments, body piercing, tanning, Botox, and various spa treatments.
Have you or someone you care about sustained any type of injury as a result of a beauty salons negligence? Take a look at our comprehensive guide to beauty treatment injury claims to find out more about how to make a claim and how much compensation you could be awarded.
Choose a section
A Comprehensive Guide to Beauty Treatment Injury Claims
The HSE (Health and Safety Executive) clearly states that employers are required to ensure that their entire staff have been provided with clear instructions, information, and adequate training. Even if your beauty treatment professional has a beauty treatment certificate, the owner of the salon may still be liable for damages if you have sustained injury as a result of the beauty technician's negligence. It is ultimately the business owner's responsibility to have thorough knowledge of their entire staff's skill set.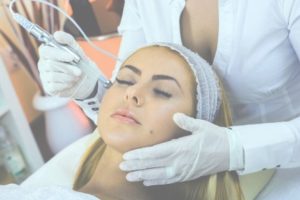 In addition to this fact, the Supply of Goods and Services Act maintains that consumers are to be provided with reasonable skill and care when receiving any type of good or services from a business.
Government regulations pertaining to safety in the beauty industry are put in place primarily to protect consumers from beauty treatment related injuries. They are also put in place as means to hold salons and other beauty treatment establishments accountable for negligent or unsafe beauty treatment practices. When beauty treatment professionals are found to be guilty of negligence causing injury, the client who has sustained the injury may be awarded an injury compensation claim in the form of monetary restitution.
Each and every day both men and women from all walks of life find themselves severely injured whilst receiving beauty treatments as a result of someone else's negligence. If you find yourself in this situation, it is crucial that you are working with the best legal professional possible to ensure that you receive the maximum claim amount available to you.
In this guide you will find all the information needed to start your claims process. This will include the important steps that you will need to take immediately following the occurrence of your beauty treatment related injury, and the amount of compensation that you may be entitled to receive.
Common Beauty Treatment Injuries
There are many beauty treatment related injuries that can be suffered by a client. The contributing factors associated with these injuries can include a number of factors such as:
Human Error – Including lack of experience, misuse of equipment, improper mixing or application of chemicals, and overheating of wax (causing wax burns).
Faulty Equipment – Including equipment failure as result of poor maintenance, or equipment that is outdated.
Unclean Working Areas – Including chemical spills, un-swept hair or floor debris, improperly sterilized equipment.
Anyone of these careless salon practices can cause a wide variety of injuries that include burns, scarring, skin discolouration, misspelled or unsatisfactory tattoos, skin and eye infections, hair loss, and more.
How to Proceed After You Have Suffered a Beauty Treatment Related Injury
If you find yourself in a position where you need to sue a beautician for an injury sustained as a result of their negligence, you will need to obtain competent legal representation to ensure that you receive the best possible compensation for your claim. However, there are steps that you should take in addition to seeking representation to help you to build your case.
The chances of winning your case rely heavily on the amount of evidence that you are able to produce. This is why seeking medical attention as soon after the injury occurs as possible is so important, in fact medical documentation is one of the best forms of evidence to have in backing up your injury claim. You will also want to take pictures of the injury, and if possible the conditions of the area where the injury occurred.
It is also important to report your injury to either the owner of the salon or the manager on duty when the injury occurred, to ensure that there is a documented record of your injury. Receipts and appointment confirmations related to the salon treatment also serve as solid proof that you suffered an injury at the salon or beauty treatment specialist that you are making a claim against.
Any treatment or treatment related expenses pertaining to your injury should also be submitted as evidence to support your claim, this can include:
Treatments received from your Dr. or any other medical practitioner
Petrol receipts if you were required to travel for treatment
Lost wages associated with your injury
Counselling fees (for coping with mental distress)
Skin Treatment Injury Claims
Allergic and chemical reactions caused from beauty treatments are not uncommon, however they are totally avoidable. Beauty treatment professionals are required to understand the serious risk associated with skin treatments, and more importantly, how to avoid them. It is the beauty treatment professional's responsibility to take every precaution while performing a skin treatment procedure. Failure to follow these precautions can expose the client to many serious injuries that can include severe, or worse, permanent damage to the skin. Beauty treatment technicians are required to make sure that they read the manufacturer's instructions in their entirety before any beauty products are applied onto the client's skin. For skin treatments such as a chemical peel, the beautician is required to administer a patch test on a small hidden area of the skin before any additional product is used, to ensure that the client will not suffer from an allergic or chemical reaction.
If you have suffered from an allergic or chemical reaction as a result of a beautician not properly performing a patch test, or if you have sustained any injury as a result of negligence on the beautician's part, you may be able to sue the beautician or the salon owner for damages.
Injury Claims Caused by Beauty Treatment Chemicals
All chemicals are dangerous, chemicals used in beauty treatments are no exception. That being said, there is always a risk of injury when receiving any type of beauty related treatment involving chemicals. This risk is greatly increased when these chemicals are not handled properly by the beauty treatment professional who is using them.
Guidelines set out by the UK Department of Health, as well as other laws related to governing the proper conduct of beauticians and beauty professionals, need to be followed in order to eliminate the risk of injury to clients receiving beauty treatments that include chemical use. When these guidelines are not followed, and injury is sustained as a result, the injured client may be able to receive an injury compensation claim.
Can You Sue For Wax Burns?
In a word, yes. The reason for this, is that the beauty treatment specialist is required under the Control of Substances Standards Health Regulations to carry out a comprehensive risk assessment before proceeding with any type of treatment on a client.
The beauty treatment professional is fully responsible for ensuring that wax is administered to skin at a safe temperature to avoid the risk of skin burn. Skin patch tests should also be administered beforehand to determine the occurrence of an allergic reaction. Any shared tools used in applying the wax needs to be properly cleaned and sterilised to eliminate the risk of infection or blood borne disease.
It is important to note that you should only receive wax treatment from a trained professional to reduce your risk of injury, it can also reduce the amount of compensation awarded if you sustain a skin waxing injury from someone who is not a beauty treatment professional.
Salon Slip and Fall Injury Claims
Slip and fall injury claims in the beauty industry are more common than you may expect. In fact, our team of experts have helped to assist countless clients who have suffered an injury as a result of a slip and fall in a salon. Salon owners and employees are required to keep the salon clean and free of debris or hazardous obstacles at all times. This includes, chemicals or slippery hair products that have been spilled on the floor, and un-swept wet or damp hair causing a slick walking surface.
If you have sustained a slip and fall injury in a salon as a result of the salon staff's negligence, you can file a claim against the salon for injury compensation. Choosing the proper legal representation is critical in ensuring that your claim results in the best compensation possible. We can help connect you with the right people to take your case forward.
Botox Disfigurement Claims
Although Botox is considered to be a noninvasive procedure, it can still run the risk of causing embarrassing disfigurement if not administered properly. Beauticians who offer Botox are responsible for knowing how to properly administer Botox to their clients. If you have suffered from disfigurement or any other Botox related issue as a result of the beauty technician's negligence, you may be entitled to compensation.
Can I Make a Beauty Treatment Claim Against the Salon That I Am Employed With?
You absolutely can. In fact, The HSE (Health and Safety Executives) report that as many as 70% of hairdressers have suffered skin damages as result of exposure to beauty product chemicals (dermatitis being the most common). Skin damages related to beauty product chemical exposure can cause uncomfortable and embarrassing issues that may entitle you to a beauty injury at work compensation claim.
Beauty professionals who work in nail salons are at risk of suffering from respiratory issues such as asthma, resulting from exposure to chemicals used in nail care including, nail polish and acetone. Allergic reaction is also possible to nail salon chemical exposure.
Salon owners who do not provide their staff with proper safety equipment such as gloves to protect the skin, or adequately ensure that the salon has proper ventilation in place to ensure that staff are working in a safe air quality environment can be held accountable for such failings.
How the Severity of a Beauty Treatment Injury is Determined
The amount of compensation that is awarded for a beauty treatment injury depends on the severity of the injury that has occurred. The severity of these injuries is classified by minor, moderate, and severe. Severe injuries obviously resulting in higher compensation. Here are some examples of minor to severe injuries:
Minor Injury – First degree burn, small cuts, mild and/or short term allergic reaction, minor bruising.
Moderate Injury – Small cuts that require minimal stitches, allergic reaction that lasts for more than a few hours, sprains (as a result of a slip and fall injury)
Severe Injury – Third degree burns, broken bones, hair loss, head injury, any injury that requires surgery, exposure to blood borne disease (such as hepatitis C)
You will need treatment and diagnosis from a reputable medical practitioner to properly substantiate the severity of your injury claim.
Social and Emotional Effects of Beauty Treatment Injuries
Injuries sustained as a result of a beauty treatment professional's negligence are not always visible. The emotional and social effects related to beauty treatment injury claims can cause emotional pain, and long-term suffering. Hair loss is a prime example of how a beauty treatment specialist's negligence can negatively impact not only the victim's physical appearance, but their social acceptance, and general life enjoyment as well. All of these factors will be considered when determining the compensation amount of your claim. It is for this reason that you be honest and upfront with your medical professional regarding how you are feeling both physically and emotionally.
If you work in an industry that relies on your personal appearance, loss of hair, or skin scarring, can negatively impact your livelihood resulting in lost wages, or loss of employment.
Our caring and compassionate team of legal experts are prepared to walk you through this process to ensure that you receive the compensation amount that you need to rebuild your life. Simply call us to find out more.
Life Threatening Injuries as a Result of Negligent Beauty Treatments
Improperly maintained or unsterile instruments used by beauty treatment professionals can result in clients being exposed to a wide range of infections and blood borne diseases that can cause serious and, in some cases, fatal results. This can include permanent damage to your liver and/or kidneys. Beauty treatment related injuries that contribute to chronic or life-threatening health issues are often entitled to large compensation amounts.
Have you contracted a chronic disease as a result of a beauty technician's negligence in the salon? If so, our experts can help to ensure that the highest possible compensation amount is awarded for your claim.
Did You Know- Beauty salon injury Stats
Are you curious about the statistics associated with injury related risks within the beauty industry? Check out these interesting facts.
More than half of beauty industry workers in the UK fall below minimum qualifications
Over 70% of workers in the beauty industry have suffered from at least one salon related work injury
Many claims for beauty injury treatments are related to the social alienation and humiliation associated with beauty treatment negligence
Waxing burns are amongst the most common of beauty treatment injury claims
Nearly all injuries sustained in salons are entirely avoidable when proper safety precautions are observed by salon staff
Would you like to learn more about how our experts can help you become more than a statistic? Simply call our team and we'll talk you through how to make a claim and get your voice heard by the professionals that have been negligent in their treatment of you as a customer or as a member of staff.
How Much is My Injury Claim Worth?
This is a difficult question to answer without having detailed information about your specific injury, as well as the circumstances surrounding the injury. Each injury claim is unique, therefore the compensation received will differ from claim to claim. There are however very generalised criteria that may give you some insight on how much you can expect from your injury claim. We detail some of the more commonly awarded amounts below:

| Condition | How Severe | Typical Award Bracket | Notes |
| --- | --- | --- | --- |
| Facial Scars in Females | Extremely severe | £36,800 to £74,000 | Disfigurement remains after corrective surgery |
| Facial Scars in Females | Not quite so severe | £23,000 to £36,800 | Injury leaving visible disfigurement that will not go away |
| Facial Scars in Females | Moderate | £13,650 to £22,875 | Facial scars that are visible when victim is facing someone |
| Facial Scars in Females | Not quite as significant | £3,000 to £10,450 | Scars that are noticeable but only if inspected closely |
| Facial Scars in Females | Minimal | £1,300 to £2,675 | Barely noticeable scars remain |
| Facial Scars in males | Extremely severe | £22,625 to £50,000 | Disfigurement remains after corrective surgery |
| Facial Scars in males | Not quite so severe | £13,650 to £22,875 | Injury leaving visible disfigurement that will not go away |
| Facial Scars in males | Moderate | £6,925 to £13,650 | Facial scars that are visible when victim is facing someone |
| Facial Scars in males | Not quite as significant | £3,000 to £6,925 | Scars that are noticeable but only if inspected closely |
| Facial Scars in males | Minimal | £1,300 to £2,675 | Barely noticeable scars remain |
Your claim will focus on two major categories, general damages, pertaining to the specific injury including your overall medical prognosis, this will also include any pain or suffering that has or will occur. The duration of your suffering will also be taken into account. The other category is referred to as special damages, this focuses on financial loss as result of the injury including, medical costs, lost wages, prescriptions, and any other expenses incurred as a result of the injury.
No Win No Fee Guarantee for beauty treatment injury claims
Our team of experts want to make your injury claim process as simple and stress free as possible. This includes not worrying about coming up with the funds needed to hire a competent legal representative. Our No Win No Fee guarantee allows you to start your claim right away without having to worry about having the money to do it. We don't get paid unless you receive compensation for your injury claim!
Why Choose Legal Helpline for your beauty treatment injury claims?
Our team of highly skilled professionals have helped dozens of clients just like you with a wide variety of personal injury claims. Our success depends entirely on our clients receiving the best possible compensation for their injuries. We will work diligently to ensure that you receive the maximum amount possible for your claim and support you right throughout the process, explaining each step fully so you know where you are up to at all times.
Ready to begin a beauty treatment injury claim?
Our team of experts are eager to get started on your injury claim. Contact us today at 0161 696 9685 to learn more about how we can help you get the best compensation possible for your injury claim.
Helpful Links
Blood borne illnesses due to unsanitary conditions
Have you been exposed to a blood borne disease as a result of poor sanitary conditions at a salon? This HSE guide should shed some light on what is expected of workplaces.
Guide to Slips and Falls – HSE
Slip and Fall injuries sustained at the hair salon can be serious. This HSE guide should show more information about how salons can protect against them.
This HSE page details strategies for beauty salons to ensure customer safety.