Welcome to our guide on making a compensation claim by using an eye injury lawyer. As this guide progresses, we will discuss a variety of key topics relating to eye injury claims. You will learn about the frequency and severity of eye injuries, along with typical symptoms and causes.
Additionally, we've included a breakdown of how much compensation you could be awarded. Furthermore, we explain how to build the strongest case possible using the evidence you have.
If you would rather speak to an advisor immediately, though, we can help you with that. We have a team of advisors that are here to listen to and help you. If your case is taken on by a solicitor from our panel, they can represent you on a No Win No Fee basis.
To find out more, you can:
Jump To A Section
A Guide On How An Eye Injury Lawyer Could Help You
An eye injury has the potential to cause serious disruption to your day-to-day life. For example, an eye injury that affects your vision could stop you from being able to drive, which can affect the ease with which you get around. Furthermore, it might stop you from being able to work.
Fortunately, our eye injury lawyers could manage a compensation claim for you so that you get the compensation you deserve. Below, we have included the criteria that must apply in order for your claim to have a chance of success;
A third party owed you a duty of care
This duty of care was breached
As a result of this breach, you sustained an injury.
If you're able to meet all of these points, you may have a valid basis for an eye injury claim. Read on for more information, or call our team for free legal advice.
Workplace Eye Injury Statistics
An accident at work is an example of a scenario that could leave someone with an eye injury. This kind of accident could be caused by a lack of training, a machinery malfunction, a fall or even an assault.
The graph below provides a glimpse of how common non-fatal eye injuries are in the workplace, as reported to the Health and Safety Executive (HSE). Note that these are just injuries that were reported under the Reporting of Injuries, Diseases and Dangerous Occurrences Regulations 2013 (RIDDOR).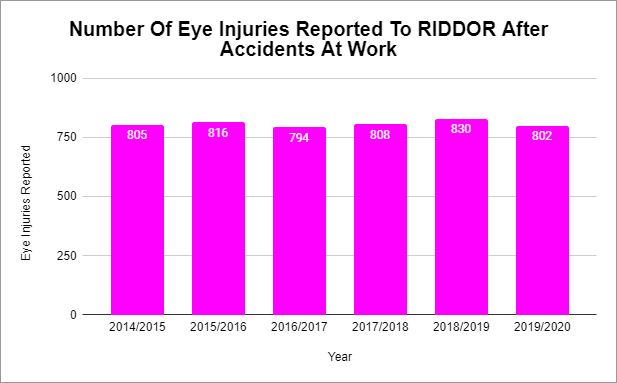 As you can see, the number of non-fatal eye injuries reported under RIDDOR since 2014/15 has stayed fairly consistent. However, the statistics do not indicate how many of these resulted from negligence and could therefore provide the basis of a claim.
What Are Eye Injuries?
An eye injury is any injury that could cause harm or discomfort to the eye. This includes the eyeball itself, the eyelid and the skin underneath the eye. An injury to the eye could impair vision, and the damage could be permanent.
Because of the eye's importance, even a minor injury could disrupt your ability to see. In more serious cases, you may no longer have the level of vision you had before the accident. Furthermore,  an eye injury could cause you to go completely blind.
If your injuries happened because of the negligence of someone else, you might be able to claim. Our eye injury lawyers could help you to form a strong case to claim compensation. Get in touch today for free legal advice, or read on to find out more about claiming.
Eye Injury Signs And Symptoms
There are a number of different ways you could injure your eye as a result of negligence. According to the NHS, minor eye injuries can be caused when something gets into your eye, like dust or shampoo.
You should seek immediate medical attention from 999 or A&E if:
Your eye has come into contact with a strong chemical like oven cleaner or bleach.
Your eye has been pierced by a sharp object
Something has hit your eye while travelling at a high speed
After your eye has been injured, you've noticed a change in your sight
You feel or are being sick after an injury to your eye
You cannot move or keep open your eye
Your eye is bleeding, or there is pus coming from it
An eye injury could also cause you to suffer from a red eye or a black eye. An eye injury might also cause you to fracture your eye socket, which may require more extensive treatment.
If you'd like to know what could cause an eye injury, please read on. Otherwise, you can get in touch with our team for free legal advice. If your claim has a good chance of success, you could be connected with an eye injury lawyer from our panel.
Eye Injury Causes
There are a number of different ways that you could sustain an injury to your eye. These include:
Slips, trips and falls. You could fall onto something that pierces or otherwise injures your eye.
Foreign object in the eye. Chemicals, dust, and debris can all cause injury to the eye.
Contact with a moving or flying object. For example, if something falls from a high shelf and hits you in the eye, this could cause injury.
We'll discuss some additional causes of eye injuries, including the circumstances in which they could occur, in subsequent sections. Please get in touch with us today for more information on how an eye injury lawyer could help you.
Assaults And Violent Attacks
One way that someone could sustain an eye injury is in a violent attack or assault. For example, you might be punched in the eye.
If you know who the person is who assaulted you, and they have the funds to pay you your compensation, then you could make a claim against them directly. However, this is not always the case.
You can also pursue a claim through the Criminal Injuries Compensation Authority (CICA). This is an executive agency sponsored by the Ministry of Justice. They pay out compensation to people injured in violent crimes in Britain.
When you make a claim through the CICA, you don't need to know who the person is who attacked you, and they don't have to have been charged or even convicted in order for you to claim. However, you must have reported the incident to the police.
Claims made through the CICA differ from civil claims in a number of ways. For more information on these differences, speak to our team today.
Work-Related Eye Injuries
When it comes to eye injuries at work, there are several possible ways that these could occur. For example:
An exposed wire is left trailing along a walkway. You trip and fall, hitting your eye on the corner of a table as you do so.
A corrosive substance splashes into your eye because it hasn't been stored properly
You get sawdust in your eye because you aren't given safety goggles.
Employers have a duty of care to all employees. This is outlined in the Health and Safety at Work etc. Act 1974. The purpose is to ensure that employers are taking all reasonably practicable steps to prevent workplace injury.
If injuries occur due to a breach of your employer's duty of care, this could be an example of negligence on their part. It's this that an eye injury lawyer could use as the basis for a compensation claim.
Use our 24/7 Live Chat for free legal advice about this subject, or read on to find out more about medical negligence claims.
Medical Negligence
Medical negligence is the term used to describe harm caused to a patient due to substandard medical care. All doctors and healthcare providers have a duty of care to their patients. If this duty is breached, it can cause injury.
You might have a problem with your eye that you seek medical attention for, but the negligence of the healthcare provider causes the condition to get worse. For example, they could negligently misdiagnose your condition, meaning that you don't get the treatment you need.
Alternatively, you could experience an eye injury as a result of negligent treatment for another condition. For example, a doctor could mistakenly pierce your eye with a sharp object while they're carrying out an examination.
For more information on how medical negligence could cause an eye injury, speak to our team today.
Facial Trauma Causing Eye Injuries
It's very much possible for major facial trauma to bring about an eye injury. For example, a facial crush could include the orbital bone of the eye suffering a crush in the process. In addition to this, your eyes could become sensitive to bright lights after a brain or head injury.
A serious brain injury could hinder your ability to see, focus and read. The more significant injury may be to the head or brain, but the knock-on effect could include damage to the eyes. A head or brain injury might affect your sight even if no damage has been done to the eyeballs themselves.
If you want additional information about claiming, please talk to one of our advisors. If your claim has a good chance of success, you could be connected with an eye injury lawyer from our panel.
Types Of Injured Eye
Below, we have included some examples of types of eye injury that you could sustain:
Scratched cornea. This is usually a minor form of eye injury. However, if it's left untreated or is worsened as a result of medical negligence, it could leave your eye susceptible to infections.
Deteriorating vision. Some injuries may not cause you to lose sight straight away. However, your vision could get worse over time as a result.
Total blindness. You might lose your vision completely if your eye comes into contact with a chemical substance or foreign object.
Diabetic retinopathy. This is a complication of diabetes that can cause blindness. If your diabetes was left untreated because of medical negligence and this occurred as a result, you could claim.
Don't worry if you can't see your particular eye injury listed above. If your injury was caused by the negligence of a third party, you may be able to claim.
Eye Injury Lawyer – Calculating Compensation Payouts
Because there are different types of eye injuries with varying severity levels, the payouts that you receive can also vary. There isn't one specific compensation figure that caters to all eye injuries. Even if the cause of the accident is the same, the impact on your life can be hard to predict.
General damages are the part of your claim that compensates you for the pain and suffering your injury has caused you. In order to assess the impact your injury has had on you, you'll be invited to a medical assessment as part of your claim.
Guidelines from the Judicial College will be used to help value your claim. These are the figures we have used in the table below. An eye injury lawyer could advise you further on a realistic payout figure for your compensation claim.
| Injury | Compensation | Notes |
| --- | --- | --- |
| Total Blindness | In the region of £252,180 | Permanent inability to see out of either eye |
| Loss Of Sight In One Eye & Reduced Vision In The Other Eye (i) | £90,100 to £168,730 | Where there is a risk that vision in the remaining eye will deteriorate |
| Loss Of Sight In One Eye & Reduced Vision In The Other Eye (ii) | £60,010 to £99,440 | Where vision in the remaining eye is reduced and other problems like double vision are also present. |
| Total Loss Of One Eye | £51,460 to £61,690 | The cosmetic impact of this injury will also be taken into account. |
| Minor Eye Injury | £3,710 to £8,200 | Notable damage to the eye but with a full recovery still expected |
| Transient Eye Injury | £2,070 to £3,710 | A minimal eye injury with a full recovery expected within a few weeks |
What Can I Claim For Eye Injuries?
You can receive general and special damages as part of your compensation claim. As we've already mentioned, general damages will be awarded based on how severe your injuries are. They would also consider the full impact of the injury on your day-to-day life.
As for special damages, these focus on other expenses or financial losses that you incur due to your injury. This could include the costs of medication, eye tests, lens and frames should you require them, and also transportation to and from medical appointments.
Furthermore, special damages may cover the cost of care. This could cover the following:
The gracious care that you receive from family and friends;
A guide dog if you lose your sight completely;
Hiring a nurse to look after you as you recover;
Hiring professionals for home chores like gardening, cleaning and dog-walking.
If you get in touch with our team today, one of our advisors could assess how much you could receive. They could also advise you on the evidence you could collect so an eye injury lawyer can bring a strong case for you.
Steps You Can Take If You Have An Eye Injury
The first step that you should take after an accident is to have a doctor assess your eye injury. This will both ensure you get the treatment you need and will provide evidence to support your claim.
After this, you can begin to gather your own evidence to show how the accident occurred. For example, you might collect CCTV footage and photographs that show the circumstances of the accident.
You should also make sure that you keep hold of any evidence of the costs you have incurred because of your injuries. For example, you might present an invoice for an eye test or receipts to show how much glasses cost you.
Finally, we recommend that you get in touch with an eye injury lawyer. This isn't a legal requirement but could help you get more money from your claim. Read on to find out more about funding a solicitor with a No Win No Fee agreement.
Do Eye Injury Lawyers Handle Claims On A No Win No Fee Basis?
A No Win No Fee agreement is an agreement between you and your lawyer that you won't have to pay them unless certain conditions are met. There are several benefits to the claimant of working with a No Win No Fee solicitor, and they are:
You don't have to pay anything to your solicitor up-front or while the case is ongoing;
If you win your case, you pay a success fee to your solicitor, which is a percentage of your compensation;
This success fee has a legal cap so that you don't lose out on your compensation;
However, if the case loses, you don't pay anything at all to your solicitor.
In other words, your lawyer only receives payment if you receive compensation. Call us up to ask about No Win No Fee agreements. If your claim has a good chance of success, you could be connected with a solicitor from our panel.
Contact Legal Helpline Today
Now that you have read through our guide, the next step is to speak to us. We could pass you on to an eye injury lawyer that could evaluate the validity of your claim.
If it seems like it could be successful, the solicitor may take on your case. To contact us today, you can:
Helpful References
If you require more information before speaking to an eye injury lawyer, we suggest that you check out these additional research links.
To start, there's our in-depth guide about eye injury claims.
We have guidance too on claims for loss of vision and blindness.
Additionally, we go in-depth on hospital negligence claims.
Elsewhere, the NHS has a page of its own covering eye injuries.
They also go into more detail on blindness and vision loss.
The NHS explains about deafblindness which could arise after a serious accident or as the result of a medical condition.
Learn more about prison injury claims and get advice on the personal injury compensation claims process.
Questions And Answers
How much is an eye worth UK?
There is no set amount for an eye injury as it depends on the severity of the injury and the nature of the accident. Speak to a member of our team today for a no-obligation assessment of your claim.
How are injury claims calculated?
This is done by considering the injury itself, the potential recovery time, any long-term damage and the extent of responsibility for the defendant. The impact of the injury will be assessed in an independent medical appointment.
Thank you for reading our guide on how an eye injury lawyer could help you.
Written by MA
Edited by FS